Grape Salsa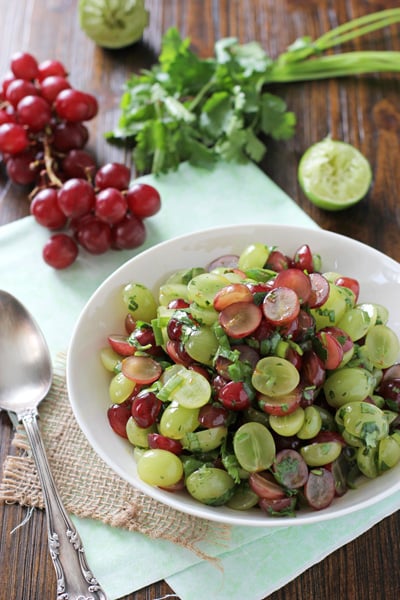 It's salsa time! Go grab a huge bag of chips and pull up a seat. We'll snack together and gab and I promise to talk your ear off and tell you all about my summer so far and life in general and just about anything else I can think of. And then my husband will come in and thank you since he didn't have to listen to me ramble on and on. And on.
And I'll also tell you about my super awesome friend Meg! Hi Meg! Because you'll want to go ahead and thank her for this recipe. This glorious grape salsa is alllll her.
I just reaped the benefits after she made it a few months ago for one of our fourteen million friend-time potlucks. Our little group is made up of potlucking fools. We love a good potluck. And this salsa has made an appearance on more than one occasion since she was gracious enough to share the recipe.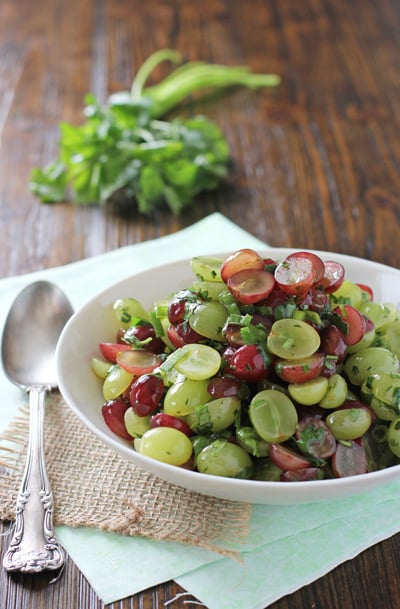 And then I went ahead and made it a few times at home. Just for me. The husband was also allowed to eat it. See, I can be nice and share.
Sometimes. Don't get between me and my chips and salsa. Fair warning.
But, my guess is that you may be pretty possessive of this addictive snack once you give it a try. Why's that you ask? Let's discuss:
It's got that sweet & savory action going on.
With a hint of spiciness. Or more, or less, to taste!
Grapes! In salsa. That's just cool.
Easy to prepare.
It gets better and better as it sits.
It's fruit, so you know, you can totally eat the whole bowl.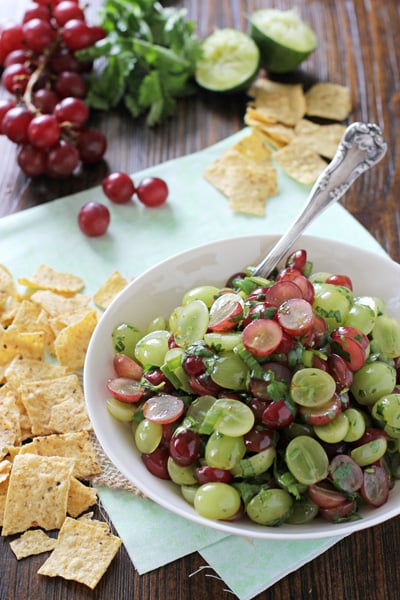 No judging here.
Grape Salsa
Recipe for grape salsa. A sweet, savory and just a hint spicy salsa made with grapes, green onions and cilantro. Quick and easy!
Ingredients:
3 cups white (green) grapes, halved
3 cups red grapes, halved
1 to 1 ½ cups loosely packed fresh cilantro leaves, chopped (about 1 smaller head of cilantro)
1 jalapeno, seeded and diced
½ cup thinly sliced green onions
juice of 1 lime
¼ cup olive oil
1 teaspoon hot sauce
1 teaspoon salt
Directions:
Add all of the ingredients to a large bowl. Toss until well combined.
Cover and refrigerate for at least 2 hours before serving.
This salsa gets better and better as it sits!
Tinker with the quantities of all the ingredients to get it to how you like!