Savory Pumpkin Dip with Bacon
It's time for a savory pumpkin recipe. And this delicious dip was created on accident. Or really, I should say, out of shame.
You see, one of my friends had a housewarming party and we all brought a few snacks to help her celebrate. I was testing a ton of recipes at the time and decided to bring some of this cheesy french onion soup dip. Because I needed to stop eating it all myself.
That dip has cream cheese. Which she can't eat.
And I brought it to a party to celebrate HER.
Palm to face. It didn't even dawn on me until she went to take a bite and I proceeded to pull a "wait, nooooooo, don't touch that!!" Shame.
But wait, it gets worse.
We had another potluck style gathering a week or two later and I again proceeded to make an appetizer that used cream cheese.
This time I realized it shortly before I needed to leave the house. Which set me off in a giant flurry to make something else quickly so that I didn't do the same thing to her twice. That really would have cemented my bad friend status.
I frantically pulled anything I could find out of my kitchen cabinets and fridge and voila! Pumpkin dip with bacon was born.
Full of spices, bacon, cheese, green onions, this dip is a welcome change from all the sweet pumpkin recipes this time of the year.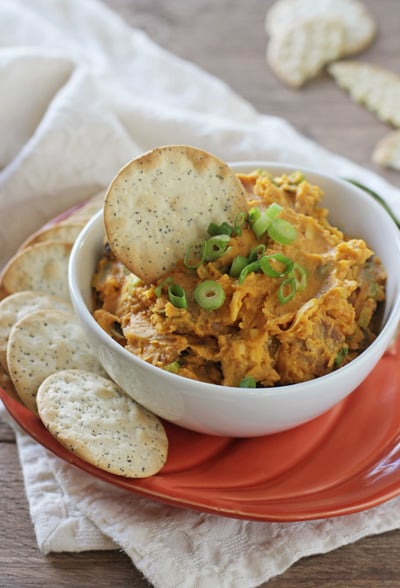 Oh, and it also makes the perfect filling for an awesomeeeeee grilled cheese sandwich. So good.
Savory Pumpkin Dip with Bacon
Prep Time: 10 minutes
Cook Time: 0 minutes
Total Time: 10 minutes
Recipe for savory pumpkin dip with bacon. An easy, creamy dip with pumpkin puree, white beans, green onions, cheddar cheese and bacon!
Ingredients:
¾ cup pumpkin puree (not pumpkin pie filling)
1 (15 ounce) can cannellini beans, drained and rinsed
1 tablespoon olive oil
½ teaspoon salt
½ teaspoon cumin
¼ teaspoon smoked paprika
pinch of nutmeg
pinch of cinnamon
½ cup freshly shredded cheddar cheese
½ cup thinly sliced green onions (about ½ a bunch)
4 thick-cut slices bacon, cooked until crispy and chopped
¼ cup pepitas (pumpkin seeds)
crackers or chips, for serving
Directions:
Add the pumpkin puree, beans, olive oil, salt, cumin, paprika, nutmeg and cinnamon to the bowl of a food processor. Process until smooth, scraping down the bowl as needed.
Transfer the mixture to a medium bowl. Fold in the cheese, green onions, bacon and pepitas. If not serving right away, store in the refrigerator. I like to let it come back to room temperature before serving.
Serve with crackers, chips, bread, whatever you like!
Recipe time does not include cooking the bacon.