Rosemary Ice Cream
Recipe for dreamy, creamy rosemary ice cream! A sweet vanilla ice cream base infused with just the right amount of fresh rosemary!
I know, this sounds a little weird right?
But just go with me on this one. Don't run away quite yet. At least let me explain myself. Try to convince you to give this a shot.
While visiting Asheville this summer, we ate at a ton ton ton of great places. I would never be able to pick a favorite overall, but for dessert?
It was veryyyy unexpectedly a rosemary ice cream that my husband ordered at this awesome tapas bar, Curate.
I will admit, when he ordered it, I pretty much looked at him like he had four heads and smugly patted myself on the back for not making such a stupid decision for dessert.
I'm pretty sure I went with some kind of cake, which was also delicious, but that's neither here nor there.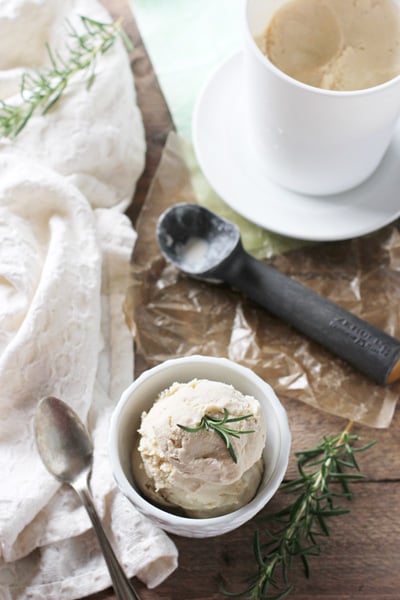 About This Rosemary Ice Cream
Anyway. The desserts arrive. And I end up eating my words.
His rosemary craziness won.
And I fought him for every last bite. Of his dessert.
So this ice cream. I'm telling you, just give it a shot.
The first bite will sort of take you by surprise, but after that? You'll quickly decide that it's whoa baby good. I am fully planning on making a batch to serve on Thanksgiving day.
It's still sweet and creamy. So have no fear. I used my favorite vanilla ice cream base and switched it up by subbing in brown sugar for the normal granulated sugar.
Fresh rosemary is then steeped in the mixture, before you churn it in an ice cream maker.
You can grab a spoon and eat it straight from the machine all soft serve-like, or be a little more civilized and let it harden up a bit in the freezer before scooping it into an actual bowl.
Additional Ice Cream Recipes You Might Enjoy!
Did you make this recipe? Rate and review it down below! I'd love to hear from you.
Rosemary Ice Cream
Total Time:
6 hours
25 minutes
Recipe for dreamy, creamy rosemary ice cream! A sweet vanilla ice cream base infused with just the right amount of fresh rosemary!
Ingredients
2 cups heavy cream, divided
¾ cup loosely packed light brown sugar
pinch of salt
3 (about 6 inch) sprigs fresh rosemary
1 cup whole milk
1 ½ teaspoons vanilla extract
Instructions
In a medium saucepan, add 1 cup of the heavy cream, the sugar, salt and rosemary sprigs (leaving the whole sprigs intact). Set the pan over medium heat and cook, stirring occasionally, until the sugar has dissolved. Let the mixture just barely start to simmer around the edges then immediately remove from the heat. Stir in the remaining cup of cream, the milk and vanilla extract.
Refrigerate the mixture for about 6 hours (this gives the rosemary time to steep and infuse).
Remove the rosemary springs and then freeze the mixture in an ice cream maker according to the manufacturer's directions.
Notes
Vanilla ice cream base adapted from The Perfect Scoop by David Lebovitz
Nutrition Information:
Yield:

8
Serving Size:

1
Amount Per Serving:
Calories:

289
Total Fat:

22g
Saturated Fat:

14g
Trans Fat:

1g
Unsaturated Fat:

7g
Cholesterol:

70mg
Sodium:

34mg
Carbohydrates:

20g
Fiber:

0g
Sugar:

20g
Protein:

3g
Nutrition data shown is an estimate provided by an online calculator and is for informational purposes only. It should not be considered a substitute for a medical professional's advice.