Honey Peanut Butter Ice Cream
Dreamy homemade honey peanut butter ice cream! Creamy, decadent and infused with plenty of peanut butter and honey flavor!
I had visions and dreams about showing up today with a cashew milk ice cream that was every bit as delicious and creamy as the ones you can buy at the store. And we were all going to love it and dance and be merry!
This is not that recipe.
After several failed versions, I decided to cut my losses for now and instead I bring you this wonderfully decadent honey peanut butter ice cream.
Yes, it is full of cream and whole milk and sugar – i.e. the complete opposite of what I had planned.
But I suppose the cashew milk version was not in the stars for me at the moment. And I fully believe that we all need a serious treat every now and then. Yes yes yes.
Anywho, I also learned another important lesson while making this ice cream.
Do not use the apparently not-completely-working garage freezer to store your precious treat. Because it won't completely harden and you'll be left with a melt-y mess to take photos. Womp womp.
Honey Peanut Butter Ice Cream
But, getting back to the actual recipe.
Today's ice cream starts with my absolute favorite vanilla ice cream base. My go-to whenever I'm making full fledged regular ice cream. Except I doctored it all up with plenty of peanut butter and honey.
A match made in ice cream heaven.
After the mixture churns in an ice cream maker and gets that awesome soft serve consistency, we'll layer it in a container with even more honey – so the flavor is all up in there.
Once it freezes nice and firm, scoop that ice cream into a serving bowl and enjoy. Or! May I suggest drizzling on a touch more honey? The best.
Or, or! A sprinkle of flaky sea salt and some dark chocolate? I die from happiness.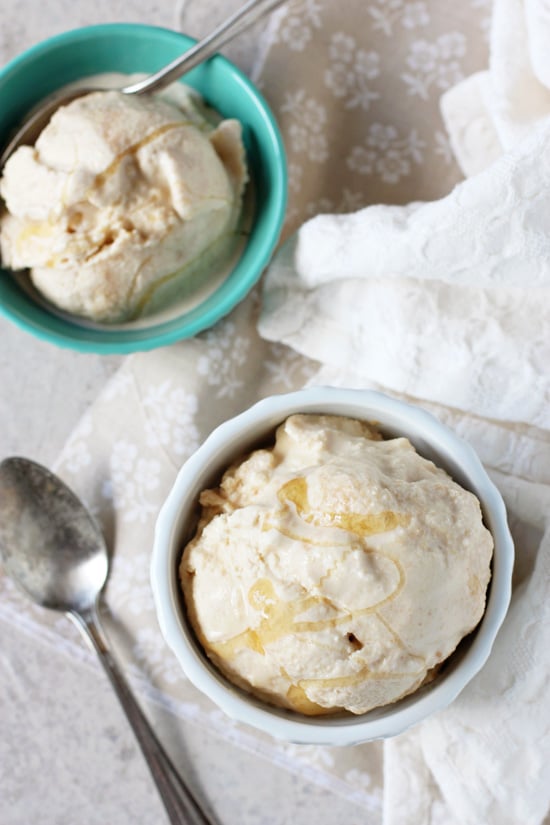 Additional Homemade Ice Cream Recipes You Might Enjoy!
Did you make this recipe? Rate and review it down below! I'd love to hear from you.
Honey Peanut Butter Ice Cream
Recipe for homemade honey peanut butter ice cream. Creamy, decadent and infused with plenty of peanut butter and honey flavor!
Ingredients
For the ice cream base:
2 cups heavy cream, divided
½ cup loosely packed light brown sugar
¼ cup honey
⅓ cup creamy peanut butter
¼ teaspoon salt
1 cup whole milk
1 ½ teaspoons vanilla extract
For layering:
2 to 4 tablespoons honey, to taste
Instructions
To make the base:
In a small saucepan, add 1 cup of the heavy cream, the brown sugar, honey, peanut butter and salt. Set the pan over medium heat and cook, stirring frequently, until the sugar, honey and peanut butter have dissolved into the mixture. Let the mixture just barely start to simmer around the edges then immediately remove from the heat. Stir in the remaining cup of cream, the milk and vanilla extract.
Refrigerate the mixture until well chilled, at least several hours.
Freeze the chilled mixture in an ice cream maker according to the manufacturer's directions, until it is the consistency of soft serve.
For layering:
Add some of the ice cream to the container that you are going to store it in. Drizzle on some of the honey. Repeat this process - ice cream then honey - until the container is filled. Freeze until firm.
When serving, I would highly encourage drizzling on a touch more honey - so good!
Notes
Prep time only includes active / hands on time. It does not include time to let the mixture chill in the fridge for several hours before churning.
The type of honey you use here will make a difference! I use a light honey, so while the flavor is there, it's not super strong. If you use something that is more potent and darker, you may or may not want to use the extra honey for layering! Use your judgment!
Ice cream vanilla base recipe from The Perfect Scoop by David Lebovitz.
Nutrition Information:
Yield:

8
Serving Size:

1
Amount Per Serving:
Calories:

377
Total Fat:

28g
Saturated Fat:

15g
Trans Fat:

1g
Unsaturated Fat:

10g
Cholesterol:

70mg
Sodium:

150mg
Carbohydrates:

30g
Fiber:

1g
Sugar:

28g
Protein:

5g
Nutrition data shown is an estimate provided by an online calculator and is for informational purposes only. It should not be considered a substitute for a medical professional's advice.