Mocha Chip Ice Cream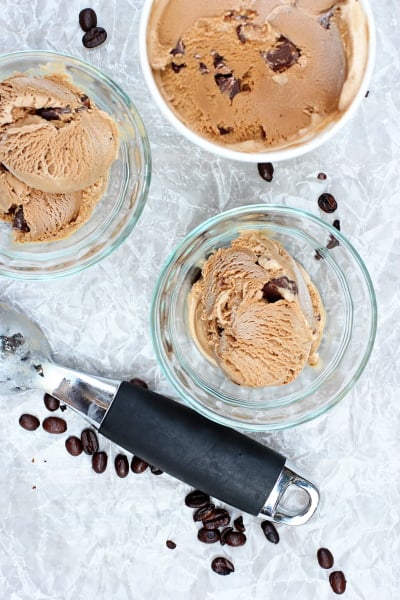 As I mentioned on Monday, during our recent trip to New England, we made a stop at the Ben and Jerry's factory in Vermont.  We had a lot of fun walking around, learning about how they make ice cream, and eating some of their creations.  Of course this excursion gave me the itch to try out fun new flavors of homemade ice cream when we returned from our trip.  Combine this with the extreme heat we've had around the DC area and I needed no further push to get in the kitchen and make some asap.
I always ask my husband if he is in the mood for any particular flavor, and he always gives me the same answer.  Vanilla bean.  Which is rather unhelpful when I'm looking to make something new.  Thanks dear husband : )  So I took matters into my own hands and decided I wanted to go with something that had a coffee flavor, since this is usually his pick whenever we eat out.
This ice cream did not disappoint.  It has a creamy coffee flavor with some chocolate undertones.  The addition of chocolate chunks also adds some texture (although you could definitely leave these out if you wanted and it would still be great).  So all you coffee lovers out there – give this a try the next time you are looking for a cool summertime treat.  Now, please excuse me while I go back to my kitchen to make some more ice cream…
Mocha Chip Ice Cream
Recipe for homemade mocha chip ice cream! A creamy ice cream filled with cocoa, espresso powder and chocolate chunks!
Ingredients:
2 cups heavy cream
¾ cup granulated sugar
pinch of salt
2 tablespoons espresso powder
2 tablespoons unsweetened cocoa powder
1 cup whole milk
1 teaspoon vanilla extract
¾ cup chocolate chunks (or chips)
Directions:
In a medium saucepan, add 1 cup of the heavy cream, sugar, salt, espresso powder and cocoa powder. Whisk to combine. Warm the mixture over medium heat and stir occasionally until the sugar has dissolved.
Turn off the heat and add in the remaining cup of cream, milk and vanilla extract. Mix to combine.
Refrigerate the mixture until it is well chilled, at least for several hours. Freeze the mixture in an ice cream maker according to the manufacturer's directions. Gently fold in the chocolate chunks. Store in your freeze until ready to serve.