Grandma's Butter Horns (Brown Sugar Walnut Rugelach)
Let's talk my grandma's butter horns – aka brown sugar walnut rugelach! These buttery, slightly sweet cookies are irresistible. A special family recipe that is made with sour cream instead of cream cheese. Vegetarian.
Note: This recipe is NOT dairy free. It was published before Cook Nourish Bliss transitioned to dairy free recipes and remains popular with long time readers. You can try using substitutions to make it dairy free, however I have not tested this myself and can't say how it will turn out.
Today I have a very special recipe for you. One that makes me smile big time and gives me those warm and fuzzy feelings.
My grandma's butter horns. Which are famous in our family.
I vividly remember her giving us plates of these cookies when we were kids. My dad would come home with a giant platter full of them and yet they always disappeared in a flash.
My sister, dad and I would pop them in the microwave to warm them up slightly, dust with even more confectioners' sugar and then go to town.
I don't know where my mom was during all of this, probably eating something much healthier than a tray of buttery cookies (or maybe I just don't remember her being there, eek! … sorry mom!).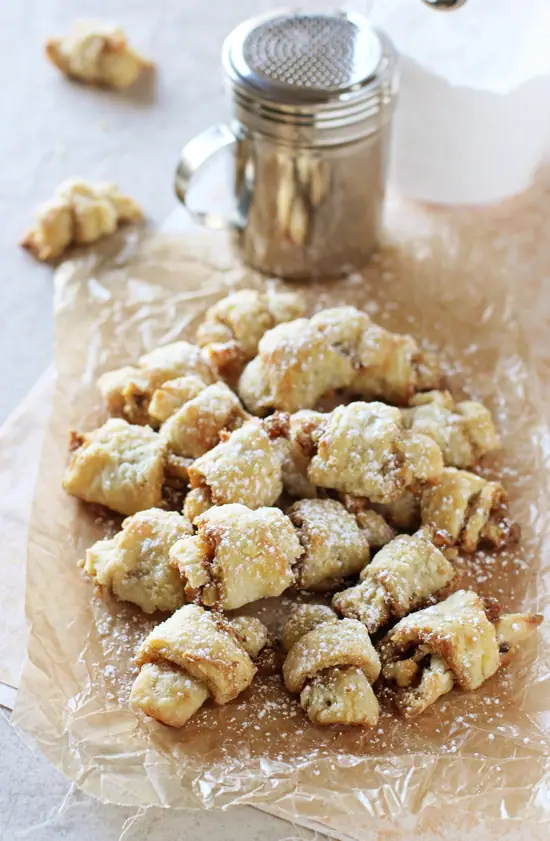 About These Butter Horn Cookies
Despite the fact that I will forever and ever call these butter horns, they are basically a slightly different version of rugelach (which is typically made with cream cheese instead of the sour cream you'll see here).
But my guess is that rugelach will ring a bell for you better than butter horns!
I will confess that when I make these they are definitely imperfect – and look no where near as nice as the carefully rolled ones that my grandma always made.
Apparently she had a lot more practice (and patience!) than I do.
But boy do they still taste good. So buttery and with just the right amount of sweetness. And extremely pop-able. Once you pop, you cannot stop with these cookies. Trust me, I have experience in this matter.
So tell me. What's your favorite family recipe? My grandma passed away a few years ago, so these cookies most definitely hold a special place in my heart and are a necessity each holiday season!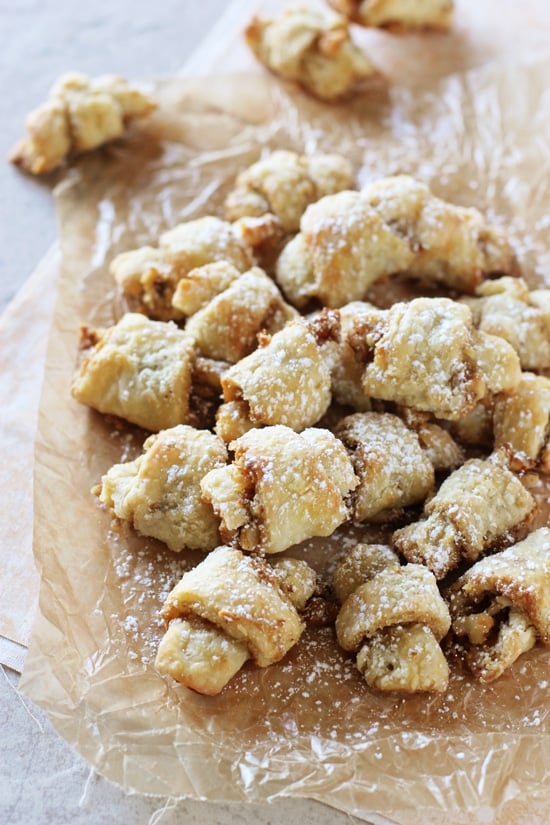 Additional Holiday Cookies You Might Enjoy:
Did you make this recipe? Rate and review it down below! I'd love to hear from you.
Grandma's Butter Horns (Brown Sugar Walnut Rugelach)
Total Time:
3 hours
2 minutes
My grandma's butter horns – aka brown sugar walnut rugelach! These buttery, slightly sweet cookies are irresistible. A special family recipe that is made with sour cream instead of cream cheese. Vegetarian.
Ingredients
2 cups all-purpose flour
1 cup unsalted butter, cold and cut into chunks
1 cup full-fat sour cream, cold
1 large egg yolk
2 cups raw walnuts, finely chopped
¾ cup packed light brown sugar
confectioners' sugar, for dusting
Instructions
Add the flour to a large bowl. Using a pastry cutter, two knives or your fingers, cut the butter into the flour, until it resembles even-sized crumbs. Add in the sour cream and egg yolk. Mix until the dough comes together in large clumps.
Form the dough into three equal sized balls. Pat each into a disc and then wrap tightly with plastic wrap.
Transfer to the refrigerator and let chill at least 2 hours or even overnight, until well chilled. You want it to be firm enough so that you can roll it out easily.
Preheat the oven to 350ºF. Line a large baking sheet with parchment paper and set aside.
In a medium bowl, mix together the walnuts and brown sugar until well combined, making sure to break up any clumps of brown sugar. Set aside.
Working one ball of dough at a time (keep the other balls in the fridge while you do this), place the chilled dough on a well-floured work surface (I like to do this on well-floured parchment paper). Roll out into a circle that is between ⅛ and ¼ inch in thickness.
Sprinkle ⅓ of the walnut / sugar mixture evenly over the dough (all the way to the edges) then press down lightly into the dough. With a pastry or pizza cutter, slice the dough like you would a pizza, into 16 equal triangles.
Starting with the wide end, roll up each triangle - some of the filling will fall out - that's totally fine. Place the shaped cookies on the prepared baking sheet, with the seam side / tip down. Repeat this process with the remaining two balls of dough.
Bake for about 22 to 24 minutes, until golden brown. Let cool on the baking sheet for 5 minutes, then transfer to a wire rack to cool completely. If baking in batches, keep any unbaked, shaped cookies in the refrigerator.
Once completely cool, dust generously with confectioners' sugar.
Notes
The dough portion of this recipe could also be done in a food processor, I just wanted to make them by hand like my grandma. It felt right that way!
I also highly recommend eating these warm - so good!! We used to love to pop them in the microwave for a few seconds to get them nice and toasty. And maybe dust again with more confectioners' sugar after you warm them up.
Nutrition Information:
Yield:

48
Serving Size:

1
Amount Per Serving:
Calories:

104
Total Fat:

8g
Saturated Fat:

3g
Trans Fat:

0g
Unsaturated Fat:

4g
Cholesterol:

21mg
Sodium:

5mg
Carbohydrates:

8g
Fiber:

0g
Sugar:

3g
Protein:

2g
Nutrition data shown is an estimate provided by an online calculator and is for informational purposes only. It should not be considered a substitute for a medical professional's advice.