Chocolate Cream Cheese Cookies with Sea Salt
Well, this is the last cookie recipe that I have to share with you before the holiday.  Just in time if you are looking for one last treat to cram into your baking schedule.  And I promise, it's a good one.
This is one of those recipes that I expected others to like, but not to be the biggest hit or anything like that.  And of course I was wrong.  I totally ended up eating my words.  By far, these chocolate cream cheese cookies were the most popular dessert at our holiday party and among the leftovers that I sent in to my husband's office.  Disappeared in a flash!  Now that I like.
And I guess I totally get it.  It's hard not to love a soft, thick chocolate cookie studded with even more chocolate, dipped in white chocolate and sprinkled with sea salt.  Now you can obviously leave out the white chocolate dipping part, but please oh please don't skip it … unless you're in a huge rush and then I'll allow it : )
There's something about the hardened white chocolate shell that makes these cookies magical.  Yes, I just said magical.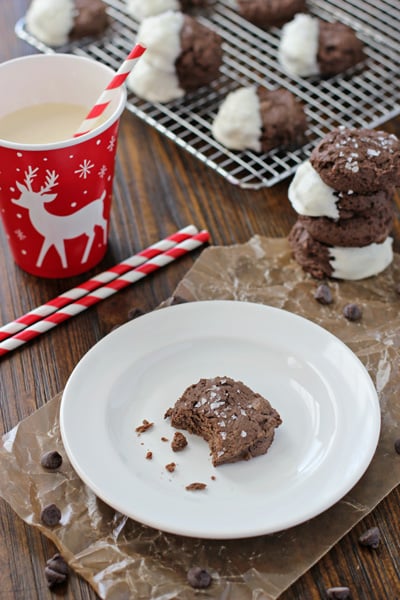 Because cookies can definitely be magical.  Until you've eaten a few too many and are in desperate need of a salad.  I should probably go make a salad right now…
Chocolate Cream Cheese Cookies with Sea Salt
Recipe for chocolate cream cheese cookies. Soft, thick chocolate cookies, studded with more chocolate, dipped in white chocolate and finished with sea salt.
Ingredients:
For the cookies:
1 ¾ cups all-purpose flour
⅓ cup dutch-processed cocoa powder
½ teaspoon baking powder
¼ teaspoon flaky sea salt
1 (8 ounce) package cream cheese, room temperature
6 tablespoons unsalted butter, room temperature
¾ cup packed light brown sugar
¼ cup plus 2 tablespoons granulated sugar
1 large egg
1 ½ teaspoons vanilla extract
½ cup dark chocolate chips
For topping:
about 8 ounces white chocolate or candy melts, roughly chopped
flaky sea salt, for sprinkling
Directions:
To make the cookies – in a small bowl, whisk together the flour, cocoa powder, baking powder and salt. Set aside.
In the bowl of a stand mixer fitted with the paddle attachment, add the cream cheese and butter. Beat on medium speed for about 1 minute, until well combined. Add in both kinds of sugar. Beat on medium speed until light and well combined, about 2 minutes. Add in the egg and vanilla extract and beat until combined. Slowly add in the flour mixture, mixing on low speed until combined. Remove the bowl from the mixer and gently fold in the chocolate chips. Transfer the bowl to the refrigerator and chill for about 45 minutes to 1 hour.
Preheat the oven to 350 degrees. Line a baking sheet with parchment paper.
Scoop about 1 ½ to 2 tablespoons of dough (I used my large cookie scoop). Drop on the prepared baking sheet about 2 inches apart. Use your fingers to flatten each cookie a little (they won't really spread while baking).* Bake for about 14 to 16 minutes, until the cookies are set. Let the cookies cool directly on the baking sheet for 5 minutes before removing to a wire rack to cool completely. If you are baking the cookies in batches, make sure you keep the dough in the refrigerator in between.
For the topping – lay out a piece of wax paper on a work surface or a baking sheet. Melt the white chocolate (I usually do this in the microwave – heating in 30 second intervals at 50% powder, stirring after each until smooth). Carefully dip half of each cookie in the white chocolate and then set on the wax paper. Sprinkle immediately with sea salt. Repeat with the remaining cookies. Let the white chocolate harden completely before removing from the wax paper. Store in an airtight container.
No skipping chilling the dough!
*Alternatively, if you don't want to dip the cookies in white chocolate, sprinkle a little sea salt on each before baking.