Mediterranean Chicken Sausage and Veggie Bake
A simple weeknight dinner recipe for mediterranean chicken sausage and veggie bake. With veggies, chicken sausage and feta! Chop and bake!
Well hello Monday. You totally snuck up on me you saucy little thing. My days have been completely thrown off lately, which seems to happen whenever I've been out of town and am not in my normal routine groove.
And after a week of staying in pajamas and/or yoga pants … and watching hours upon hours of soap operas and family feud every day with my mom and grandma, well, I'm all over the place.
I've been back home in North Carolina since the middle of last week, but holy moly I cannot find my rhythm! I blame all the soaps – they messed with my mind.
Which would also explain why I only posted twice last week instead of the normal three times. I was CONVINCED that it was tuesday night when I got the mexican rice post all ready.
And then *thankfully* it dawned on me right before I went to bed that it was in fact wednesday night and ummm, I seriously needed to go edit the post and change all the wednesdays to thursday. Womp womp.
I'm working on getting my act back together. Thankfully I made this dish a few weeks ago and didn't really need to use my brain too much to get this ready to share with you.
About This Mediterranean Sausage Bake
And it happens to fit my mood perfectly since it is easyyyyy.
We're talking chop, dump and bake. The only thing you need to remember to do is drizzle on a little sauce and sprinkle on the cheese toward the end of the baking time.
Even I can manage that right now. So I have full confidence that you can too.
So this dish. We have plenty of sliced veggies, like red onion, green pepper and zucchini. We have pre-cooked chicken sausage for lots of flavor. We have oregano. Red pepper. Feta! Mozzarella!
And please oh please make sure you serve this with some bread (I loveeee naan or pita bread here). Because you need to use it to soak up all those sauce-y juices. Essential. With a capital E.
Additional Easy Chicken Recipes You Might Enjoy!
Did you make this recipe? Rate and review it down below! I'd love to hear from you.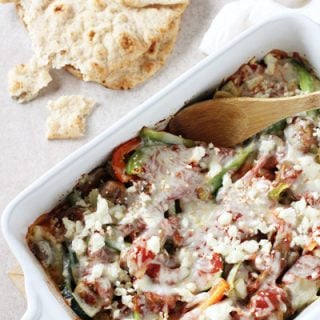 Mediterranean Chicken Sausage and Veggie Bake
A simple weeknight dinner recipe for mediterranean chicken sausage and veggie bake. With veggies, chicken sausage and feta! Chop and bake!
Ingredients
1 package (4 links) cooked chicken sausage, sliced
1 medium red onion, sliced
1 medium green bell pepper, sliced
1 medium red bell pepper, sliced
1 medium zucchini, halved lengthwise and sliced
1 cup chopped artichoke hearts (from a can)
2 tablespoons olive oil
1 ½ tablespoons honey
¼ teaspoon salt
¼ teaspoon red pepper flakes (or more to taste)
½ teaspoon dried oregano
¾ cup tomato sauce
1 cup freshly shredded mozzarella cheese
½ cup crumbled feta
pita bread or naan, for serving*
Instructions
Preheat the oven to 375ºF.
Add the sausage, onion, both peppers, zucchini and artichoke to a 9 by 13 inch baking dish. Drizzle with the olive oil and honey, then sprinkle with the salt, red pepper and oregano. Toss to combine and spread evenly in the dish.
Bake for about 20 minutes, stirring once halfway through, until the veggies are crisp tender.
Remove the dish from the oven and drizzle evenly with the tomato sauce. Sprinkle the top with the mozzarella and feta. Return to the oven for about 10 minutes, until the cheese is nice and melted and the veggies are all tender.
Serve with the pita bread (or naan!).
Notes
*To keep this dish gluten free, use your favorite gluten free bread for serving instead of the naan or pita bread. Additionally, be sure to check the ingredients on your chicken sausage to make sure they are gluten free.
Nutrition Information:
Yield:

4
Serving Size:

1
Amount Per Serving:
Calories:

371
Total Fat:

22g
Saturated Fat:

8g
Trans Fat:

0g
Unsaturated Fat:

11g
Cholesterol:

78mg
Sodium:

1009mg
Carbohydrates:

24g
Fiber:

5g
Sugar:

14g
Protein:

22g
Nutrition data shown is an estimate provided by an online calculator and is for informational purposes only. It should not be considered a substitute for a medical professional's advice.