Citrusy Quinoa Cashew Chicken and Broccoli
Quick and easy citrusy quinoa cashew chicken and broccoli! This weeknight dinner is packed with protein, veggies and a delicious orange ginger dressing!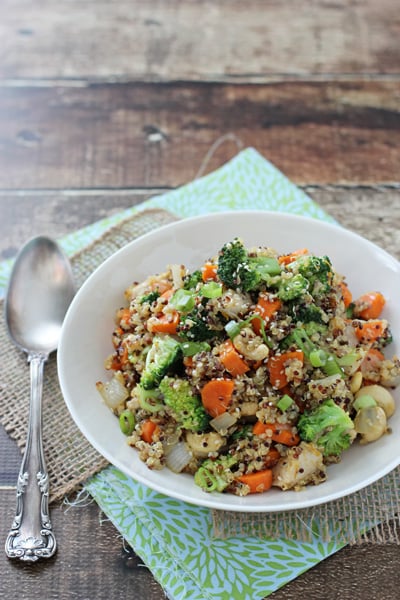 It's Friday! Let's all celebrate by having a dance party! Oh wait, I can't have a dance party.
Can we talk about how much of a mess I am at the moment? Being the clumsy person that I am, I managed to drop a flashlight on my foot.
And I now have a bum toe. Don't worry – it's not broken – I would know, I've broken my toe twice previously. Always doing completely stupid things. Like dropping flashlights on my foot.
So I've been hobbling around the last few days, whining and complaining and talking nonstop about my toe. My husband is just thrilled with all the toe talk. Not so much. In fact, he's banned me from talking about my toe.
Which I just choose to ignore and yammer on about it anyway. Lovely, huh?
So. Picture me hobbling around cooking and taking photos of this citrusy quinoa cashew chicken and broccoli. What a sight I tell you.
Of course I made this meal quite a number of times over the last few weeks but hadn't planned on taking photos until this week.
Which is of course when I decide to injure myself. I've got excellent timing. I'm on the mend now, but it's very hard for me to sit still. I've got ants in my pants.
But let's stop the toe talk (see I can stop!) and chat about this delicious weeknight dinner. Kinda like a stir-fry but with quinoa instead of rice. And you'll also toss everything in this awesome orange, ginger-y, garlic, soy sauce type dressing.
Crispy veggies. Tender chicken. Protein packed. Super flavorful. Done done and done.
Additional Stir-Fry Recipes You Might Enjoy!
Did you make this recipe? Rate and review it down below! I'd love to hear from you.
Citrusy Quinoa Cashew Chicken and Broccoli
Quick and easy citrusy quinoa cashew chicken and broccoli! This weeknight dinner is packed with protein, veggies and a delicious orange ginger dressing!
Ingredients
For the stir-fry:
1 cup uncooked quinoa, rinsed
2 cups low-sodium vegetable broth
2 large boneless skinless chicken breasts, cut into chunks
salt and pepper
2 tablespoons olive oil, divided
1 large onion, chopped
2 medium carrots, peeled and chopped
4 to 5 cups broccoli florets
¾ cup raw cashews
sesame seeds, for garnish
thinly sliced green onions, for garnish
For the sauce:
2 tablespoons freshly squeezed orange juice
1 tablespoon orange zest
2 tablespoons low-sodium soy sauce
1 tablespoon rice vinegar
1 tablespoon honey
1 clove garlic, minced
1 teaspoon grated fresh ginger
¼ cup olive oil
Instructions
Add the quinoa and vegetable broth to a medium saucepan. Bring the mixture to a boil, give it a stir, cover, then reduce the heat to medium-low / low and let simmer for about 15 minutes, until the water is absorbed.
Turn off the heat and let the pan sit covered for 5 minutes, then fluff the quinoa with a fork.
Meanwhile, season the chicken pieces with a little bit of salt and pepper.
Set a large skillet over medium heat. Add in 1 tablespoon of the olive oil. When hot, add the chicken to the pan. Toss to coat and cook for about 5 to 7 minutes, until cooked through and browned on all sides. Remove the chicken from the pan and set aside.
With the skillet still over medium heat, add in the remaining 1 tablespoon olive oil. Add in the onion, carrots and broccoli. Cook for about 5 to 7 minutes, until crisp tender. Turn off the heat.
Add the chicken back to the pan (including any juices) as well as the cashews and the cooked quinoa. Mix to combine.
In a small bowl, whisk together the orange juice, zest, soy sauce, vinegar, honey, garlic and ginger. Add in the olive oil and whisk vigorously until combined. Pour the sauce into the skillet and mix until evenly coated.
Scoop into bowls and garnish with sesame seeds and green onions.
Nutrition Information:
Yield:

6
Serving Size:

1
Amount Per Serving:
Calories:

472
Total Fat:

25g
Saturated Fat:

4g
Trans Fat:

0g
Unsaturated Fat:

20g
Cholesterol:

34mg
Sodium:

429mg
Carbohydrates:

42g
Fiber:

8g
Sugar:

8g
Protein:

23g
Nutrition data shown is an estimate provided by an online calculator and is for informational purposes only. It should not be considered a substitute for a medical professional's advice.