BBQ Sweet Potato, Chickpea and Bacon Salad
Recipe for sweet & salty BBQ sweet potato salad! With roasted veggies, chickpeas, fresh pineapple, crispy bacon & a creamy BBQ sauce dressing!
Sweet and salty foods. They are my jam. My life. Okay, that may be a tad dramatic but still. You get my point. They are the best! And this BBQ chickpea salad is no exception.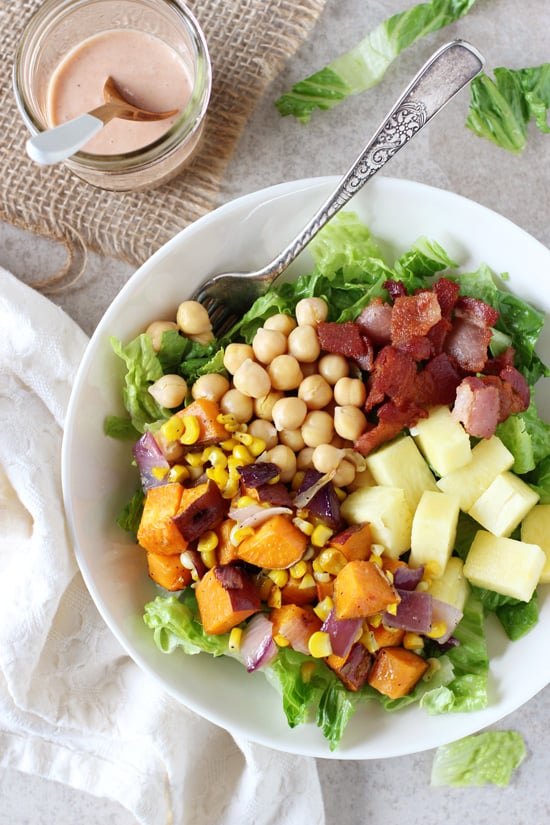 Sweet fresh pineapple. Salty bacon. Chickpeas. Roasted sweet potato and corn. A creamy dressing made from BBQ sauce and greek yogurt. Happiness happiness happiness.
Although it was not quite a happy household when I made this salad for the first time.
You see, the husband and I have a deal. We don't eat bacon very often, so when I buy it, I promise to pick up a few extra slices just for the husband to enjoy. He loves bacon and well, I can take it or leave it most of the time.
The problem? I tend to forget about this deal. And there may or may not have been a small disagreement over whether all the bacon should go into the salad or be handed over as part of said deal.
I tried to hide the bacon (who does this?) in order to save the salad.
The moral of this story? One, don't try to hide bacon. It's an impossible feat. And two? For those of you who are vegetarians, this salad is still delicious without the bacon. Yes, I lost that battle.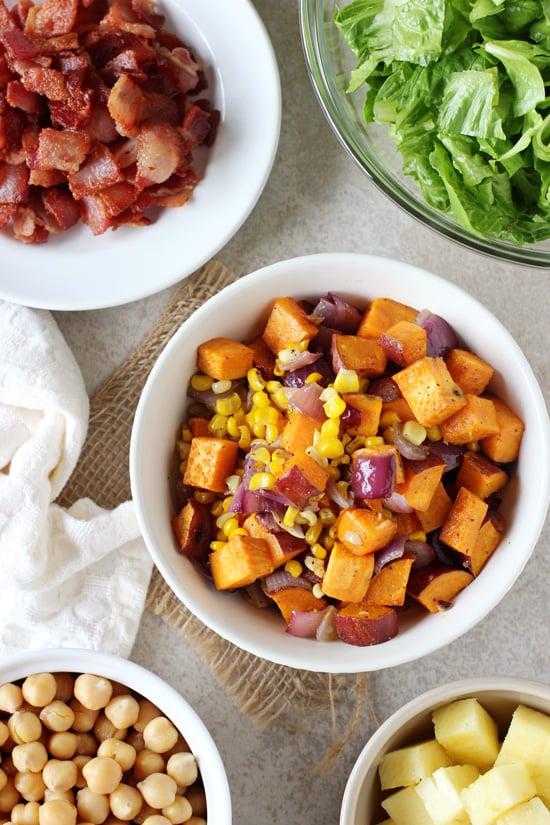 Ingredients In This BBQ Sweet Potato Salad
So! Let's talk salad. We already covered the fact that it's sweet and salty, so we'll move along to the components.
We have some roasted sweet potato, fresh corn and red onion. We have some chickpeas, some chopped pineapple, some bacon, some romaine lettuce.
We'll tie it all together with a super easy dressing made from BBQ sauce and greek yogurt. We're keeping this nice and simple since it is summer after all.
I personally love to serve this salad with cornbread, since in my opinion, it is made to go with BBQ anything. I even whipped up a whole batch just to use when I took pictures of this dish.
And then I went and forgot to actually put the cornbread in the photos. Even though it was sitting right there on the counter. Again, who does this??
Products I Love & Use To Make This Recipe (contains affiliate links):
Bone Suckin' BBQ Sauce – This is my favorite BBQ sauce. It's on the thinner side, which works well here for the dressing.
Additional BBQ Recipes You Might Enjoy!
Did you make this recipe? Rate and review it down below! I'd love to hear from you.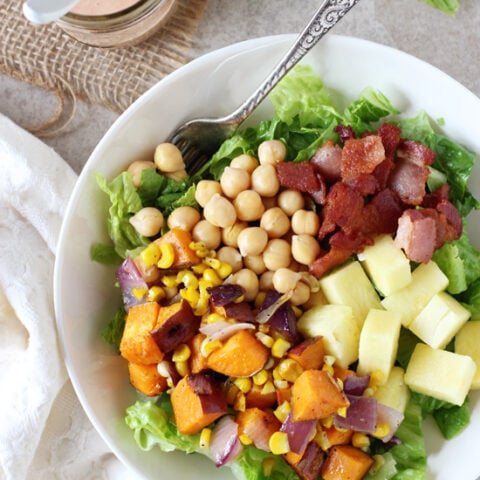 BBQ Sweet Potato, Chickpea and Bacon Salad
Recipe for sweet & salty BBQ sweet potato, chickpea and bacon salad. With roasted veggies, fresh pineapple, crispy bacon & a creamy BBQ sauce dressing!
Ingredients
For the veggies:
1 medium red onion, chopped
2 medium sweet potatoes (about 1 ½ pounds), cut into ½ inch chunks
1 cup fresh corn kernels (from about 1 to 2 ears of corn)
2 tablespoons olive oil
2 cloves garlic, minced
½ teaspoon salt
¼ teaspoon pepper
For the dressing:
¼ cup your favorite BBQ sauce
¼ cup plain greek yogurt
1 teaspoon olive oil, or more as needed
salt, if needed (to taste)
For the salad:
5 cups chopped romaine lettuce
1 (15 ounce) can chickpeas, drained and rinsed
1 cup chopped fresh pineapple
5 to 6 slices thick-cut bacon, cooked until crispy and chopped
Instructions
To make the veggies:
Preheat the oven to 400ºF.
Add the red onion, sweet potatoes and corn to a large rimmed baking sheet. Drizzle with the olive oil and sprinkle with the garlic, salt and pepper. Toss to combine and spread in an even layer. Bake for about 25 minutes, stirring once halfway through, until all the veggies are tender. Set aside to cool slightly.
To make the dressing:
While the veggies are cooling, make the dressing.
Add the BBQ sauce, greek yogurt and olive oil to a small bowl and whisk until combined and smooth (depending on how thick or thin your BBQ sauce and greek yogurt are, use more of the olive oil to get it to a consistency that you can drizzle / pour easily). Taste and add salt if needed (again, it will depend on your BBQ sauce).
To assemble:
Divide the lettuce evenly among four plates. Top each with some of the cooled roasted veggies, the chickpeas, pineapple and bacon. Drizzle with the desired amount of dressing and serve immediately.
Notes
I cook the bacon in a skillet while the veggies are roasting - this way it doesn't add any extra time!
Nutrition Information:
Yield:

4
Serving Size:

1
Amount Per Serving:
Calories:

429
Total Fat:

16g
Saturated Fat:

3g
Trans Fat:

0g
Unsaturated Fat:

12g
Cholesterol:

15mg
Sodium:

1021mg
Carbohydrates:

59g
Fiber:

11g
Sugar:

22g
Protein:

16g
Nutrition data shown is an estimate provided by an online calculator and is for informational purposes only. It should not be considered a substitute for a medical professional's advice.