Blueberry Mint Sparkling Lemonade
Recipe for blueberry mint sparkling lemonade. A fun summer treat! Refined sugar free and made with fresh blueberries!
The real title of this recipe should be "operation use up some of the outrageously growing mint plant that is overtaking my tiny little herb garden."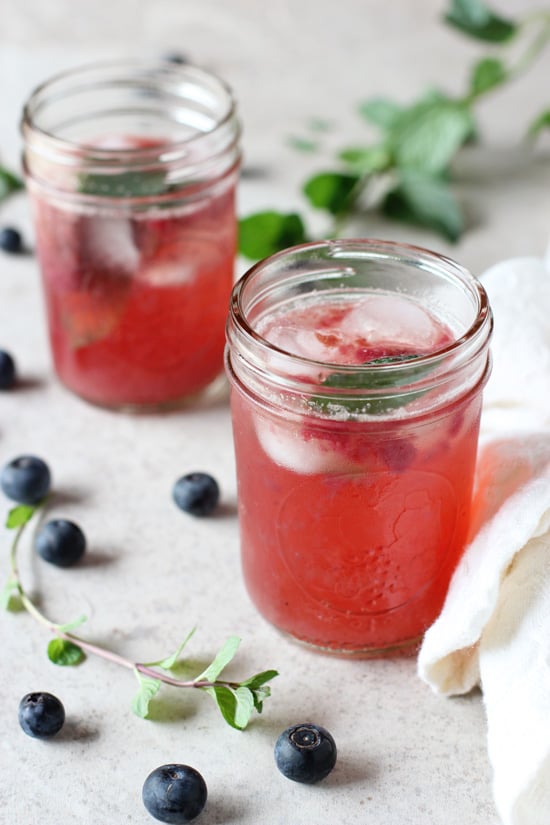 It is out. of. control. So I did what any normal person would do. I made blueberry mint sparkling lemonade. Three times in the last two weeks. Take that mint plant.
But seriously. All you expert gardeners out there. Is this normal? Does all mint overtake everything??? I keep cutting it back and then poof. Overnight it seems like the darn thing explodes all over again.
It even attacked my rosemary. And by attacked I mean wove its crazy branches all the way around it. And my rosemary is my baby. So this was not cool.
I will say though, we planted a chocolate mint plant this year and it is kind of freaking fantastic. I'm not a huge mint person but this one. It smells like chocolate. Which fascinates me. An herb that smells like chocolate!
And now I'm officially sidetracked. Let's get back to the lemonade at hand.
I am a huge huge water drinker but every now and then I do like to switch it up. Make something a little fun.
It also appears that I make one lemonade recipe every summer to share with you here. Which I just realized.
We had the vanilla honey iced tea lemonade last summer. And the sparkling raspberry lemonade in 2013.
Apparently I'm continuing the trend with today's version.
How To Make Blueberry Mint Lemonade
So. Let's get to it.
We'll quickly make a simple syrup to sweeten up the lemonade. I like to use pure maple syrup to keep the drink refined sugar free, but you could definitely use granulated sugar or brown sugar in its place.
Next, we'll puree some fresh blueberries and then mix it together with some freshly squeezed lemon juice, sparkling water and the simple syrup.
And bam! We're done. Wait, first we stir in the fresh mint. But if you don't have an exploding mint plant you could leave the mint out if you like. It's still mighty tasty.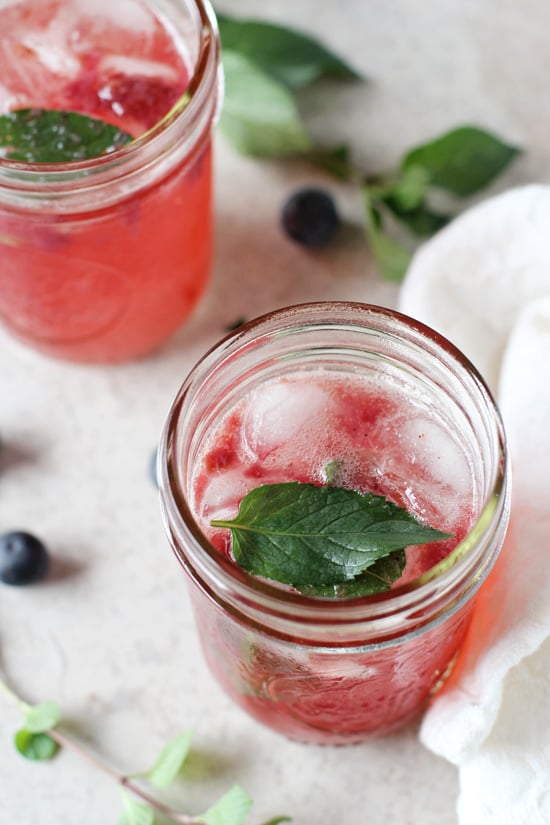 Additional Summer Drink Recipes You Might Enjoy!
Did you make this recipe? Rate and review it down below! I'd love to hear from you.
Blueberry Mint Sparkling Lemonade
Recipe for blueberry mint sparkling lemonade. A fun summer treat! Refined sugar free and made with fresh blueberries!
Ingredients
For the simple syrup:
⅓ cup water
⅓ cup pure maple syrup
½ teaspoon vanilla extract
For the lemonade:
1 pint fresh blueberries
1 cup freshly squeezed lemon juice, chilled
4 ½ cups sparkling water, chilled
¼ cup loosely packed fresh mint leaves
Instructions
To make the syrup:
Add the water and maple syrup to a small saucepan. Set the pan over medium heat and cook, stirring frequently, until the maple syrup has completely dissolved into the water (this doesn't take long at all). Remove from the heat and stir in the vanilla extract. Let the mixture cool completely. Store the syrup in the refrigerator until ready to use.
To make the lemonade:
Add the blueberries to the bowl of a food processor. Process until smooth. Strain the blueberry puree through a fine mesh sieve to remove the skins (using a wooden spoon or spatula to help push it through). You should have about ¾ cup of blueberry puree.
In a large pitcher, add the strained blueberry puree, lemon juice and sparkling water. Pour in the desired amount of simple syrup (start with less, you can always add more!) and mix gently. Taste and add more syrup if needed (I use all of it here). Stir in the fresh mint and serve immediately!
Notes
It usually takes me about 5 to 7 lemons to get the listed amount of lemon juice, just depending on how juicy they are.
You can also certainly use regular cold water instead of the sparkling water.
If you like your lemonade really sweet, you may want to make more of the simple syrup.
The lemonade will keep in the fridge for several days (it just won't be sparkling anymore!). It also gets infused with the mint flavor the longer it sits. You may need to give the lemonade a quick stir after it has been sitting (one of the times I made this it separated a bit, but it will come back together!).
Nutrition Information:
Yield:

6
Serving Size:

1
Amount Per Serving:
Calories:

84
Total Fat:

0g
Saturated Fat:

0g
Trans Fat:

0g
Unsaturated Fat:

0g
Cholesterol:

0mg
Sodium:

16mg
Carbohydrates:

22g
Fiber:

2g
Sugar:

16g
Protein:

1g
Nutrition data shown is an estimate provided by an online calculator and is for informational purposes only. It should not be considered a substitute for a medical professional's advice.