Peach and Raspberry Sangria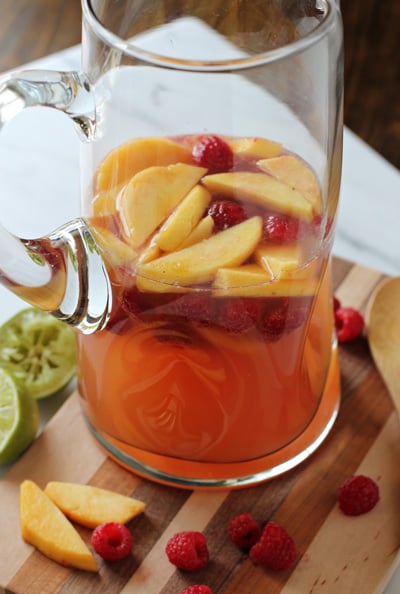 Can we talk for a second about how much I hate peeling peaches??  I sat there and mumbled about it the entire time I peeled the two peaches for this recipe.  Good thing no one else was home … I'm sure I sounded pretty nutty.  But I did it all in the name of sangria.  Peach and raspberry sangria to be exact.  I had visions of peach skins floating around in the drink if I didn't peel them.  And no one wants that.
Now that I have this lovely vision in your head, let's talk about something positive.  Like how good this sangria is.  And I don't even usually like rose or white wine.  Red wine all the way for me.  But, since I know that others actually do like non-red wines, I decided to give it a try.
And guess what – I liked it.  Well, at least when it's all mixed up with fresh fruit and other sangria fixins.  I'm a sangria fool, what can I say.  Good sangria, none of that eh stuff that you get sometimes at restaurants.  And in case you boycott white and rose wines, this pomegranate cranberry sangria is still my favorite.  Doesn't matter that it's not fall or winter yet – it's good anytime of the year.  Trust me.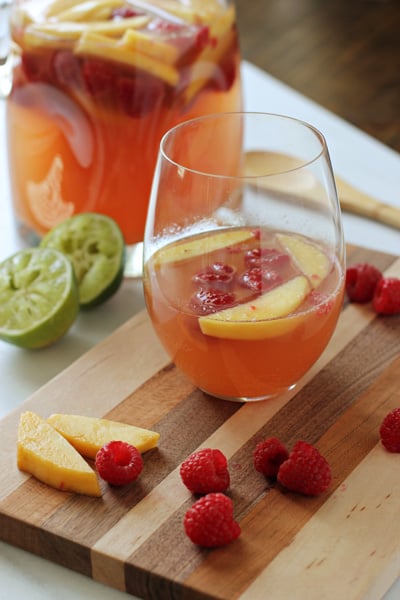 I know it's only Monday, but make this sangria part of your weekend plans.  You'll thank me later.
Peach and Raspberry Sangria
Recipe for peach and raspberry sangria. A fruity, summery sangria that is simple to whip up. Perfect for entertaining.
Ingredients:
1 (750 ml) bottle your favorite rose wine
1 cup peach nectar
juice of 1 lime
⅓ cup brandy
1 cup ginger ale
2 peaches, peeled and sliced
6 ounces fresh raspberries
Directions:
Add the wine, peach nectar, lime juice, brandy and ginger ale to a large pitcher. Stir to combine. Add in the peach slices and raspberries. Mix gently. Place the pitcher in the refrigerator and chill until ready to serve.
I personally like the way this tastes even better after it has had a chance to sit for at least several hours – the flavors meld nicely over time.