Sparkling Raspberry Lemonade
So can I tell you about a lovely new trick that Emma the beagle has picked up?  We have a small brick patio behind our house and there is (obviously) a door that leads out to it.  She has recently started planting herself right in front of the door and proceeds to sit there and scratch (yes, like a cat) the window panes along with making giant loud sighs.  Yes, I do mean sighs.  Now let me preface this with the fact that she does not have to go out to do her "business."  She just really wants to sit outside and isn't afraid to let us know it.  She's a vocal little thing.
What does this story have to do with sparkling raspberry lemonade?  Absolutely nothing.  But we did drink some of it outside on the patio this past weekend while Emma proceeded to wreak havoc in the mulch beds.  And this is why we don't let her out there unsupervised.
Since you probably don't want to hear more about Emma, let's talk about lemonade.  Lemonade just screams summer to me.  I love playing with different flavors and decided I needed to try a raspberry version.  With a little sparkling water to make it even more fun.
This lemonade is tart and refreshing.  We enjoyed the slight bubble as a nice change from my normal recipe, but you could definitely use regular water instead if you like.
Now, please tell me that your pet has strange habits as well?
Sparkling Raspberry Lemonade
Recipe for sparkling raspberry lemonade. Tart and refreshing, this drink is perfect for summer entertaining.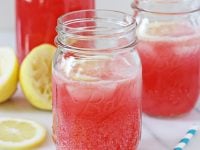 Ingredients:
½ cup water
½ cup granulated sugar
6 ounces fresh raspberries
1 cup freshly squeezed lemon juice (about 7 to 8 lemons)
3 ½ cups cold sparkling water
Directions:
Start by making a simple syrup to sweeten the lemonade. In a small saucepan, add the ½ cup water and ½ cup granulated sugar. Heat over medium high, stirring occasionally, until the sugar has completely dissolved. Remove from the heat and set aside to cool slightly.
Add the raspberries to the bowl of a food processor. Process until smooth. Strain the raspberry puree through a fine mesh sieve to remove the seeds (using a wooden spoon to help push it through).
In a large pitcher or container, add the raspberry puree and lemon juice. Pour in the simple syrup (If you are not sure how sweet you want the lemonade, start with some of the syrup – you can always add more later. I used all of the syrup). Mix to combine. Right before serving, add in the sparking water and mix gently to combine (you can store the mixture in the refrigerator until you are ready to serve and then just add the sparkling water at the last minute).