Blueberry Banana Bread with Oat Crumble
This post is sponsored by Bob's Red Mill.
Lightly sweet and moist blueberry banana bread with oat crumble! Filled with whole wheat flour, maple syrup and plenty of blueberries!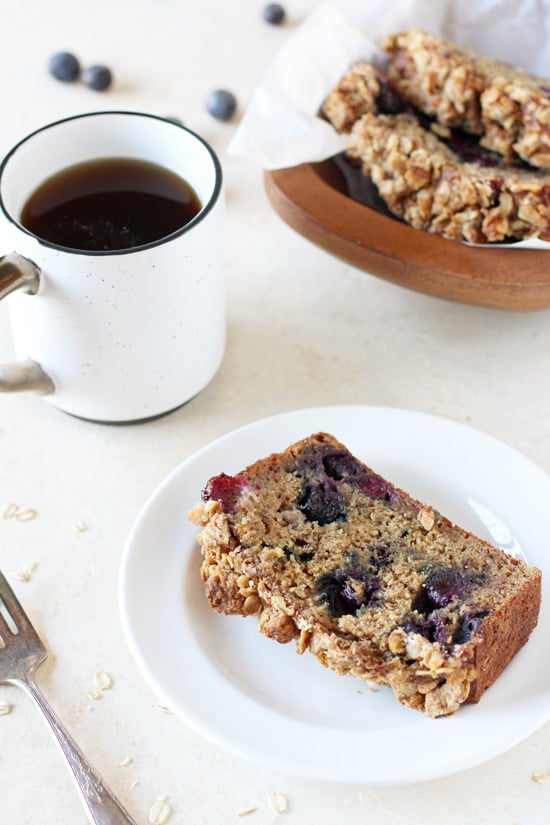 It's Easter baking time! Well, I should say, it's time to get prepared for Easter baking! But. I know for SURE that this healthy blueberry banana bread will most definitely be making an appearance on my holiday menu.
And let me tell you. I am very serious about my Easter menu. And by serious, what I really mean is that I may go a tad bit overboard.
This is something that I blame on my mom. Growing up, she put together the most fantastic Easter. The highlight? When we woke up in the morning, there were giant "bunny prints" cut out in pastel colored paper that made a sort of trail from our bedroom to wherever she hid the Easter baskets. There were all sorts of dead ends and fun little treats in those plastic eggs along the way. It was amazing. And she did it every year.
She may have also done this once again about five or so years ago when my sister and I both ended up being home for the holiday. It was epic. And yes, it was just as cool as an adult (possibly even more). Especially since she put dog treats in some of the eggs and Emma went absolutely nuts. NUTS.
Anyway, I think I inherited her Easter overboard gene. Except my strong point is the cooking!
Which leads us to today's baked goodie. Lightly sweet banana bread with a little something special. In the form of juicy blueberries and an easy oat crumble. So so good.
Healthy Blueberry Banana Bread
Now, the recipe itself is pretty simple. You just need a few bowls, a whisk and your loaf pan. Nothing fancy required! We'll whisk together the dry ingredients, then the wet ingredients, before mixing them together into a batter and topping with the oat crumble. Done and done.
The banana bread is naturally sweetened with pure maple syrup and of course, the banana and blueberries! We also have some whole wheat flour, to give it a little boost of whole grains.
And then of course there's the all-purpose flour. I keep my pantry stocked at all times with Bob's Red Mill organic unbleached all-purpose white flour – it is freshly milled from organic hard red wheat and is not enriched with any additives. Which is really important to me. It's incredibly versatile and helps to produce light and airy baked goods. Like in today's recipe! It helps keep the banana bread from getting too dense and heavy.
Now, once the bread emerges all golden brown and warm from the oven, we can dig in! I'd especially encourage you to serve with a steaming mug of coffee or tea. Perfect for the holiday (orrrrr just as an afternoon snack).
PS – You can grab a Bob's Red Mill coupon here to get you started with all your Easter and spring baking needs!
Additional Quick Bread Recipes You Might Enjoy!
Did you make this recipe? Rate and review it down below! I'd love to hear from you.
Blueberry Banana Bread with Oat Crumble
Yield: 1 (9x5 inch) loaf

Prep Time: 20 minutes

Cook Time: 1 hour

Total Time: 1 hour 20 minutes

Lightly sweet and moist blueberry banana bread with oat crumble! Filled with whole wheat flour, maple syrup and plenty of blueberries!
Ingredients
For the topping:
¼ cup Bob's Red Mill Organic Unbleached All-Purpose Flour
¼ cup old-fashioned rolled oats
¼ cup raw walnuts, finely chopped
pinch of ground cinnamon
pinch of fine sea salt
1 ½ tablespoons grapeseed oil
1 tablespoon pure maple syrup
For the bread:
1 ¼ cups Bob's Red Mill Organic Unbleached All-Purpose Flour
¾ cup white whole wheat flour
1 ½ teaspoons ground cinnamon
¾ teaspoon baking soda
½ teaspoon fine sea salt
1 cup well mashed banana (from about 3 very ripe bananas)
2 large eggs
2 teaspoons vanilla extract
¼ cup grapeseed oil
¼ cup unsweetened vanilla almond milk
½ cup plus 2 tablespoons pure maple syrup
1 ¼ cups fresh blueberries tossed with 1 teaspoon flour
Instructions
Preheat the oven to 350ºF. Spray a 9x5 inch loaf pan with nonstick cooking spray and set aside.
For the topping:
Add the flour, oats, walnuts, cinnamon and salt to a small bowl and toss to combine. Pour in the oil and maple syrup and mix until evenly moistened. Set aside.
For the bread:
In a large bowl, whisk together both kinds of flour, the cinnamon, baking soda and sea salt. In a medium bowl, whisk together the banana, eggs, vanilla, oil, milk and maple syrup until well combined. Add the wet ingredients to the bowl with the dry ingredients and mix until just combined. Gently fold in the blueberries, then transfer the batter to the prepared pan. Spread evenly with a spatula. Use your fingers to crumble the topping over the top.
Bake for about 60 to 70 minutes, or until a cake tester inserted into the middle comes out clean. If the top of the loaf starts getting too brown during baking, tent loosely with aluminum foil. Let cool for at least 15 to 20 minutes before slicing! The bread keeps for about 2 to 3 days at room temperature (I like to wrap loosely with aluminum foil).
Notes
It's important to stick with a 9x5 inch loaf pan here! It doesn't bake up quite right with a smaller sized pan.

Another neutral oil can be substituted for the grapeseed oil. Additionally, regular milk can be subbed for the almond milk.
Nutrition Information:
Yield: 10 Serving Size: 1

Amount Per Serving:

Calories: 278 Total Fat: 11g Saturated Fat: 1g Trans Fat: 0g Unsaturated Fat: 9g Cholesterol: 37mg Sodium: 230mg Carbohydrates: 40g Fiber: 3g Sugar: 9g Protein: 6g

Nutrition data shown is an estimate provided by an online calculator and is for informational purposes only. It should not be considered a substitute for a medical professional's advice.

This post is sponsored by Bob's Red Mill. However, all opinions and content are completely my own. As always, thank you for reading and letting me share brands that I love!