Mediterranean Couscous Salad
Let's continue the Easter recipe train, shall we? With this mediterranean couscous salad!
Which, um, I'm not really sure why I consider Easter food. Other than the fact that it's spring-y and fun and would make a most excellent side dish on the holiday!
Me on the other hand? I personally have been eating this as my dinner the last few weeks. More on that in a sec.
But first! As if you all don't already think I'm a crazy dog lady … I want to say a big happy birthday to my favorite furry child (yes, child). Because clearly, clearly she reads this blog and knows that I'm wishing her a happy birthday. <— I told you, crazy beagle lady right here.
This little munchkin turned the big 9 years old on Saturday!
I'm kinda sorta freaking out that she's nine years old. But! We gave her lots of extra snuggles and a big fat treat and I think she thought she hit the jackpot. Other than the wait, come here, I want to take your picture!
ANYWAY. I'll stop now. And get back to the recipe. Which I suppose is the reason you are here! Not to see my dog pictures. Ahem.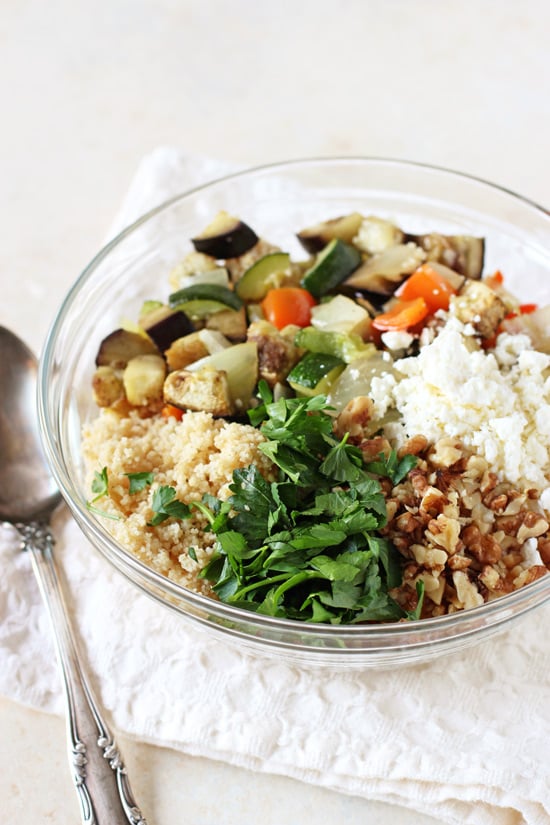 So, this salad! This is one of those dishes that I think can really have so many uses. It works as a side dish. It works as dinner. It is also fantastic at room temperature (making it a great option for lunch!).
Win to the win, am I right?
Now, the salad itself is quite simple to pull together. First, we roast up a bunch of different veggies. While those are in the oven, we'll cook up the couscous (which cooks in no time flat – one of my favorite reasons to use it). Finally, we mix it all together with some salty feta cheese, crunchy walnuts and a bright and cheery lemon-y dressing.
It's healthy and filling and oh so tasty.
Just a quick heads up – this is the only recipe I have coming your way this week (I'll see you Saturday for another meal plan!). I have a ton of behind-the-scenes maintenance stuff that just really needs to get done … which I've been putting off forever (helloooo ingredient index! womp womp). So, I'm taking a little extra time this week to finally make that all happen! Thanks for your understanding!
Yield: about 4 servings as a main dish
Mediterranean Couscous Salad
Prep Time: 20 minutes
Cook Time: 20 minutes
Total Time: 40 minutes
A bright and healthy mediterranean couscous salad recipe filled with roasted veggies, salty feta and a lemon dressing! A perfect main or side dish!
Ingredients:
For the salad:
1 medium onion, chopped
1 medium red bell pepper, chopped
1 medium zucchini, chopped
4 cups cubed (½ inch) eggplant*
3 tablespoons olive oil
3 large cloves garlic, minced
½ teaspoon fine sea salt
¼ teaspoon pepper
1 ¼ cups water
1 cup uncooked whole wheat couscous
½ cup crumbled feta cheese
¼ cup raw walnuts, chopped
For the dressing:
zest of one medium lemon
1 tablespoon lemon juice
¼ cup olive oil
1 tablespoon honey
1 tablespoon dijon mustard
¼ teaspoon fine sea salt
pinch of pepper
fresh chopped parsley or basil, for garnish
Directions:
For the salad:
Preheat the oven to 400ºF.
Add the onion, pepper, zucchini and eggplant to a large rimmed baking sheet. Drizzle with the olive oil, then sprinkle with the garlic, salt and pepper. Toss to combine then spread in an even layer. Bake for about 15 to 20 minutes, stirring once halfway through, until tender. Remove from the oven and let cool for about 5 minutes.
Meanwhile, add the water to a small saucepan. Bring to a boil then stir in the couscous. Cover, remove from the heat and let sit for 5 minutes. Fluff the couscous with a fork, then add to a large bowl along with the feta and walnuts.
Add the cooled veggies to the large bowl and toss to combine.
For the dressing:
Add the lemon zest, lemon juice, olive oil, honey, mustard, salt and pepper to a small bowl. Whisk vigorously until well combined.
Pour the dressing into the bowl with the couscous and toss until combined. Garnish with the fresh parsley or basil.
*You'll get the 4 cups from 1 small to medium eggplant.
You can also absolutely use regular couscous (instead of whole wheat).
The salad keeps well fully assembled in the fridge for several days.