Roasted Vegetable Quesadillas
Plenty of veggies, spices, black beans and of course cheese make these roasted vegetable quesadillas a weeknight staple! A simple vegetarian recipe that can double as an appetizer!
So, since it is the start of the workweek and all that jazz, I thought we'd ease on in with a simple and fun dinner idea. Because these vegetarian quesadillas will chase away all your Monday morning (afternoon, evening?) blues.
Especially after a super fun weekend. For me, there was some dinner potluck-ing and catching up with friends. There was also a fast trip to DC (where we used to live!) for a sort of vow renewal for other dear friends. And! While there, we got to stay at a hotel in Old Town Alexandria that we've always loved, but um, never had any reason to stay at since we lived less than 10 minutes down the street.
So dreams were comin' true this weekend! <— I told you, I lead a wildly exciting life! No but really, all that activity tired me out.
Anyway, since you're here to chat about food, let's get back to the business at hand. Quesadillas! Which I have a very soft spot for. And since you all specifically requested more quesadilla recipes a few months ago, who am I to say no! I'm here to deliver.
So, today's recipe is sort of a standard one at our house. We roast up lots of colorful veggies with plenty of spices, layer with black beans, a touch of cheese and pop into a skillet until melty and crisp. Yum-o. Basic but fantastic, yes?
Tips & Tricks For These Roasted Vegetable Quesadillas
Since there's just two of us at our house, we certainly don't need to eat all 12 quesadillas in one sitting. So, here's what I do: Let the filling cool to room temperature and then assemble the quesadillas as directed in the recipe below. Wrap each individually in plastic wrap and store in the fridge. When ready to eat, just cook them in the skillet. Makes for a super fast dinner (or a fun lunch!).
You can also certainly use other veggies here. I love the combo listed below, but this recipe can be very clean-out-the-fridge-ish if desired!
Go wild with what you serve these with. We love using enchilada sauce for dipping, but I think salsa, greek yogurt or even guac would all be fantastic. Please just serve with something for dipping – essential for quesadillas!! At least according to me.
Oh quesadillas, you so have my heart.
Additional Vegetarian Quesadilla Recipes You Might Enjoy!
Did you make this recipe? Rate and review it down below! I'd love to hear from you.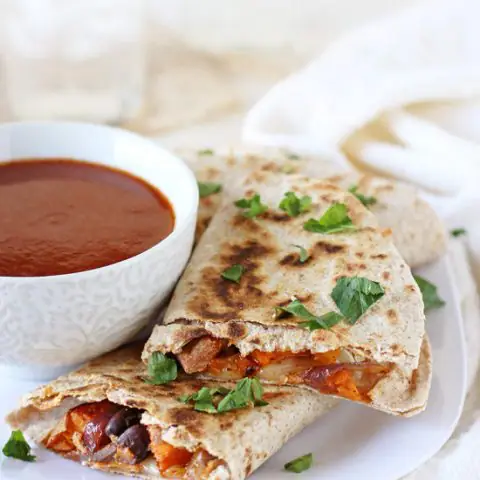 Roasted Vegetable Quesadillas
Yield:
about 10 to 12 quesadillas
Plenty of veggies, spices, black beans and of course cheese make these roasted vegetable quesadillas a weeknight staple! A simple vegetarian recipe that can double as an appetizer!
Ingredients
For the filling:
1 medium red onion, sliced
1 medium red bell pepper, sliced
1 medium yellow bell pepper, sliced
1 medium jalapeno, seeded and sliced
1 large sweet potato, cut into ½ inch chunks
2 ½ tablespoons olive oil
4 cloves garlic, minced
1 teaspoon cumin
¾ teaspoon smoked paprika
½ teaspoon chili powder
¾ teaspoon fine sea salt
¼ teaspoon cayenne pepper (or to taste)
1 (15 ounce) can black beans, drained and rinsed
For the quesadillas:
10 to 12 large whole wheat flour tortillas
2 cups freshly shredded mild white cheddar cheese
enchilada sauce, for serving
Instructions
For the filling:
Preheat the oven to 400ºF.
Add the onion, both peppers, the jalapeno and sweet potato to a large rimmed baking sheet. Drizzle with the olive oil and sprinkle with the garlic, cumin, paprika, chili powder, salt and cayenne. Toss to combine and spread in an even layer. Bake for about 20 to 25 minutes, stirring once halfway through, until the veggies are all tender. Remove from the oven and let cool slightly. Add the black beans to the pan and mix to combine. Taste and season with additional salt / cayenne as needed.
For the quesadillas:
Place a tortilla on a work surface. Spoon some of the veggie / bean mixture on half of the tortilla, leaving a small border around the edge. Top with some of the cheese. Fold the empty half of the tortilla over the filling to form a semicircle. Repeat with the remaining tortillas.
Set a nonstick skillet over medium heat. When hot, place an assembled quesadilla in the pan and cook, flipping once halfway through, until both sides are browned and crispy and the cheese is melted. Repeat this process with the remaining quesadillas.
Cut into triangles and serve with the enchilada sauce on the side for dipping (I like to warm up the sauce slightly before serving).
Notes
I love the enchilada sauce here for dipping but you can absolutely serve with whatever you like! This is my go-to homemade enchilada sauce recipe.
Yield may vary slightly depending on how full you stuff your quesadillas.
Recipe cook time includes 20 minutes for roasting the veggies in the oven plus 15 minutes for cooking the assembled quesadillas in the skillet. The skillet time will vary, depending on how big your skillet is (i.e. how many you can fit in the pan) and how many you are cooking right after assembling (see prep ahead tips in the post above!).
Nutrition Information:
Yield:

12
Serving Size:

1
Amount Per Serving:
Calories:

266
Total Fat:

13g
Saturated Fat:

6g
Trans Fat:

0g
Unsaturated Fat:

6g
Cholesterol:

20mg
Sodium:

529mg
Carbohydrates:

27g
Fiber:

6g
Sugar:

3g
Protein:

11g
Nutrition data shown is an estimate provided by an online calculator and is for informational purposes only. It should not be considered a substitute for a medical professional's advice.