Fresh Cherry Tomato Sauce
Packed with fresh basil, this simple fresh cherry tomato sauce is a perfect summer recipe! Toss with pasta for a flavorful weeknight meal!
Cherry tomato sauce = a fantastic way to put all those tomatoes from your garden to good use! Not that I have a garden with tomatoes. Or anything for that matter. For various reasons (that will bore you to tears), we haven't planted anything this year. Herbs, veggies, nadda.
So maybe I should say that this sauce is perfect for putting all the produce you buy from the store or farmer's market to good use! You know, just because you want to make it.
And make it you should. Super simple. Under 30 minutes. And with some angel hair pasta? Perrrrfection.
Added bonus? You don't even have to slice the tomatoes. They just get dumped whole into the skillet. Because can we talk about how much I hate slicing cherry tomatoes? Why does it always seem to take so long??
Anywho, I am clearly getting a bit sidetracked. I've actually been making this sauce for about two years now (or something similar … I've always employed that whole ehhh let's add a pinch of this, a dash of that – very a la my grandma if you will). But I finally wrote it down.
Because it's a sort of lazy sauce. And doesn't really take much effort. And during the summer heat, I think we can all use more lazy recipe ideas. Yes? Yes!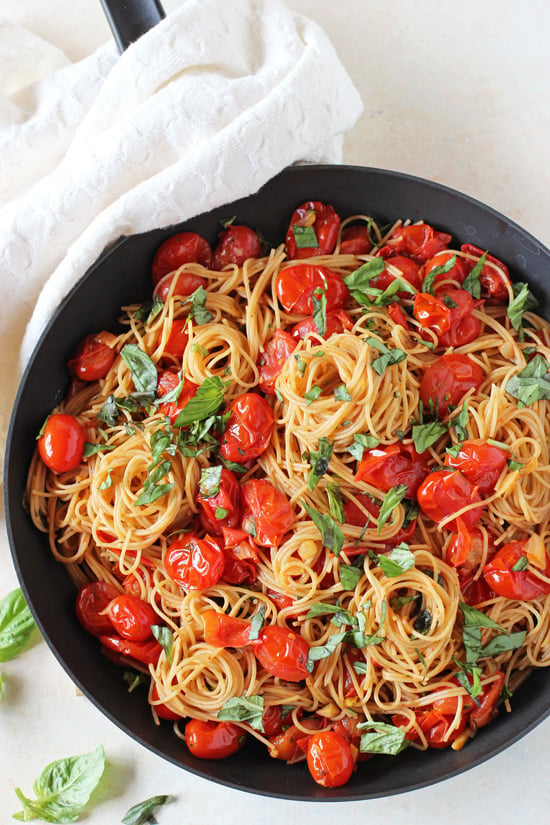 Tips & Tricks For This Cherry Tomato Sauce
Please don't be scared of the wine in the recipe. The sauce doesn't taste at all wine-y once cooked. It just adds awesome flavor! But, you can always use extra broth in its place. But then you don't get to drink the wine too – and that's no fun!
Please also be careful when you smash the tomatoes with a fork or wooden spoon! Depending on how firm the tomatoes were to begin with, the juices can definitely "explode" when smashing. So be prepared!
For our taste, we think this amount of sauce works perfectly when tossed with 8 ounces of pasta. I like to add the drained pasta right into the skillet and then toss to combine. Sometimes I'll add in a touch of reserved pasta water, but usually not.
Not in the mood for pasta? The sauce is also excellent spooned over grilled chicken!
Fresh, summer-y, herb-y pasta love ♡ ♡ ♡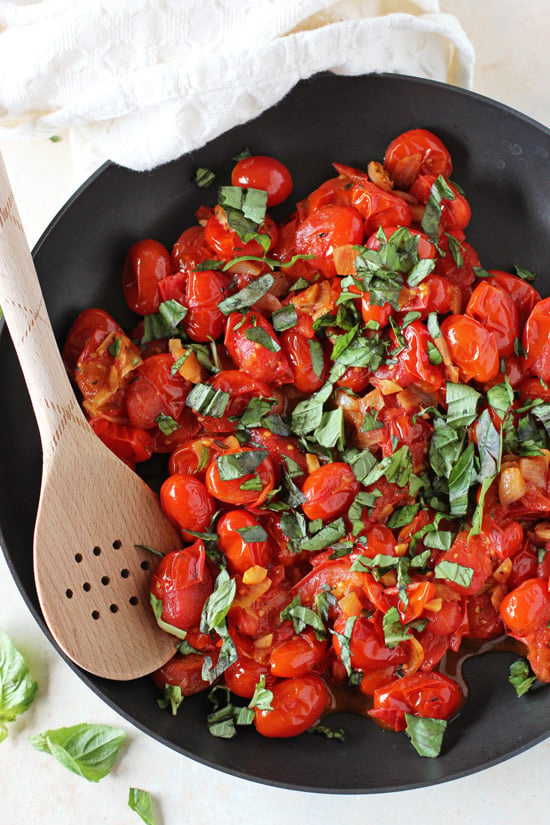 Additional Cherry Tomato Recipes You Might Enjoy!
Did you make this recipe? Rate and review it down below! I'd love to hear from you.
Fresh Cherry Tomato Sauce
Packed with fresh basil, this simple fresh cherry tomato sauce is a perfect summer recipe! Toss with pasta for a flavorful weeknight meal!
Ingredients
1 ½ tablespoons olive oil
2 medium shallots, minced
3 large cloves garlic, minced
1 teaspoon minced fresh thyme
2 pints cherry tomatoes
¼ cup dry white wine
½ cup low sodium vegetable broth
¼ teaspoon fine sea salt
¼ teaspoon red pepper flakes, or more to taste
pinch of sugar
⅓ cup packed fresh basil leaves, chopped
Instructions
Set a large nonstick skillet over medium heat. Add in the olive oil. When hot, add in the shallots, garlic and thyme. Cook for about 1 minute, until the shallots have started to soften. Add in the tomatoes. Continue to cook for about 7 to 9 minutes, stirring occasionally, until the tomatoes start to char and burst.
Pour in the wine and use a wooden spoon to scrape any bits from the bottom of the pan. Add in the broth, salt, red pepper flakes and sugar. Use the back of a wooden spoon (or a large fork) to smash the tomatoes (be careful! the juices explode a bit!), then continue to cook for about 5 to 7 minutes, until reduced to your liking. Turn off the heat and stir in the fresh basil. Season with additional salt and red pepper flakes to taste.
Serve with pasta or however you would like!
Nutrition Information:
Yield:

4
Serving Size:

1
Amount Per Serving:
Calories:

106
Total Fat:

5g
Saturated Fat:

1g
Trans Fat:

0g
Unsaturated Fat:

4g
Cholesterol:

0mg
Sodium:

162mg
Carbohydrates:

11g
Fiber:

3g
Sugar:

6g
Protein:

2g
Nutrition data shown is an estimate provided by an online calculator and is for informational purposes only. It should not be considered a substitute for a medical professional's advice.