Mexican Quinoa Stuffed Portabella Mushrooms
Filled with fresh veggies and black beans, these mexican quinoa stuffed portabella mushrooms are hard to resist! Topped with cheese and an herby avocado sauce!
It's mexican food monday! Is that a thing? Can it be a thing? Let's make it a thing!
Can you tell I'm excited about today's recipe? I mean, who wouldn't be excited about these stuffed portabella mushrooms? So much goodness, so much to love.
Actually, I can name someone who is not excited about today's dish. Emma. Little crazy pants beagle over here is currently doing everything within her power to distract me. She's pulling out all the stops.
Whining. Zooming around upstairs with her toys. Sitting right next to my chair and using her paws to scratch my arm in an attempt to get my attention (which let's be honest, totally works). Lots and lots of sighing. She's not dramatic or anything. Ahem, I don't know where on earth she might get that from.
But! I'm focusing. And desperately trying not to laugh at all her antics (because that only ends up fueling her even more).
So, let's get back to business and talk about these stuffed mushrooms. We have a filling packed with fresh veggies, loads of spices, black beans and quinoa. Protein power! <— I may be a little out of hand this morning.
While we are getting the filling together, we'll bake the mushrooms until jusssst tender. We scoop all that filling goodness into the baked caps, before sprinkling them with some cheese and returning to the oven to get nice and melt-y. And finally! We finish it all off with a creamy, zesty, zingy, herby avocado sauce.
It's the stuff dreams are made of baby.
Tips & Tricks For These Quinoa Stuffed Mushrooms
To keep things nice and simple during the workweek, I like to make the filling for these caps in advance. Takes out so much of the work on the night of!
Depending on the exact size of your portabella mushrooms, you may have a touch of extra filling. But have no fear! It is fantastic on its own. I personally like to serve any extra filling on the side with the meal.
For my dairy free and vegan friends! These are actually quite delicious without the cheese, as we still have that creamy avocado sauce that adds a little something special. One tip – the mushrooms do cook just a tad more when they are returned to the oven with the cheese. So! If you are skipping the cheese, you may want to bake them a little longer during the initial bake time (i.e. just make sure they are completely done at that point to your liking!).
While we're on the avocado sauce, please don't skip it!! It's just too yummy to miss!
I'm feeling pretty good about my mexican food game today. On point!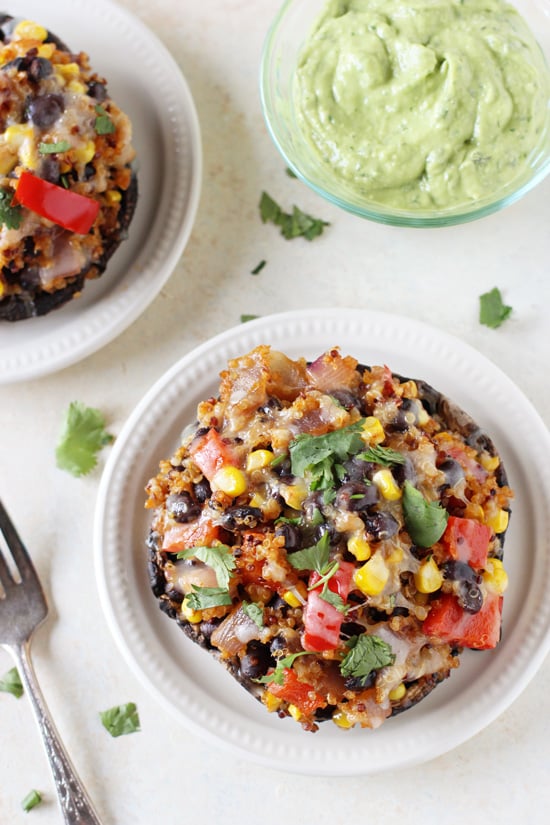 Additional Main Dish Quinoa Recipes You Might Enjoy!
Did you make this recipe? Rate and review it down below! I'd love to hear from you.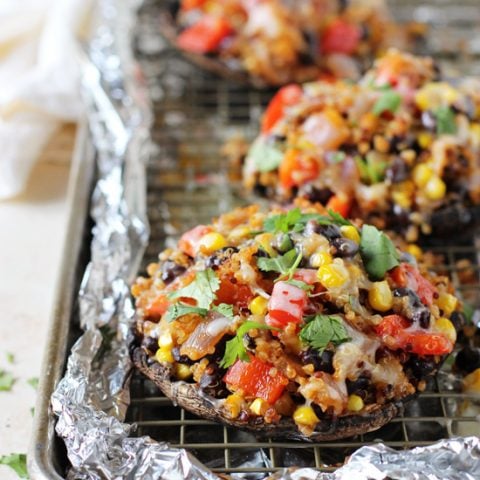 Mexican Quinoa Stuffed Portabella Mushrooms
Filled with fresh veggies and black beans, these mexican quinoa stuffed portabella mushrooms are hard to resist! Topped with cheese and an herby avocado sauce!
Ingredients
For the filling:
½ cup uncooked quinoa, rinsed
1 cup low sodium vegetable broth
2 tablespoons olive oil
1 small red onion, chopped
1 medium red bell pepper, chopped
1 cup fresh or frozen corn kernels
1 teaspoon cumin
¾ teaspoon smoked paprika
½ teaspoon fine sea salt
¼ teaspoon cayenne pepper, or to taste
1 (15 ounce) can black beans, drained and rinsed
For the mushrooms:
6 to 8 portabella mushrooms, stems removed and gills scraped*
olive oil, for drizzling
about 1 cup shredded cheddar or pepper jack cheese
For the sauce:
1 medium-large avocado, pitted and roughly sliced
¼ cup fresh basil leaves
¼ cup fresh cilantro leaves
1 clove garlic, roughly chopped
juice of one medium lime
2 tablespoons olive oil
¼ teaspoon fine sea salt, or to taste
Instructions
Preheat the oven to 400ºF. Line a large rimmed baking sheet with aluminum foil, then set an oven-safe cooling rack inside the baking sheet. Mist with nonstick or olive oil spray. Set aside.
For the filling:
Add the quinoa and broth to a small saucepan. Bring the mixture to a boil. Give it a stir, cover, then reduce the heat to medium-low / low and let simmer for about 15 minutes, until the liquid is absorbed. Turn off the heat and let the pan sit covered for 5 minutes, then fluff the quinoa with a fork.
Meanwhile, set a large skillet over medium heat. Add in the olive oil. When hot, add in the onion and cook for about 2 minutes, until it starts to soften. Add in the pepper, corn, cumin, paprika, salt and cayenne. Cook for about 4 to 5 minutes, until the veggies are tender but still a touch crisp. Remove from the heat. Stir in the cooked quinoa and the black beans. Taste and season with additional salt / cayenne as needed (I always need to add more salt!).
For the mushrooms:
Once you get the quinoa and veggies going, set the mushrooms on the prepared baking sheet (gill side up). Drizzle lightly with olive oil (or mist with olive oil spray!), then bake for about 13 to 15 minutes, until just tender. Remove from the oven, maintaining the oven temperature. Use a paper towel to blot any excess moisture that has accumulated in the caps.
Scoop a heaping mound of the filling into each of the mushrooms, then sprinkle each with some of the cheese. Return to the oven and bake for an additional 4 to 5 minutes, until the cheese is nice and melted.
For the sauce:
Add all the ingredients to the bowl of a food processor and process until smooth. Add in a little water to get it to your desired consistency / get it going in the food processor (I usually add 1 to 2 tablespoons and it's still on the thicker side). Spoon the sauce over the stuffed mushrooms (or just on the side!) and serve!
Notes
*How many mushrooms you'll need will depend on their size! About 6 nice and large mushrooms will do the trick OR about 8 medium-ish caps.
Nutrition Information:
Yield:

6
Serving Size:

1
Amount Per Serving:
Calories:

430
Total Fat:

25g
Saturated Fat:

7g
Trans Fat:

0g
Unsaturated Fat:

16g
Cholesterol:

23mg
Sodium:

639mg
Carbohydrates:

41g
Fiber:

10g
Sugar:

10g
Protein:

16g
Nutrition data shown is an estimate provided by an online calculator and is for informational purposes only. It should not be considered a substitute for a medical professional's advice.