Apple Cobbler with Coconut Oil Biscuit Topping
It's bright and early Monday morning and we are officially celebrating with apple cobbler! Because oh my heavens, fall has FINALLY arrived here in central North Carolina!
There was an actual chill in the air over the weekend (well, in the mornings!) and I didn't sweat my face off while out and about during the day. Eeek! Hellooooo my favorite season of the year!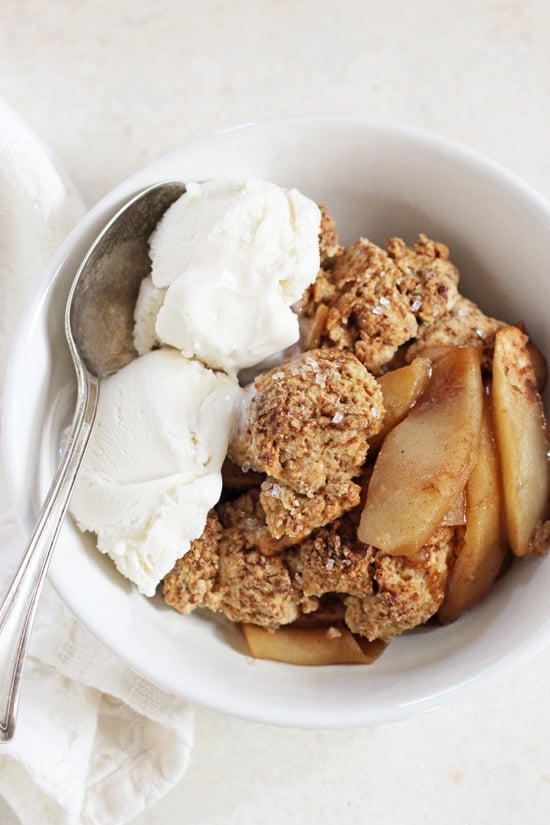 So, today calls for a fall-style celebration in the form of this apple cobbler with a coconut oil biscuit topping. I tested this recipe way back before our kitchen reno started and well, it was kinda weird eating a fall-ish apple dessert when temps were still in the high 90s.
But now, now, I cannot wait to whip up another batch. Well, as soon as I have a sink … and counters … and um, an oven again! Yay for fall baking!
So, let's chat a little about this dish. This is not a super duper over-the-top sweet kind of cobbler. It's perfectly lightly sweet. Making it an excellent base for topping with a scoop (or two!) of your favorite vanilla ice cream. Or, I would not discourage you from eating the leftovers for breakfast with either some yogurt or whipped coconut cream. So. Good.
There's no pre-cooking of the apples required, which is just the absolute best in my book. You slice em' up, toss with a few other ingredients and plop in the baking dish. The biscuit topping gets dropped over the top and then off it goes to bake in the oven. Nice and simple.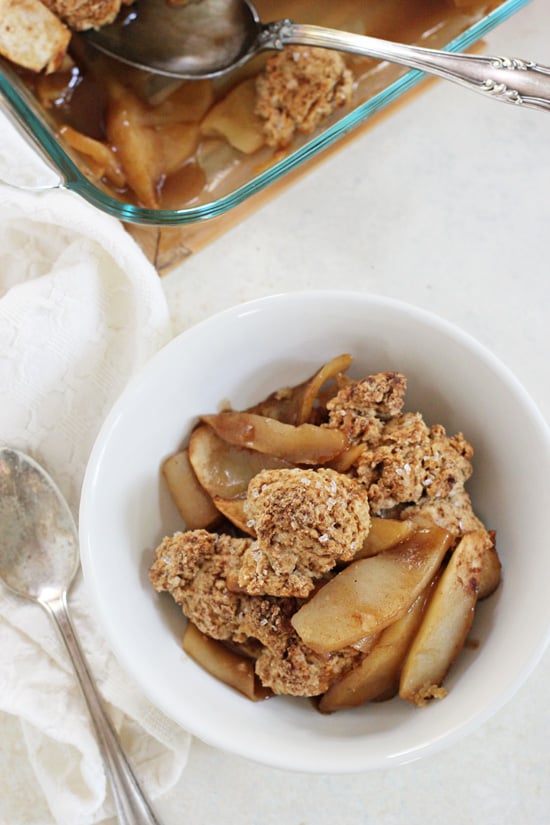 Now, let's get to a few tips & tricks for this recipe!
If you have never used coconut oil in biscuits before, don't be scared! Solid state coconut oil is cut into the flour mixture just like you would with regular ol' butter. The end result? So nice and tender.
Because we are also using coconut milk in the biscuits instead of heavy cream, this dessert is both dairy free and vegan (well, as long as you are sure to use a dairy free ice cream for topping!).
While we are on the coconut milk – as mentioned in the actual recipe, start with the ½ cup and only add extra if needed (i.e. the dough is too dry and won't come together). Sometimes I need to add extra, sometimes I don't.
If your coconut milk is separated in the can, stir it together before using.
Light brown sugar can be substituted for the coconut sugar.
Use any sweet and crisp apple that you like! Such as golden delicious, honeycrisp or braeburn!
I sooo want to dive headfirst into that bowl right now.
Apple Cobbler with Coconut Oil Biscuit Topping
Prep Time: 20 minutes
Cook Time: 45 minutes
Total Time: 1 hour 5 minutes
A simple apple cobbler with coconut oil biscuit topping! Made with whole wheat flour and coconut milk! Perfect when topped with vanilla ice cream. Dairy free & vegan!
Ingredients:
For the apples:
about 2 pounds sweet & crisp apples, peeled, cored and sliced ¼ inch thick*
¼ cup coconut sugar
1 ½ tablespoons all-purpose flour
¾ teaspoon ground cinnamon
¼ teaspoon salt
1 ½ teaspoons vanilla extract
2 teaspoons lemon juice
For the biscuits:
1 cup all-purpose flour
½ cup white whole wheat flour
¼ cup coconut sugar
2 teaspoons baking powder
¼ teaspoon salt
¼ cup solid state coconut oil
½ cup canned full-fat coconut milk (plus extra as needed)
sparkling or turbinado sugar, for sprinkling (optional)
whipped coconut cream or ice cream of choice, for serving
Directions:
Preheat the oven to 350ºF. Grease a 2-quart baking dish with olive oil spray (or nonstick) and set aside.
For the apples:
In a large bowl, toss together the apples, sugar, flour, cinnamon, salt, vanilla and lemon juice until combined. Transfer the mixture to the prepared baking dish and spread evenly. Set aside.
For the biscuits:
In a large bowl, whisk together the two kinds of flour, the sugar, baking powder and salt. Add in the coconut oil and use a pastry cutter to cut the oil into the flour. Continue until it resembles even-sized crumbs. Add in the coconut milk and mix until the dough comes together (start with the ½ cup and add extra, 1 tablespoon at a time, if the dough is too dry).
Pinch off chunks of the dough and drop evenly over the apple mixture. Sprinkle the top lightly with the sparkling sugar. Bake for about 45 to 50 minutes, until the topping is golden brown and the apples are tender. Let stand for about 10 to 15 minutes. Serve topped as desired!
*You want about 2 pounds of apples for this recipe (or just under 2 pounds). Err on the side of slightly under (and not over!) the 2 pounds when buying the apples for this dish.