Vegetable Cajun Brown Rice
Quick and easy to make, this vegetable cajun brown rice is a fantastic simple dinner or side! Packed with veggies, flavorful spices and kidney beans, it all cooks in one skillet. Dairy free, gluten free and vegan.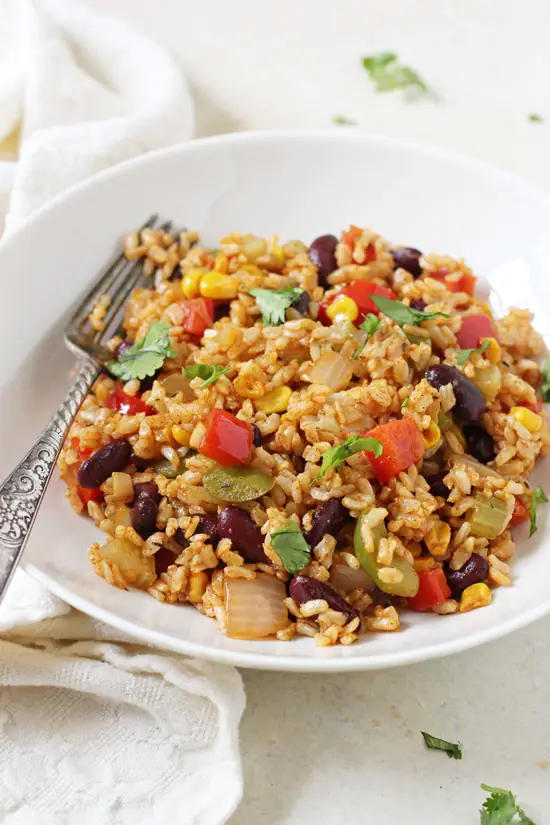 Let's play a little game. It's called guess how many times I've made this vegetable cajun brown rice!
Completely delicious. Really simple to pull together. Works as a main dish or a side dish!
And over the course of the last month, the total bane of my existence. <— I'm not dramatic or anything.
As written down below, it's an awesome recipe. But goodness me, the amount of meh batches we went through to get here.
I'll spare you all the nitty gritty details, but suffice it to say that I just couldn't get the rice to work consistently with the original cooking method I kept trying.
But! The light bulb finally went off and I decided to try cooking the dish just like I would fried rice. And ooooo baby is the end result good.
We sauté a whole bunch of delicious veggies (like onion, celery, bell pepper, corn) until tender, before stirring in an array of spices to really pump up the flavor.
Then, we remove it all to a bowl and cook cold brown rice in the same skillet until hot and toasted. It all gets mixed backed together, along with some kidney beans and fresh cilantro, and is served with a dash of hot sauce for added heat.
It's easy, it's tasty and it takes only about 30 minutes to make. Yes, yes, yes.
Tips & Tricks For This Cajun Brown Rice
Please, please, please use cold rice as directed down in the recipe! This is essential for the texture of the final dish. If you use warm / hot rice, it gets mushy <— yuck.
Along those lines, about 1 ½ cups of uncooked brown rice should give you the 6 cups needed (but brands can vary a bit so be sure to check your package directions). I like to cook the rice on the weekend when I have time, and then it's ready to go for a quick meal during the week.
Now, when the cold rice is added to the skillet, we cook it for a solid 3 to 4 minutes, which allows that fantastic "toasted" flavor to develop. So don't rush that part.
I think this rice would be an awesome side dish for all your grilling favorites (or really, pretty much anything you can think up). But, we've been enjoying mostly for dinner, paired with these sweet and spicy green beans. SO GOOD TOGETHER.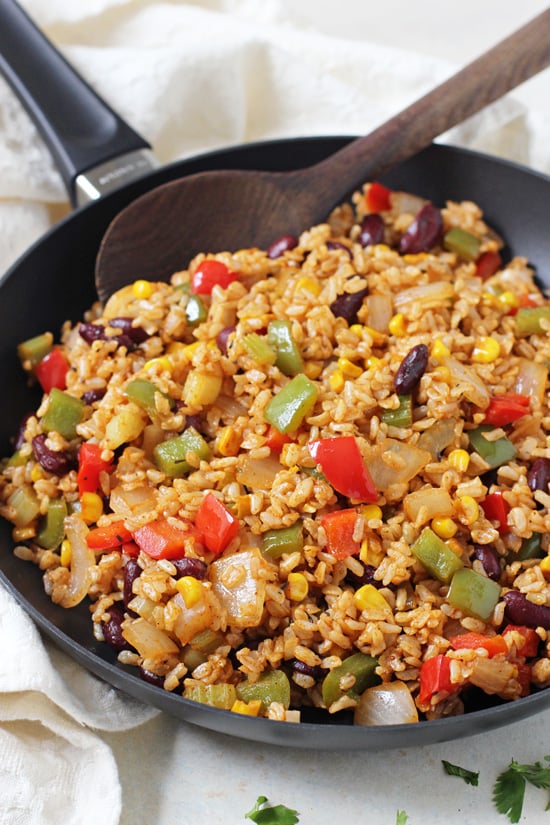 Additional Brown Rice Recipes You Might Enjoy
Did you make this recipe? Rate and review it down below! I'd love to hear from you.
Vegetable Cajun Brown Rice
Yield:
about 5 to 6 servings, as a main
Quick and easy to make, this vegetable cajun brown rice is a fantastic simple dinner or side! Packed with veggies, flavorful spices and kidney beans, it all cooks in one skillet. Dairy free, gluten free and vegan.
Ingredients
3 tablespoons olive oil, divided
1 medium onion, chopped
3 medium stalks celery, chopped
1 medium green bell pepper, chopped
1 medium red bell pepper, chopped
1 cup frozen or fresh corn kernels
4 cloves garlic, minced
1 ½ teaspoons sweet paprika
¾ teaspoon dried thyme
¼ teaspoon smoked paprika
½ teaspoon fine sea salt
¼ teaspoon cayenne pepper
1 tablespoon tomato paste
6 cups cooked long grain brown rice, cold
1 (15 ounce) can dark red kidney beans, drained and rinsed
chopped fresh cilantro (or parsley), for garnish
hot sauce, for serving (optional)
Instructions
Add 2 tablespoons of the olive oil to a large, deeper-style nonstick skillet set over medium heat. When hot, add in the onion, celery, both peppers and corn. Cook for about 8 to 10 minutes, until tender.
Add in the garlic, paprika, thyme, smoked paprika, salt, cayenne and tomato paste and cook for 30 seconds to 1 minute, stirring frequently, until fragrant and toasted. Remove the mixture to a medium bowl.
Add the remaining 1 tablespoon olive oil to the skillet, then add the cold rice. Cook for about 3 to 4 minutes, breaking up any clumps of rice with a wooden spoon and stirring occasionally, until heated through and toasted.
Turn the heat down to low and stir in the beans and the veggie mixture. Continue to cook for 1 to 2 minutes, stirring frequently, until everything is hot. Remove from the heat. Taste and season with additional salt as desired (I usually add about ¼ to ½ teaspoon more).
Garnish the rice with some cilantro and serve with hot sauce for extra heat!
Nutrition Information:
Yield:

6
Serving Size:

1
Amount Per Serving:
Calories:

386
Total Fat:

9g
Saturated Fat:

1g
Trans Fat:

0g
Unsaturated Fat:

7g
Cholesterol:

0mg
Sodium:

323mg
Carbohydrates:

67g
Fiber:

8g
Sugar:

6g
Protein:

10g
Nutrition data shown is an estimate provided by an online calculator and is for informational purposes only. It should not be considered a substitute for a medical professional's advice.