Skillet Spring Vegetable Brown Rice Casserole
A no-fuss, one pan recipe for skillet spring vegetable brown rice casserole! With asparagus, mushrooms and a hint of cheese to tie it together!
Springgggggg! I can feel it. It's coming. It's so close.
We've had some super nice days here in North Carolina but then also some not so nice ones. The heat in the house has been on and off, on and off. I'm hot and complaining and then cold and freezing (and complaining). It's so confusing!
Just like my food cravings – they are all over the place. My mind is all, Spring! It's time for salads and lighter foods! And then it gets colder and I'm all, soup, comfort food, come to me!
Which leads me to this spring vegetable brown rice casserole.
It's perfectly right down the middle – with hints of lighter, sunshine-y veggies mixed with cheesy, casserole-type, comfort foodie-ness.
So you'll be happy eating it al fresco on the porch or cuddled up under a million blankets on the couch.
If this dish looks slightly familiar, that's because it is. It's the springtime cousin of this skillet mexican brown rice casserole.
So many of you made that dish (which makes my heart happy!), so I thought it would be fun to put a different spin on it.
And to be honest, I've had a few too many meh recipes come out of my kitchen lately (that will certainly not see the light of day on this blog). So I turned to something that I knew worked.
And oh is this version good. Dare I say that we liked this one even better than the original? Blasphemy, considering what a mexican food fiend I am.
But it's true. There is just something about the asparagus / mushroom combo that is oh so good.
Paired with a hint of garlic, some chickpeas for a bit of protein and some mozzarella and parmesan to tie it all together.
If you hate peas you can leave them out, but they really are delicious in here!
One skillet. Veggie packed. Low maintenance. With CHEESE.
That's the way to my heart right there.
Additional Skillet Recipes You Might Enjoy!
Did you make this recipe? Rate and review it down below! I'd love to hear from you.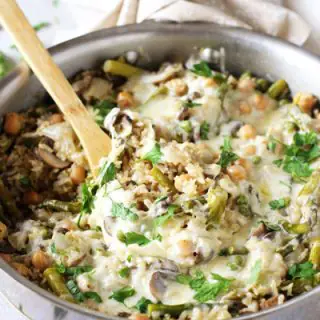 Skillet Spring Vegetable Brown Rice Casserole
Yield:
about 4 to 6 servings
A no-fuss, one pan recipe for skillet spring vegetable brown rice casserole. With asparagus, mushrooms and a hint of cheese to tie it together.
Ingredients
3 tablespoons olive oil
1 medium onion, chopped
2 cloves garlic, minced
8 ounces baby bella mushrooms, sliced
1 pound asparagus spears, ends removed then cut into 2 to 2 ½ inch chunks
¾ teaspoon salt
½ teaspoon pepper
1 cup quick cook brown rice
2 ½ cups low-sodium vegetable broth
1 (15-ounce) can chickpeas, drained and rinsed
½ cup frozen peas
1 ½ cups freshly shredded mozzarella cheese
½ cup freshly shredded parmesan cheese
fresh minced parsley, for garnish (optional)
Instructions
Set a large skillet over medium heat. Add in the olive oil. When hot, add in the onion and cook for about 2 to 3 minutes, until it starts to soften. Add in the garlic and cook for 30 seconds, until fragrant.
Add in the mushrooms, asparagus, salt and pepper. Cook for 5 minutes. Add in the rice. Cook for 1 to 2 minutes, stirring almost constantly.
Add in the veggie broth, chickpeas and peas. Give the mixture a good stir then bring to a boil. Turn down the heat, cover and let simmer for about 10 to 15 minutes (or according to the time on the package directions for the rice), until almost all of the broth has been absorbed by the rice (and the rice is tender).
Remove the cover and sprinkle the mozzarella, then the parmesan over the top. Recover and cook for about 1 to 2 minutes, until the cheese is melted.
Garnish with the parsley before serving.
Notes
I use quick-cook brown rice in this recipe. Which I buy at Trader Joes - the quick cook brown basmati rice specifically (I'm sure you can buy something similar other places too!). If you don't use quick cooking brown rice, you'll have to cook the rice longer. White rice could also be substituted, but you'll have to keep an eye on it as well, as the cooking time may vary.
Nutrition Information:
Yield:

6
Serving Size:

1
Amount Per Serving:
Calories:

320
Total Fat:

15g
Saturated Fat:

5g
Trans Fat:

0g
Unsaturated Fat:

9g
Cholesterol:

19mg
Sodium:

809mg
Carbohydrates:

33g
Fiber:

8g
Sugar:

7g
Protein:

16g
Nutrition data shown is an estimate provided by an online calculator and is for informational purposes only. It should not be considered a substitute for a medical professional's advice.