Savory Sweet Potato Casserole
This savory sweet potato casserole is perfect for the holidays! With a creamy, rich potato base and a crispy oat and nut topping, it's healthy and delicious. Vegan and dairy free.
The countdown to Thanksgiving is on!
And while I have all sorts of recipe goodness coming your way before turkey day, we are officially kicking off the party with my favorite of the bunch – this savory sweet potato casserole.
Because this, this, is how I do sweet potato casserole. A creamy, flavorful mashed potato base plus a crispy, crunchy, savory oat topping.
Now, today's recipe is pretty much the complete opposite of the classic version of the dish – with it's over the top sweetness and those weird marshmallows all up on top (can you tell that the sweet version is so not my thing??).
SO. For those of you who are also on team savory, let's discuss.
We start by mashing up some sweet potatoes with plenty of flavorful mix-ins – like garlic, a touch of cilantro and some green onion.
The mixture gets spread in a baking dish and is then topped off with a fantastic oat topping, that includes some walnuts, bread crumbs and thyme. And then, then, it's baked off to crispy, creamy perfection.
It's healthy, it's cozy, it's super flavorful … and, quite frankly, it's hard to resist. Oh! And it also makes for some pretty darn good leftovers. Yessss.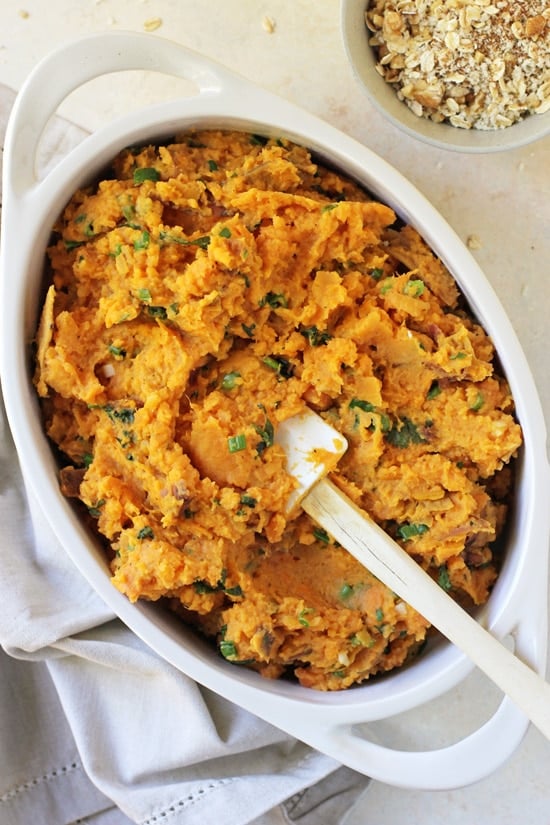 Tips & Tricks
First things first. I don't peel the sweet potatoes because there are just so many good nutrients in the skin. And I would definitely encourage you to give this a try as written. But, you could peel the potatoes if desired.
Let's talk about how to prep this dish. Get the potatoes cooking on the stove first. THEN prep everything else. You'll have plenty of time to take care of it all while they are cooking.
I have not tested it this way, but I would imagine that you could substitute in gluten free bread crumbs for the panko to keep this gluten free.
And finally, I also think that you should be able to make the mashed potato part of this casserole in advance (I'd say no more than one day ahead of time). Make the mashed potatoes and then smear in the baking dish as directed. Cover, then place in the fridge. Be sure to let the dish come back to room temperature before proceeding with the recipe (otherwise it won't heat all the way through while baking).
Additional Side Dish Recipes You Might Enjoy:
Did you make this recipe? Rate and review it down below! I'd love to hear from you.
Savory Sweet Potato Casserole
Yield:
about 6 to 8 servings
Total Time:
1 hour
20 minutes
This savory sweet potato casserole is perfect for the holidays! With a creamy, rich potato base and a crispy oat and nut topping, it's healthy and delicious. Vegan and dairy free.
Ingredients
For the casserole:
3 pounds sweet potatoes, sliced into ½ inch thick rounds
1 ½ teaspoons fine sea salt, divided
¼ teaspoon pepper
1 cup unsweetened plain almond milk
2 tablespoons olive oil
3 cloves garlic, minced
½ cup thinly sliced green onion
⅓ cup fresh cilantro leaves, chopped
For the topping:
¼ cup old-fashioned rolled oats
¼ cup chopped raw walnuts
⅓ cup panko bread crumbs
¼ teaspoon dried thyme
⅛ teaspoon fine sea salt
⅛ teaspoon pepper
2 tablespoons coconut sugar
2 tablespoons olive oil
extra chopped fresh cilantro, for garnish (optional)
Instructions
Preheat the oven to 375ºF. Grease a 2-quart baking dish with nonstick or olive oil spray and set aside.
For the casserole:
Add the sliced sweet potatoes and ½ teaspoon of the salt to a large stockpot. Add in enough water to cover the potatoes. Bring the water to a boil then reduce the heat and simmer for about 15 minutes, or until the potatoes are tender. Drain, then return to the pot.
Add in the remaining 1 teaspoon salt, the pepper, milk, olive oil and garlic. Use a potato masher to mash the potatoes until smooth (there will be some lumps because of the skins!).
Fold in the green onion and cilantro, then taste and add additional salt / pepper as desired (I usually add more salt).
Transfer the potatoes to the prepared baking dish and use a spatula to spread into an even layer.
For the topping:
Add the oats, walnuts, bread crumbs, thyme, salt, pepper and sugar to a small bowl. Mix to combine. Add in the olive oil and mix again until evenly moistened. Use your fingers to sprinkle the mixture evenly over the potatoes.
Bake for about 25 minutes, until the topping is browned and slightly crisp.
Let stand for at least 10 to 15 minutes. Garnish with extra cilantro if desired, then serve!
Nutrition Information:
Yield:

8
Serving Size:

1
Amount Per Serving:
Calories:

260
Total Fat:

10g
Saturated Fat:

1g
Trans Fat:

0g
Unsaturated Fat:

8g
Cholesterol:

0mg
Sodium:

510mg
Carbohydrates:

40g
Fiber:

5g
Sugar:

14g
Protein:

4g
Nutrition data shown is an estimate provided by an online calculator and is for informational purposes only. It should not be considered a substitute for a medical professional's advice.