Harvest Sweet Potato Muffins
Soft and fluffy harvest sweet potato muffins! These simple muffins are filled with sweet potato puree, maple syrup, whole wheat flour and a crumb topping!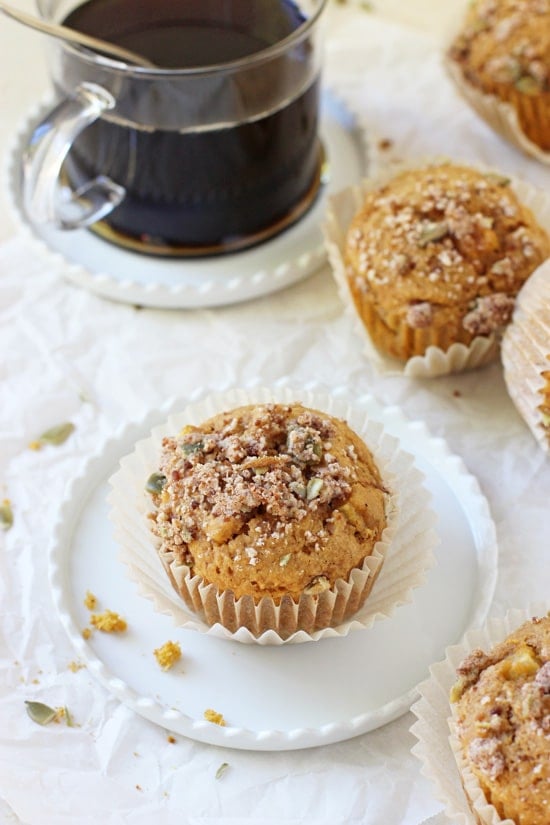 Boo! It's Halloween! And since it is a holiday and all that jazz, today we are celebrating with, um, a decidedly un-spooky treat.
But, but, but. I'm thinking you are absolutely going to dig these harvest sweet potato muffins so we're rolling with them anyway! Maybe just stick them on a festive platter if Halloween is your thing??? Done and done.
So! These muffins! I know, I know, I may or may not be pushing the envelope a little bit again.
But hear me out! First, there was this chocolate sweet potato bread. Which a bunch of you made and loved … so I'm thinking at least some of you are coming over to the dark side. <— And by dark side, I mean team sweet potato.
Anyway, that bread got me thinking that the sort of cozy warmness that sweet potato gives baked goodies would go just swimmingly with tons of fall spices and flavors.
Oh yes indeed.
About These Sweet Potato Muffins
Which brings us to today and these light and moist and fluffy muffins!
They are filled with PLENTY of sweet potato puree, a whole array of my favorite spices (cinnamon, ginger, nutmeg, oh my!), diced pear for some texture and did I mention that there's a crumbly cinnamon-y pumpkin seed topping??
They are naturally sweetened with pure maple syrup (and just a smidge of coconut sugar in that crumb topping) and have a good amount of white whole wheat flour to add in some whole grains.
Perfect for fall and perfect for Halloween! <— Okay fine, that may be pushing it a tad.
Tips & Tricks For These Harvest Sweet Potato Muffins
First things first. Let's chat about the sweet potato puree. Be sure to use a dry measuring cup when measuring out the required amount. If you use a liquid cup, the puree won't level off quite correctly.
Also, let's be clear. For those of you that have never baked with sweet potato before – it's very much like baking with pumpkin, just with a slightly different flavor. And definitely not at all like eating sweet potato with your dinner, capeesh?! Cool.
However! On that note, pumpkin puree would also absolutely work in place of the sweet potato puree. I just like to shake things up. Also, team sweet potato all the way.
Not feeling the diced pear as a mix-in? Diced apple would work just as well.
And finally, be sure to follow the instructions and fill the muffin tins to ¾ to almost all of the way full. Because otherwise you'll wind up with batter for 13 muffins … which is just obnoxious and uncool.
So, let's party! In spooktacular sweet potato style.
Additional Muffin Recipes You Might Enjoy!
Did you make this recipe? Rate and review it down below! I'd love to hear from you.
Harvest Sweet Potato Muffins
Soft and fluffy harvest sweet potato muffins! These simple muffins are filled with sweet potato puree, maple syrup, whole wheat flour and a crumb topping!
Ingredients
For the muffins:
1 cup white whole wheat flour
¾ cup all-purpose flour
2 ½ teaspoons baking powder
½ teaspoon fine sea salt
1 teaspoon ground cinnamon
½ teaspoon ground ginger
¼ teaspoon ground nutmeg
⅛ teaspoon ground cloves
⅛ teaspoon ground allspice
1 large egg
¼ cup melted coconut oil, cooled slightly
¾ cup sweet potato puree (store-bought or homemade)
½ cup pure maple syrup
1 ½ teaspoons vanilla extract
¼ teaspoon almond extract
1 cup diced pear (about 1 medium)
For the topping:
3 tablespoons all-purpose flour
1 tablespoon raw pepita seeds, roughly chopped
1 tablespoon coconut sugar (or brown sugar)
1 ½ tablespoons solid-state coconut oil
heaping ¼ teaspoon ground cinnamon
Instructions
For the muffins:
Preheat the oven to 375ºF. Line a muffin pan with liners and set aside.
Whisk together both kinds of flour, the baking powder, salt, cinnamon, ginger, nutmeg, cloves and allspice in a large bowl. In a medium bowl, whisk together the egg, coconut oil, sweet potato puree, maple syrup, vanilla extract and almond extract until well combined. Add to the bowl with the dry ingredients and mix until just combined. Gently fold in the diced pear - it will be a thicker batter.
Divide the batter evenly in the prepared muffin tins, filling each about ¾ to almost all of the way full.
For the topping:
Add the flour, pepitas, sugar, coconut oil and cinnamon to a small bowl. Use a fork or your fingers to work the oil into the other ingredients until you have even-sized crumbs. Sprinkle evenly over the muffins.
Bake for about 16 to 18 minutes, or until a toothpick or cake tester inserted into the middle comes out clean. Let cool for about 5 minutes, then remove the muffins to a wire rack.
Notes
Melt the coconut oil first, then measure out the correct amount. Otherwise you may use too much!
Nutrition Information:
Yield:

12
Serving Size:

1
Amount Per Serving:
Calories:

196
Total Fat:

7g
Saturated Fat:

5g
Trans Fat:

0g
Unsaturated Fat:

1g
Cholesterol:

16mg
Sodium:

204mg
Carbohydrates:

31g
Fiber:

2g
Sugar:

12g
Protein:

3g
Nutrition data shown is an estimate provided by an online calculator and is for informational purposes only. It should not be considered a substitute for a medical professional's advice.