Healthy Pumpkin Gingerbread Muffins
Perfectly fluffy healthy pumpkin gingerbread muffins! These easy muffins are filled with cinnamon, ginger, molasses, whole grains and pumpkin puree. They're warm, cozy and perfect for the holiday baking season. Dairy free.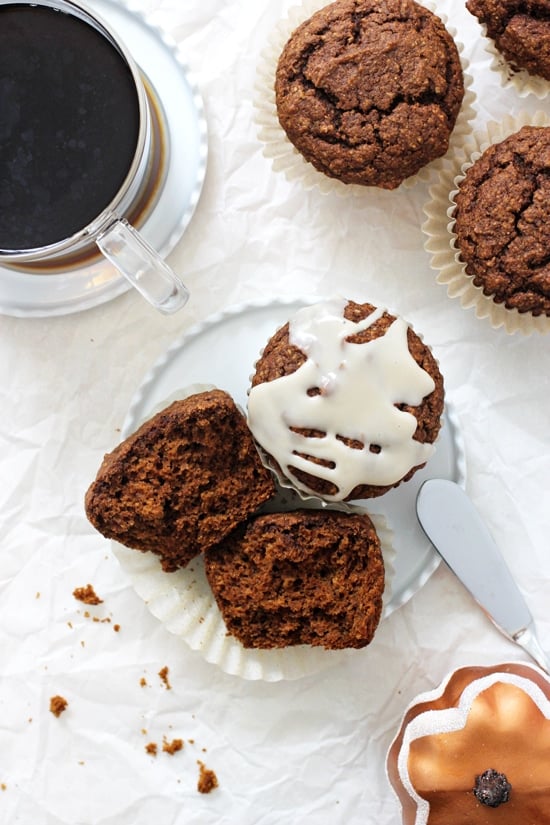 Get your taste buds ready because today we combine two of the best holiday season flavors with these healthy pumpkin gingerbread muffins.
A little fall-ish, a smidge christmas-y and a whole lotta deliciousness swirled into one fantastic little treat.
And these festive muffins most definitely deliver when it comes to texture and taste. They're soft, fluffy, moist, perfectly sweetened with pure maple syrup.
And have just the right amount of spice from a touch of molasses and plenty of warm flavors, like cinnamon, ginger and nutmeg.
Not to mention that they are filled with whole grains, like white whole wheat flour and oat bran, and have an optional maple glaze topping. Which just kicks them up a notch and makes them feel more dessert-y, if that's what you're going for.
Now, gingerbread is definitely the main flavor in this easy baked treat, while the pumpkin is nice and faint in the background. But. It really does a fantastic job of keeping the muffins perfectly soft and moist.
It's holiday baking at its finest.
Tips & Tricks For These Pumpkin Gingerbread Muffins
First up, the pumpkin puree! Be sure to measure the puree in dry measuring cups – if you use a liquid cup, it won't level off correctly. Additionally, make sure that your puree is at room temperature – so either straight from the pantry, OR if you're using leftover puree that's been in the fridge, make sure to bring it back to room temp. Otherwise you run the risk of it hardening up the coconut oil in the batter.
Let's talk about the flours. Fluff the flours in their containers / bags, then scoop into your measuring cup with a spoon and level off. Don't dunk the measuring cup straight into the bag – you'll likely use too much. Also, I would encourage you to stick with the listed combo of white whole wheat, all-purpose flour and oat bran. I tested these muffins many other ways and this was by far the best combo for an excellent end result.
Now, let's talk about the optional maple glaze. If you use the glaze, these are definitely more on the dessert-y end of the spectrum. But if you serve them naked, they are more wholesome and excellent for breakfast or snacking. <— Especially if topped with some drippy almond butter. SO GOOD.
If you do use the glaze, keep in mind that it will sort of seep into the muffins over time (usually after about 24 hours). They're still REALLY good this way, but if you want the glaze to look pretty for serving, I would recommend glazing them shortly before enjoying.
How To Store
Place a piece of paper towel in the bottom of a container, then place the muffins on top in a single layer. Cover and keep at room temperature for about 3 to 4 days.
Alternatively, you can also freeze the muffins (without the glaze).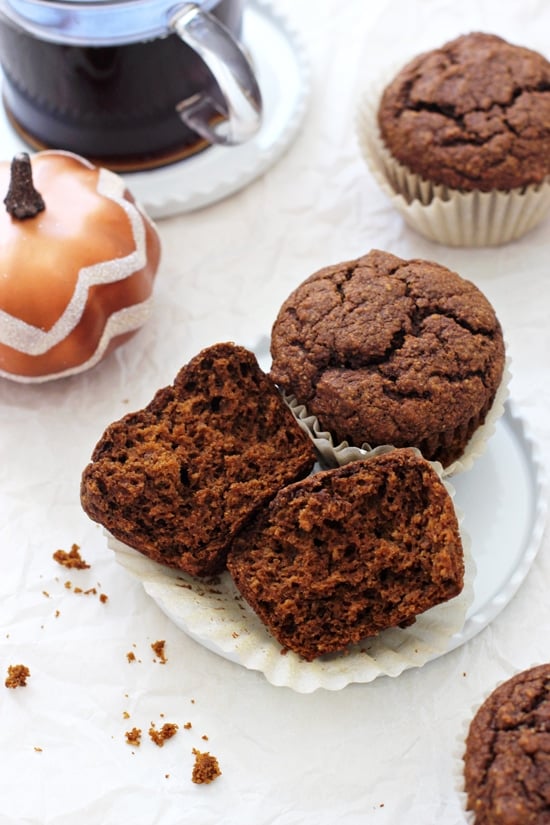 Additional Holiday Muffin Recipes You Might Enjoy!
Did you make this recipe? Rate and review it down below! I'd love to hear from you.
Healthy Pumpkin Gingerbread Muffins
Yield: 12 muffins

Prep Time: 20 minutes

Cook Time: 15 minutes

Total Time: 35 minutes

Perfectly fluffy healthy pumpkin gingerbread muffins! These easy muffins are filled with cinnamon, ginger, molasses, whole grains and pumpkin puree. They're warm, cozy and perfect for the holiday baking season. Dairy free.
Ingredients
For the muffins:
1 cup white whole wheat flour
¼ cup oat bran
½ cup all-purpose flour
1 teaspoon baking powder
1 teaspoon baking soda
½ teaspoon fine sea salt
1 teaspoon ground cinnamon
1 teaspoon ground ginger
¼ teaspoon ground nutmeg
¼ teaspoon ground cloves
1 large egg
2 tablespoons unsweetened almond milk
¾ cup pumpkin puree (not pumpkin pie filling), at room temp
⅓ cup melted coconut oil, cooled slightly*
¼ cup unsulfured molasses (not blackstrap)
½ cup pure maple syrup
1 ½ teaspoons vanilla extract
For the glaze (optional):
1 cup organic confectioners' sugar, sifted
1 tablespoon pure maple syrup
1 to 1 ½ tablespoons unsweetened almond milk
Instructions
For the muffins:
Preheat the oven to 375ºF. Line a muffin pan with liners and set aside.
Whisk together the white whole wheat flour, oat bran, all-purpose flour, baking powder, baking soda, salt, cinnamon, ginger, nutmeg and cloves in a large bowl.
In a medium bowl, whisk together the egg, milk, pumpkin puree, coconut oil, molasses, maple syrup and vanilla extract until well combined. Add to the bowl with the dry ingredients and mix until just combined (the batter will be on the thicker side).
Divide the batter evenly in the prepared muffin tins, filling each about ¾ of the way full.
Bake for about 15 to 16 minutes, or until a toothpick or cake tester inserted into the middle comes out clean. Let cool for about 5 minutes, then remove the muffins to a wire rack to cool completely.
For the glaze:
In a small bowl, whisk together the confectioners' sugar, maple syrup and almond milk until smooth (adjusting either the sugar or milk to get the glaze to your desired consistency if needed).
Drizzle the glaze over the top of the cooled muffins. Let the glaze set for a bit then enjoy!
Notes
*Melt the coconut oil first, then measure out the correct amount.
Nutrition Information:
Yield: 12 Serving Size: 1
Amount Per Serving: Calories: 245Total Fat: 8gSaturated Fat: 5gTrans Fat: 0gUnsaturated Fat: 2gCholesterol: 18mgSodium: 272mgCarbohydrates: 42gFiber: 2gSugar: 26gProtein: 3g

Nutrition data shown is an estimate provided by an online calculator and is for informational purposes only. It should not be considered a substitute for a medical professional's advice.