Fall Harvest Kale Salad
This easy fall harvest kale salad is hearty and healthy! Filled with massaged kale, roasted brussels sprouts, butternut squash, crunchy pecans and sliced apple, it's tied together with a dreamy maple vinaigrette. Vegan, gluten free and perfect for the holidays.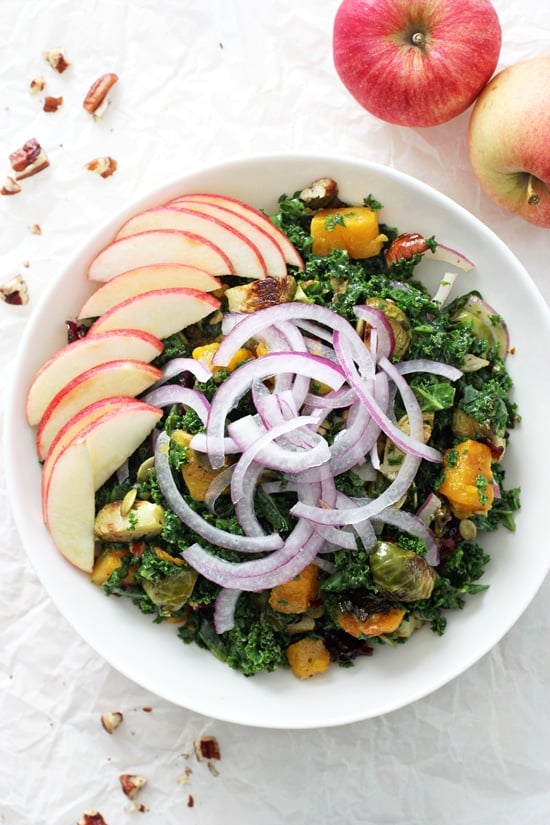 Today I bring you autumn in a bowl. Because this fall harvest kale salad? It is packed to the brim with alllll the goodness that the season has to offer.
So. Let's go through each of the components of this delectable dish, shall we?
We start by roasting up a big tray of fall vegetables – i.e. butternut squash + brussels sprouts.
While the veggies get all perfectly tender in the oven, we add a hefty amount of sliced kale to a bowl and give it a good ol' rub down to improve the flavor and texture.
We whisk together a simple maple mustard vinaigrette and prep a few extra mix-ins, like red onion, fresh apple, dried cranberries, pecans and pumpkin seeds, that add just the right amount of crunch to the final dish.
It all gets tossed together and your salad is served.
It's fantastic for an easy dinner (especially if topped with a cooked protein of choice!).
Or, it also has some serious Thanksgiving-y vibes and would make an awesome dish for the holiday … seeing as how it can be made completely in advance. <— Yessssss.
Not to mention that it's gluten free, grain free and vegan – making it perfect for a slew of dietary needs.
Tips & Tricks For This Fall Harvest Kale Salad
First things first. Let's talk how to prep this dish to cut down on the overall recipe time. Get the roasted veggies going in the oven first and then prep the kale, make the dressing and chop up everything else for the salad. You'll have plenty of time while the veggies are roasting and this will shave off about 18 to 20 minutes from the total recipe time.
I use pre-cut butternut squash when making this salad (either store-bought or prepped by me in advance). So if you are cutting up a squash right when making, please keep in mind the prep time will be longer.
As with any salad, feel free to adjust the mix-ins to your taste. Want to use walnuts instead of pecans? Go for it. More or less sliced red onion? Rock on! Extra apple? Try it out. Experiment and find what you love.
This salad works great as either a main dish or side. If I'm serving this as a main, I like to top with a cooked protein of choice. If you're serving it as a side, it is fantastic just as is.
Prep Ahead Option
Because the base of this salad is kale, it is a great make-ahead dish – as kale just gets better as it sits.
If you are making this in advance, I would recommend making the dish as directed and mixing it all together with the exception of the apple – add that right before enjoying.
This just helps keep the apple nice and pretty – if you don't care that your apple starts to brown, you can add it in with everything else.
Additional Healthy Salad Recipes You Might Enjoy:
Did you make this recipe? Rate and review it down below! I'd love to hear from you.
Fall Harvest Kale Salad
Yield:
about 4 to 6 servings
This easy fall harvest kale salad is hearty and healthy! Filled with massaged kale, roasted brussels sprouts, butternut squash, crunchy pecans and sliced apple, it's tied together with a dreamy maple vinaigrette. Vegan, gluten free and perfect for the holidays.
Ingredients
For the veggies:
3 cups cubed butternut squash (about ¾ inch chunks)
1 pound brussels sprouts, trimmed and halved (quartered if large)
2 tablespoons olive oil
½ teaspoon fine sea salt
¼ teaspoon pepper
For the salad:
10 cups stemmed and thinly sliced curly kale (about 2 medium-ish bunches)
¼ cup olive oil
1 tablespoon pure maple syrup
1 tablespoon dijon mustard
1 tablespoon apple cider vinegar
¼ teaspoon fine sea salt
pinch of pepper
½ cup raw pecans, chopped
¼ cup raw pepitas (pumpkin seeds)
½ of a small red onion, thinly sliced
1 small to medium honeycrisp apple, sliced
¼ cup dried cranberries
Instructions
For the veggies:
Preheat the oven to 400ºF.
Add the butternut squash and brussels sprouts to a large rimmed baking sheet. Drizzle with the olive oil, then sprinkle with the salt and pepper. Toss to combine, then spread in an even layer.
Bake for about 25 to 30 minutes, stirring once halfway through, until tender and starting to brown. Remove from the oven and let cool for about 10 to 15 minutes.
For the salad:
Meanwhile, add the sliced kale to a large bowl then sprinkle with a pinch of salt. Use your hands to massage the kale – grab handfuls and gently scrunch. Continue massaging until the kale is darker in color and has reduced a bit in volume. Set aside.
In a small bowl, vigorously whisk together the olive oil, maple syrup, mustard, vinegar, salt and pepper until smooth. Set aside.
To the bowl with the kale, add the cooled roasted veggies, the pecans, pepitas, red onion, apple and cranberries. Pour in the desired amount of dressing (I use it all!) then toss to combine.
Taste and season with additional salt / pepper as needed, then serve!
Nutrition Information:
Yield:

6
Serving Size:

1
Amount Per Serving:
Calories:

383
Total Fat:

24g
Saturated Fat:

3g
Trans Fat:

0g
Unsaturated Fat:

19g
Cholesterol:

0mg
Sodium:

404mg
Carbohydrates:

42g
Fiber:

12g
Sugar:

16g
Protein:

9g
Nutrition data shown is an estimate provided by an online calculator and is for informational purposes only. It should not be considered a substitute for a medical professional's advice.