Baked Blueberry and Apple Oatmeal
This baked blueberry and apple oatmeal was originally published in July 2012. The post has been updated as of September 8, 2017 with new photos, text and a slightly modified and improved recipe (including the addition of a dairy free option)!
I don't think it's any secret that I absolutely adore oatmeal. It is the ultimate in breakfast goodness in my book.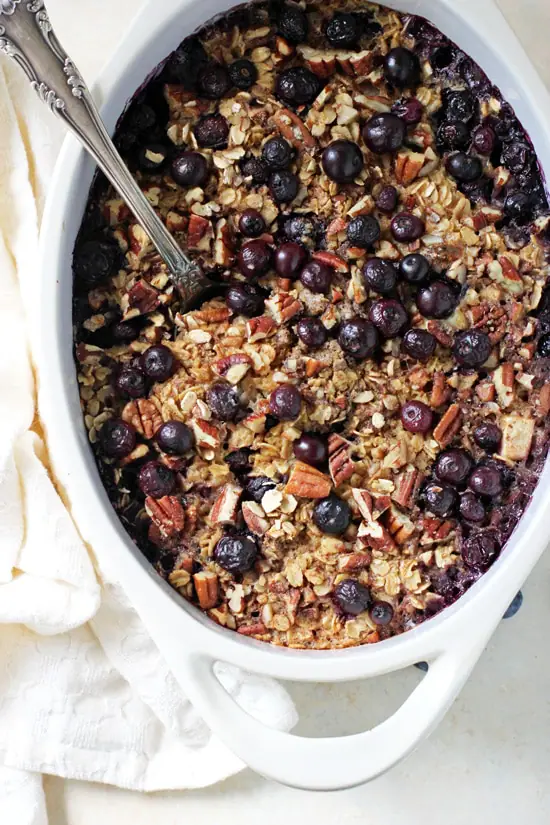 And quite frankly, I've always felt this way. Always. My dad is exactly the same and growing up the two of us would go through outrageous amounts of those fruit and cream packets of oatmeal (and the cinnamon apple kind! or cinnamon something? my memories of the exact names are a wee bit vague).
But anyway, these days I make my own oatmeal on the regular (um, because the amount of sugar in those packets kinda sorta scares me). And with the weather ever so slightly cooling down, I am totally back in business when it comes to hot oatmeal.
Now, this revamped blueberry and apple flavor from the archives has long been a complete staple at our house. It's simple, it's packed with fruit, it's incredibly tasty!
And it also just so happens to be loaded with a good number of wholesome ingredients – old-fashioned oats, pecans (or walnuts!), pure maple syrup, cinnamon, fresh apples and blueberries!
I've been known to make multiple batches on the weekend so that breakfast is ready to go throughout the week. Start those days off right! And with a cup of hot coffee or tea?? Yes, yes, we are most definitely back in business for cozy, delightful mornings.
Oh hot oatmeal season, it's good to see you old friend!!
So, let's move along to a few tips & tricks for the recipe:
While I am completely partial to the blueberry / apple fruit combo for this time of the year, you could absolutely sub in other fruit of your choosing. I also think that frozen blueberries would work in place of the fresh (DON'T thaw them first!), but I haven't tried this out myself.
Along those lines, you could also use different types of nuts or even alternative warm spices! So really, think of the recipe as more of a base to customize! Maybe you'd like pears and ground ginger? Or raspberries and almonds? The sky's the limit friends!
This oatmeal is completely fantastic when served fresh out of the oven. BUT. It also reheats incredibly well. When I do reheat leftovers, I like to add in a splash of milk before popping into the microwave. However this is totally optional.
And as for serving, the oatmeal is perfect just as is (i.e. plain!). But if you happen to have a little extra yogurt on hand for dolloping??? So. good.
Looking for more delicious oatmeal ideas? This peach, pecan and coconut oatmeal is an oldie but total goodie!!
Yield: about 3 to 4 servings
Baked Blueberry and Apple Oatmeal
Prep Time: 15 minutes
Cook Time: 40 minutes
Total Time: 55 minutes
Wholesome and filling, this baked blueberry and apple oatmeal is a family favorite! Sweetened with maple syrup and packed with fresh fruit!
Ingredients:
1 cup old-fashioned rolled oats
½ cup raw walnuts or pecans, chopped and divided
½ teaspoon baking powder
¾ teaspoon ground cinnamon
¼ teaspoon fine sea salt
1 cup milk of choice
3 tablespoons pure maple syrup
1 large egg
1 ½ tablespoons unsalted butter, melted and cooled slightly*
1 teaspoon vanilla extract
2 small apples, peeled and chopped
1 cup fresh blueberries, divided
Directions:
Preheat the oven to 375ºF. Mist a 2-quart baking dish with nonstick or olive oil spray. Set aside.
In a medium bowl, mix together the oats, half of the nuts, the baking powder, cinnamon and salt. In another medium bowl or a large liquid measuring cup, whisk together the milk, maple syrup, egg, butter and vanilla.
Sprinkle the chopped apples evenly in the bottom of the prepared baking dish, then top with half of the blueberries. Sprinkle the oat mixture over the top, then evenly pour the liquid mixture over the oats. Top with the remaining nuts and blueberries.
Bake for about 35 to 40 minutes, until golden and the oats have set. Let stand for at least 5 minutes before serving!
*For a dairy free option, use melted coconut oil in place of the butter!