Berry Vanilla Overnight Oats
Let's get back to basics today, shall we? With these berry vanilla overnight oats!
Simple, unfussy, not at all fancy. But a total staple at our house for breakfast. And a most excellent way to put all those gorgeous summer berries to good use!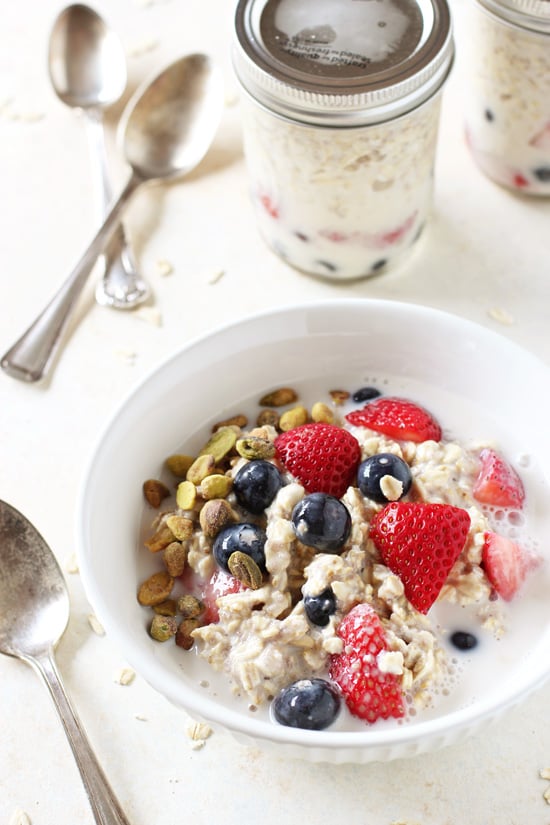 So can we talk for a second about how predictable I am when it comes to breakfast? On a normal basis I choose from one of the following three options: smoothies (and by smoothies, I really mean either this berry breakfast smoothie or a sort of updated version of this vanilla mango spinach smoothie), avocado toast or oatmeal. Aaaaand that's about it.
And when it comes to oatmeal, I am super crazy particular. We have steel cut oatmeal in cold weather and then overnight oats in hot weather. End of story. What can I say, I like routine! And I especially like strawberries in my oatmeal (in case that wasn't already blatantly obvious).
Which brings us to today. I already covered my all-time favorite strawberry steel cut oatmeal, so I figured it was high time to cover my go-to overnight oats recipe (with strawberries!). How many more times do you think I can say strawberries in this post??
10 minutes. Totally portable (mason jars for the win!). And a creamy, fantastic vanilla oat base mixed in with colorful berries. It just doesn't get much better!
So, let's talk some tips & tricks for these oats!
I like to make the oats on the weekend, so breakfast is ready to go during the week. They keep well in airtight containers for about four days. You don't have to do anything in the morning, just grab a spoon and enjoy!
Like always with gluten free recipes, be sure to use certified gluten free oats if needed for your diet.
Want a little crunch? I sometimes will throw some nuts right into the jars! Pistachios or sliced almonds are my personal favorites here.
I find the oats perfectly, lightly sweet as written, but you may need to add more sweetener for your taste. The first time you make them, I'd encourage you to prep them as written and then just drizzle on extra maple syrup in the morning if needed (after they've had time to chill in the fridge and thicken up).
Sometimes when I'm enjoying these at home, I'll splash in a little extra milk right before serving. But it really just depends on my mood. Play around with what you like best!
Let's also just pretend that this recipe is totally festive for July 4th … I mean, it's got the red and blue covered right???
Cheers to a most wonderful holiday weekend my friends!
Yield: 2 medium servings (or 3 small)
Berry Vanilla Overnight Oats
Prep Time:10 minutes
Cook Time:0 minutes
Total Time:10 minutes
Healthy, filling and portable, these creamy berry vanilla overnight oats are a breakfast staple! Filled with strawberries, blueberries, almond milk and chia seeds!
Ingredients:
For the berries:
heaping ½ cup chopped strawberries
heaping ½ cup blueberries
¼ teaspoon vanilla extract
For the oats:
1 cup old fashioned rolled oats
1 ½ cups unsweetened vanilla almond milk
2 tablespoons pure maple syrup
4 teaspoons chia seeds
½ teaspoon vanilla extract
⅛ teaspoon almond extract
Directions:
For the berries:
In a medium bowl, toss together the strawberries, blueberries and vanilla extract. Divide the mixture between two (or three) containers with lids (I like mason jars here!).
For the oats:
Using the same medium bowl, mix together the oats, almond milk, maple syrup, chia seeds, vanilla extract and almond extract. Divide the mixture between the containers (spoon / pour right over the berries). Seal the containers and transfer to the refrigerator to sit overnight.
When ready to eat, give it a good stir and enjoy!