Vanilla Bean Sugar Cookies with Royal Icing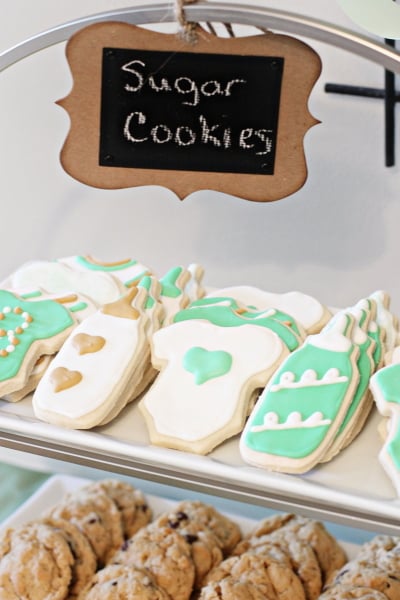 My first attempt at decorating with royal icing did not go as planned.  My first mistake was starting the process around 8 o'clock at night.  I was already tired and incorrectly thought it wouldn't take that long.  My next mistake was thinking that I would be awesome at using royal icing even though it was my first try.  Forget about that whole practice makes perfect thing.  I was going to make gorgeous decorations on my first attempt.  Righttttt….
I gave up around 10 pm.  I tried to pipe the outline with icing that was way too thick.  Then I tried to flood with icing that was still way too thick.  I didn't even attempt to pipe on details.  I was mad.  Very mad.
But I kept at it and finally have gotten to the point where the cookies are starting to turn out the way I want them to.  I still have a lot to learn but finally feel comfortable sharing my results with you!  I made these cookies for my cousin's baby shower and was happy with how they turned out.  I'm getting better at piping on details and had fun coming up with different designs.
The recipe for both the sugar cookies and royal icing is below, but first I wanted to link to a few tutorials that have helped me work with this kind of icing.  I really wish I had read these before I made my first attempt.  Lesson learned.
Annie's Eats – How to decorate with royal icing
Bake at 350 – Royal icing 102
Brown Eyed Baker – How to decorate cookies with royal icing
As a side note, when I first heard about royal icing, I wasn't really sure what all the fuss was about.  But let me tell you, this stuff can make some very beautiful cookies.  It does take some patience and practice, lots of practice.  But the end results are so worth it.  And take it from me – if your first attempt doesn't go so well, don't worry it will get better!
And now, on to the recipe.
Yield: will vary based on cookie cutter
Vanilla Bean Sugar Cookies with Royal Icing
Recipe for vanilla bean sugar cookies. Buttery sugar cookies filled with vanilla that hold their shape after baking! And instructions for using royal icing.
Ingredients:
For the sugar cookies:
16 tablespoons (2 sticks) unsalted butter, room temperature
1 cup confectioners' sugar
1 vanilla bean
1 large egg
2 ½ teaspoons vanilla extract
2 ½ cups all-purpose flour
½ teaspoon salt
For the royal icing:
4 cups confectioners' sugar, sifted
2 tablespoons meringue powder
5 tablespoons water
Directions:
For the sugar cookies:
Add the butter and sugar to the bowl of a stand mixer fitted with the paddle attachment. Beat on medium-high for about 1 to 2 minutes, until smooth and creamy. Split the vanilla bean lengthwise and scrape out the seeds. Add the seeds to the bowl, along with the egg and vanilla extract. Beat until incorporated. Next, add in the flour and salt. Mix on low speed until just combined. Form the dough into a ball and cover tightly with plastic wrap. Chill the dough in the refrigerator until firm, about 1 to 2 hours. *I usually make the dough the night before I bake the cookies. It keeps fine in the refrigerator overnight.
Preheat your oven to 375 degrees. Line a baking sheet with parchment paper and set aside. On a well-floured surface, roll out the dough to about ¼ inch in thickness. Cut the dough with cookie cutters and place on the prepared baking sheet. Bake for 8 to 10 minutes, rotating halfway through baking. Be sure to remove the cookies when they are completely set, but before they brown around the edges. Let cool for several minutes on the baking sheet, then remove to a wire rack to cool completely. Decorate with royal icing (continued below) or your favorite frosting.
For the royal icing:
Add the sugar, meringue powder and water to the bowl of a stand mixer fitted with the paddle attachment. Mix on low speed for about 7 to 10 minutes, until the icing is no longer shiny (and has a matte appearance).
Transfer the icing to a container with a tight-fitting lid (tupperware works great). Add in additional water a small bit at a time (¼ to ½ teaspoon) and stir until fully incorporated. You want the icing to be a good consistency for piping. If it seems at all too stiff to pipe a border around the edges of the cookies, add a little more water (if you go too far you can always add additional sifted confectioners' sugar).
Once the icing is at the desired consistency, divide into additional containers, depending on how many colors you plan to use. Color the icing at this point. Gel food coloring works best, as it does not add additional liquid to the icing. Make sure to keep your containers covered when not in use. To help reduce air bubbles before piping, let the icing sit for 30 seconds to a minute (you'll see the bubbles rise to the surface of the container). Stir again and then proceed.
Transfer some of the icing to a pastry bag fitted with a small tip (I usually use a #3) and pipe around the edges of each cookie. Let the outline set before you flood the cookies. Typically by the time I finish outlining all the cookies, the first ones are ready to flood.
Set aside some of the icing used for the outlines to pipe on details later (if you plan to do so). Remember to always keep the icing tightly covered when not in use to prevent it from drying out.
Next, flood the cookies. To do this, slowly add additional water a small bit at a time (again about ¼ to ½ teaspoon) to thin out the icing. It should be thin enough that if you pick up some of the icing with a spoon and let it drizzle back into the container, it incorporates within 5 to 10 seconds. To help reduce air bubbles, let the icing sit for a minute or so (you'll see the bubbles rise to the surface of the container). Stir again and then proceed. Transfer the icing to a squeeze bottle (or another pastry bag with a small hole cut off the end). Squeeze the icing inside the outline and flood until it almost covers the cookie. Use a toothpick to help the icing reach all the space inside the outline.
Allow the icing to set completely, at least for several hours. I usually leave them out overnight (do not cover them or run the risk of damaging all your hard work – they won't dry out). Once completely set, use the reserved icing to pipe on details and decorations as desired. Let set completely and then store cookies in an airtight container.