Blueberry Mango Smoothie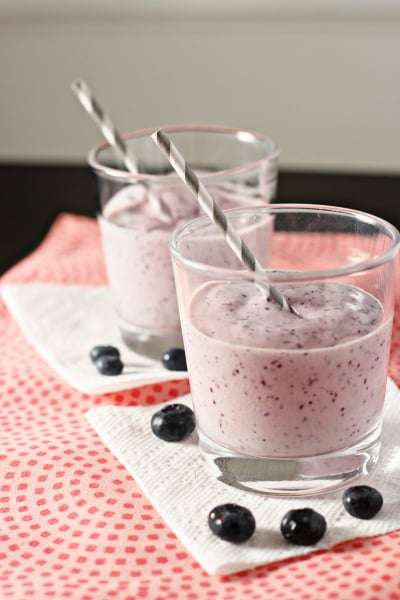 Several years ago, my husband used to make me a strawberry smoothie every morning for breakfast.  It was routine and I loved it.  They were sweet, but not too sweet, and just the right consistency.  Whenever he was out of town, I tried to make these smoothies myself.  And it always went horribly wrong.  Seriously, I'm not joking.  And then I would get annoyed with myself for not being able to make a smoothie.  I would also somehow end up making a huge mess.  And then I would get really mad.
My husband now likes to say that he can't cook (or make smoothies), claiming that he's just really bad at it.  Which is a lie since he was a way better cook than me at one point : )  But since I like to cook, I let it go.  Right husband?
Anyway, this past weekend I decided it was time to bring back the smoothies.  And I was going to do it myself.  I'm happy to say that the smoothie making did not go horribly wrong this time around.  Turns out I can make a smoothie.  I didn't have any strawberries, so I went with blueberries and mango.  We loved the combination.  These are sweet, but not too sweet, just like the ones I remembered.  They take only a few minutes to throw together, perfect for breakfasts on the run.
Blueberry Mango Smoothie
Recipe for blueberry mango smoothie. Perfect for breakfasts on the go. With frozen blueberries, mango & greek yogurt!
Ingredients:
¾ cup plain greek yogurt
¾ cup milk
¾ cup frozen blueberries
¾ cup frozen mango chunks
1 tablespoon honey
splash vanilla extract
Directions:
Add all ingredients to a blender. Process until the mixture is completely smooth. If the smoothie is too thick, add additional milk. Add additional honey if needed, depending on desired sweetness. Pour and serve immediately.