Peanut Butter Oatmeal Chocolate Chip Muffins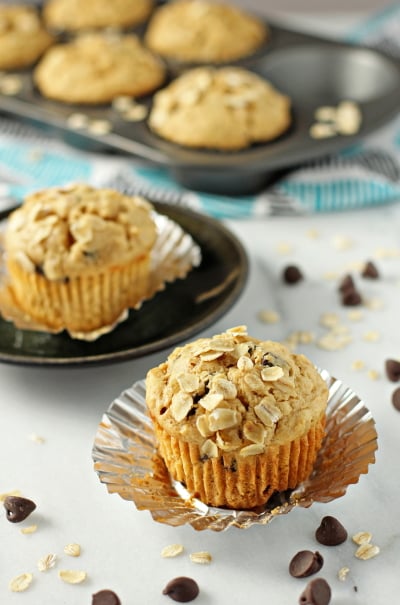 I am a firm believer that for some recipes the name says it all.  And that definitely is the case with these muffins.  Peanut butter, oatmeal and chocolate chips.  How can you go wrong?  While making a batch of these peanut butter oatmeal chocolate chunk cookies, I got to thinking that same combination would be excellent in a muffin.  And boy was I right.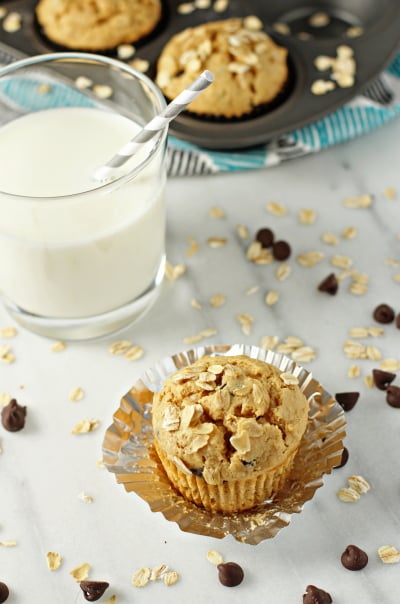 These muffins are moist and have great texture from the oatmeal garnish.  They have just the right amount of peanut butter flavor with a hint of chocolate.  They are sweet, but not too sweet, making them perfect for breakfast or a mid-afternoon snack.  Or really an anytime snack. Oh and did I mention that this is the kind of muffin that you can wash down with a big ol' glass of milk?  Yeah, they're really good that way too.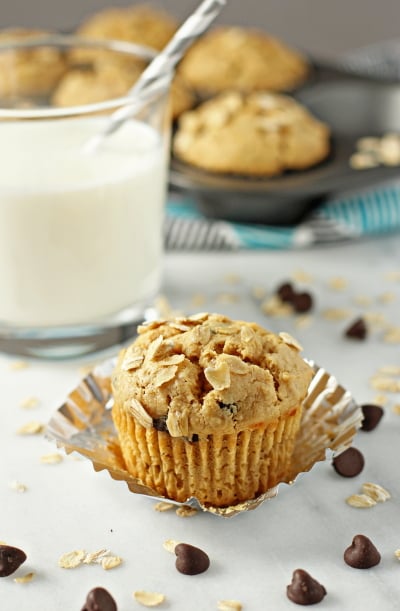 Do I need to sell you even more?  You can whip these muffins up in no time flat – no mixer required.  And they have whole wheat flour, applesauce and oats, so they are healthy right?  Don't answer that.  While I haven't tried it out, I think these would also be good smeared with a bit of peanut butter to serve.  I think I need to go make another batch and test out that theory…
Peanut Butter Oatmeal Chocolate Chip Muffins
Recipe for peanut butter oatmeal chocolate chip muffins. Moist and sweet but not too sweet. With the ever-favorite combination of peanut butter & chocolate.
Ingredients:
1 cup all-purpose flour
¾ cup white whole wheat flour
½ cup old fashioned oats, plus extra for garnish
2 teaspoons baking powder
½ teaspoon salt
6 tablespoons unsalted butter, melted and slightly cooled
½ cup packed light brown sugar
½ cup creamy peanut butter
2 large eggs
1 cup whole milk
¼ cup unsweetened applesauce
1 teaspoon vanilla
¾ cup dark chocolate chips (or semi-sweet)
Directions:
Preheat the oven to 375 degrees. Line a muffin tin with baking cups or grease with nonstick cooking spray or butter. Set aside.
In a small bowl, whisk together both types of flour, the oats, baking powder and salt. In a large bowl, whisk together the melted butter and brown sugar. Next, add in the peanut butter, eggs, milk, applesauce and vanilla. Mix to combine. Slowly add the dry ingredients to the wet, and mix until just incorporated. Do not over mix. Gently fold in the chocolate chips.
Evenly divide the batter among the prepared muffin tins (they should be about ¾ of the way full). Sprinkle a few additional oats on the top of each muffin. Bake for 17 to 19 minutes, until a toothpick inserted into the middle comes out clean. Let the muffins cool for about 5 minutes, then remove from the tin to a wire rack to cool completely.