Whole Grain Morning Glory Muffins
Recipe for whole grain morning glory muffins. With wheat flour and oat bran and no refined sugars. Packed with carrots, apple, coconut, and raisins!
Greetings from New Jersey! More specifically, coming at you live straight from my grandma's house.
I'm up here for the next few days to help out with a few things and am staying with my super awesome grandma.
There's been lots of chatting, and hallmark channel watching (there are some ahem, interesting, movies on that channel), and soap opera viewing (so much drama!) and of course cooking.
And by cooking I really mean me rummaging through all her cabinets trying to find pots or pans or a can opener. It's amazing how much longer it takes to make things when I'm not in my own kitchen.
Specifically because when you finally find the can opener you realize it's probably about 50 years old and takes omg-so-much-arm-muscle to get it to move one tiny little centimeter. I either have extremely weak arms or that baby is just oldddd.
But. Enough about my weak arms. Let's talk muffins.
I've become obsessed with morning glory muffins. I don't know where this whole phase, obsession, whatever you want to call it, came from, but holy moly am I in the thick of it.
Although I'm a little ashamed to admit that I had no idea what morning glory muffins were until a few months ago. Apparently I live under a rock? The bad food blogger rock?
About These Healthy Morning Glory Muffins
After trying a few from local shops, I decided it was time to make my own version at home. And these are packed to the brim with the good stuff.
There's a mix of whole wheat, oat bran and all-purpose for the flours, pumped up with plenty of warm spices. These are lightly sweet, using just honey and pure maple syrup.
And then there's the mix-ins. Shredded carrots. Grated apple. Golden raisins. Walnuts. Coconut. Orange zest! So bright, so fresh!
Enjoy one warm straight from the oven with a delicious piping hot cup of coffee.
Or freeze them after baking so you have breakfast ready to go whenever you need it!
We just quickly thaw them out in the microwave and badda bing badda boom breakfast is ready! With a cup of coffee to go. See a pattern here?
Fresh, hearty, good-for-you muffins + steamy, frothy coffee = pure happiness. Cozy, cozy, happiness.
I probably should have used coffee in the photos instead of tea, huh?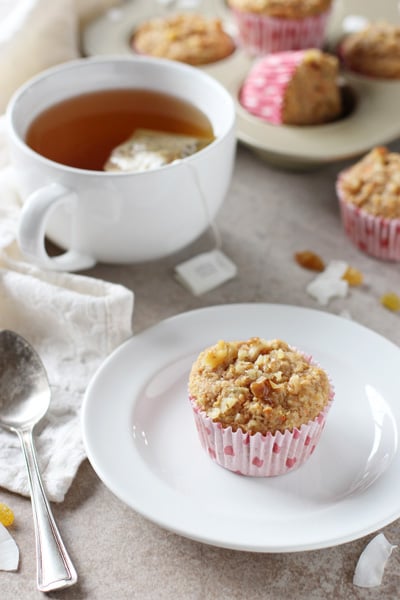 Additional Muffin Recipes You Might Enjoy!
Did you make this recipe? Rate and review it down below! I'd love to hear from you.
Whole Grain Morning Glory Muffins
Recipe for whole grain morning glory muffins. With wheat flour and oat bran and no refined sugars. Packed with carrots, apple, coconut, and raisins!
Ingredients
1 cup white whole wheat flour
¼ cup oat bran
½ cup all-purpose flour
2 ½ teaspoons baking powder
½ teaspoon sea salt
¾ teaspoon ground cinnamon
¼ teaspoon ground ginger
¼ teaspoon ground nutmeg
1 large egg
⅓ cup melted coconut oil*
⅔ cup milk (I like whole or coconut milk here)
¼ cup honey
¼ cup pure maple syrup
1 ½ teaspoons vanilla extract
1 tablespoon orange zest (from about 1 large orange)
½ cup shredded carrot (from about 1 large carrot)
½ cup grated apple (from about 1 medium apple)
½ cup raisins (I like golden!)
¼ cup unsweetened coconut flakes
¼ chopped walnuts, plus extra for sprinkling on top
Instructions
Preheat the oven to 375ºF. Line a muffin pan with liners and set aside.
Whisk together the white whole wheat flour, oat bran, all-purpose flour, baking powder, salt, cinnamon, ginger and nutmeg in a medium bowl. In another medium bowl, whisk together the egg, coconut oil, milk, honey, maple syrup, vanilla extract and orange zest. Add to the bowl with the dry ingredients and mix until just combined. Gently fold in the carrot, apple, raisins, coconut and walnuts.
Divide the batter evenly in the prepared muffin tins, filling each about ⅔ to ¾ of the way full. Sprinkle the tops with additional chopped walnuts, if desired.
Bake for about 15 to 17 minutes, or until a toothpick inserted into the middle comes out clean. Let cool for about 5 minutes, then remove the muffins to a wire rack to cool completely.
Notes
*Be sure to melt the coconut oil first and then measure out the correct amount (otherwise you may use too much).
To keep these dairy free, be sure to use a dairy free milk.
Nutrition Information:
Yield:

14
Serving Size:

1
Amount Per Serving:
Calories:

173
Total Fat:

7g
Saturated Fat:

6g
Trans Fat:

0g
Unsaturated Fat:

1g
Cholesterol:

14mg
Sodium:

178mg
Carbohydrates:

26g
Fiber:

2g
Sugar:

13g
Protein:

3g
Nutrition data shown is an estimate provided by an online calculator and is for informational purposes only. It should not be considered a substitute for a medical professional's advice.