Blueberry Coconut Muffins
Meet my new favorite muffin.  We're really very good friends.  That's what happens when you make three batches within less than two weeks.  I really should get a handle on this muffin making extravaganza – but I just can't stop.  Even my husband supports this problem of mine – considering we blow through these a wee bit too quickly each time.
But these are totally worth it.  Packed full of coconut flavor, they take blueberry muffins to a whole different level.  I actually intended to make regular blueberry muffins, finally getting the chance to make a recipe sent to me by a former coworker.  But then I realized I was out of a few ingredients.  So I subbed in coconut oil and then the coconut idea took off from there.
While these may not exactly be total health food, I feel better eating them for breakfast since they do have white whole wheat flour, coconut oil and coconut milk, along with plenty of fresh blueberries.
And they also make a mighty fine snack … or late-night dessert.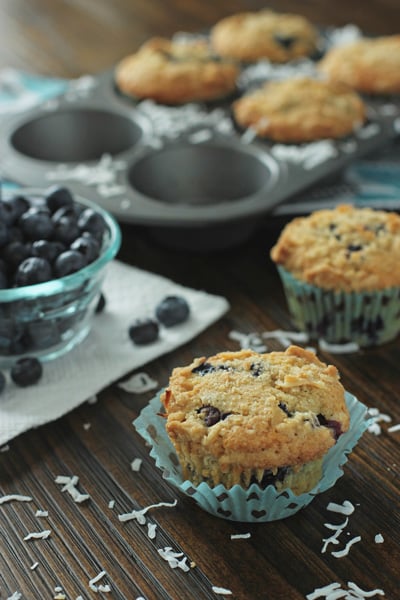 Plus, a streusel topping makes everything better, right?
Blueberry Coconut Muffins
Recipe for blueberry coconut muffins. Made with coconut oil, coconut milk, coconut extract and shredded coconut, and of course plenty of blueberries.
Ingredients:
For the muffins:
1 cup all-purpose flour
½ cup white whole wheat flour
⅔ cup packed light brown sugar
½ teaspoon salt
2 teaspoons baking powder
⅓ cup melted coconut oil
1 large egg
1 teaspoon vanilla extract
½ teaspoon coconut extract
⅔ cup coconut milk
1 cup fresh blueberries
¼ cup unsweetened coconut flakes
For the topping:
2 tablespoons packed light brown sugar
2 tablespoons unsweetened coconut flakes
3 tablespoons all-purpose flour
2 tablespoons unsalted butter, cut into pieces
Directions:
Preheat the oven to 375 degrees. Line a cupcake pan with paper liners and set aside.
To make the muffins – in a medium bowl, add the all-purpose flour, whole wheat flour, brown sugar, salt and baking powder. Whisk to combine, making sure to break up any clumps of brown sugar. In a liquid measuring cup or small bowl, whisk together the melted coconut oil, egg, vanilla extract, coconut extract and coconut milk. Add the wet ingredients to the bowl with the dry and mix until just combined. Gently fold in the blueberries and coconut flakes. Divide the batter evenly in the prepared tins (filling about ⅔ of the way full).
To make the topping – add the brown sugar, coconut flakes and flour to a small bowl. Add in the pieces of butter and use a fork or your fingers to work the butter into the other ingredients (until you have even sized crumbs). Sprinkle the crumb topping evenly over the muffins.
Bake for about 18 to 20 minutes, until a toothpick inserted into the middle of the muffins comes out clean. Let the muffins cool in the pan for 5 minutes, before removing to a wire rack.
While we preferred these with fresh blueberries, frozen blueberries also work just fine.
We loved these while they were still warm from the oven. To reheat – just pop a muffin in the microwave for about 20 seconds, if desired.
Heavily adapted from Allrecipes via one of my former coworkers.