Healthier Pistachio Muffins
These homemade healthier pistachio muffins are so much better than the kind from the store! Easy and simple to make, they're moist, fluffy and packed with wholesome ingredients like whole wheat flour, yogurt and honey. Excellent for snacking. Dairy free.
Let's talk about a delicious snack time option today, shall we? In the form of these soft and fluffy healthier pistachio muffins!
Or otherwise known as a more wholesome alternative to those blindingly green ones that they sell at your local grocery store.
Now, I'll be the first to admit that I've long been a sucker for the store-bought version, which made frequent appearances at our house growing up.
But, I figured it was high time to come up with my own take that would be a tad bit better for me AND that I could whip up at a moment's notice.
And let me tell you that today's homemade muffins do not disappoint. They're soft, moist and packed to the brim with PLENTY of crunchy pistachios – like way more than the ones from the store.
Not to mention that they're super easy to make and have a number of healthier swaps (like white whole wheat flour, oat bran, yogurt and olive oil) that don't compromise any flavor.
And about that flavor … these kinda sorta remind me of baklava. Between some honey for sweetness, a touch of cinnamon, dreamy vanilla and almond extracts, and of course all the nuts, they just have that feel. Baklava muffins anyone?
How To Make Healthier Pistachio Muffins
This nutty snack comes together in a snap (say that three times fast).
First, we whisk together all the dry ingredients in one bowl and all the wet ingredients in another.
Next, we gently combine the two and then fold in the chopped pistachios.
The batter gets divided evenly in a 12 cup muffin tin, sprinkled with a touch of extra pistachios (for that crunch!) and is then baked off to golden perfection.
Tips & Tricks
Let's talk about the yogurt. You want to use a greek-style yogurt as it results in the best possible final product (I tested these with regular yogurt and the muffins didn't bake up quite as nicely). I personally use Kite Hill's greek style plain unsweetened almond milk yogurt (<— not sponsored, just what I love and use!) due to that whole can't eat dairy thing. BUT regular greek yogurt absolutely works as well if you don't need to keep them dairy free.

Additionally, be sure to measure out your yogurt in dry measuring cups as it won't level off correctly in liquid ones.

Now, let's move on to the flours. Fluff your flours in their containers / bags, then scoop into your measuring cup with a spoon and level off. Don't dunk the measuring cup straight into the bags as you'll likely use too much.

I use roasted and salted pistachios because they are the only kind I can find near me – although I will say that the extra bit of saltiness from the nuts is SO good in the final muffins. With that said, you can absolutely use raw pistachios instead.

Feel free to use a different oil in place of the olive oil. However, I would NOT recommend using coconut oil in these muffins – between the coldness from the yogurt and the milk you run the risk of the coconut oil hardening up the batter.

Be sure to fill your muffins tins almost all of the way full. If you don't, you'll have enough batter for 13 muffins (which is just obnoxious and annoying).
How To Store
Place a piece of paper towel in the bottom of a container, then place the muffins on top in a single layer. Cover and keep at room temperature for about 3 to 4 days.
Alternatively, you can freeze the muffins for another time.
Additional Muffin Recipes You Might Enjoy:
Did you make this recipe? Rate and review it down below! I'd love to hear from you.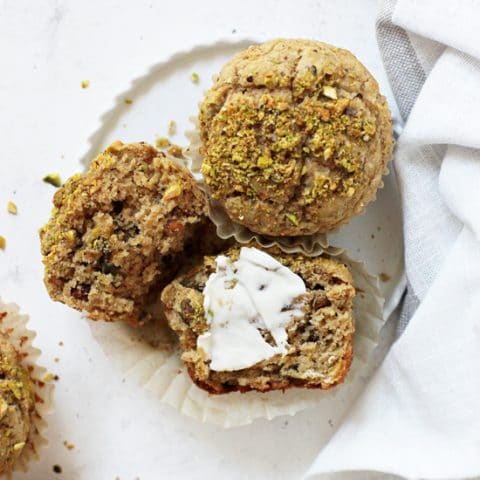 Healthier Pistachio Muffins
These homemade healthier pistachio muffins are so much better than the kind from the store! Easy and simple to make, they're moist, fluffy and packed with wholesome ingredients like whole wheat flour, yogurt and honey. Excellent for snacking.
Ingredients
1 cup white whole wheat flour
¼ cup oat bran   
½ cup all-purpose flour
1 teaspoon baking powder
¾ teaspoon baking soda
½ teaspoon fine sea salt
½ teaspoon ground cinnamon
⅛ teaspoon ground cloves
1 large egg
⅓ cup olive oil
¾ cup greek-style plain non-dairy yogurt (or regular plain greek yogurt)
¼ cup unsweetened almond milk (or milk of choice)       
¼ cup honey
⅓ cup pure maple syrup                       
1 ½ teaspoons vanilla extract
½ teaspoon almond extract
1 ¼ cups chopped shelled pistachios, divided
Instructions
Preheat the oven to 375ºF. Line a 12 cup muffin pan with liners and set aside.
Whisk together the white whole wheat flour, oat bran, all-purpose flour, baking powder, baking soda, salt, cinnamon and cloves in a large bowl. In a medium bowl, whisk together the egg, oil, yogurt, milk, honey, maple syrup, vanilla extract and almond extract.
Add to the bowl with the dry ingredients and mix until just combined. Gently fold in 1 cup of the pistachios (it will be a thicker batter).
Divide the batter evenly in the prepared muffin tins, filling each almost all of the way full. Sprinkle the tops with the remaining ¼ cup chopped pistachios.
Bake for about 15 to 17 minutes, or until a toothpick inserted into the middle comes out clean. Let cool for about 5 minutes, then remove the muffins to a wire rack. Let cool completely or enjoy warm!
Nutrition Information:
Yield:

12
Serving Size:

1
Amount Per Serving:
Calories:

184
Total Fat:

7g
Saturated Fat:

1g
Trans Fat:

0g
Unsaturated Fat:

6g
Cholesterol:

18mg
Sodium:

239mg
Carbohydrates:

26g
Fiber:

1g
Sugar:

13g
Protein:

4g
Nutrition data shown is an estimate provided by an online calculator and is for informational purposes only. It should not be considered a substitute for a medical professional's advice.