Chewy Cranberry Orange Granola Bars
Well hello! Happy Monday … errrr … Wednesday to you! I am clearly coming atcha' quite late this week. But! I bring a peace offering in the form of these chewy cranberry orange granola bars. And oooo baby are they good. So snack-able, so fun for fall! (Or really anytime of the year.)
In case it isn't blatantly obvious, I am a bit all over the place this week (story of my life lately). But, I do have another recipe that I promise to squeeze in before the weekend!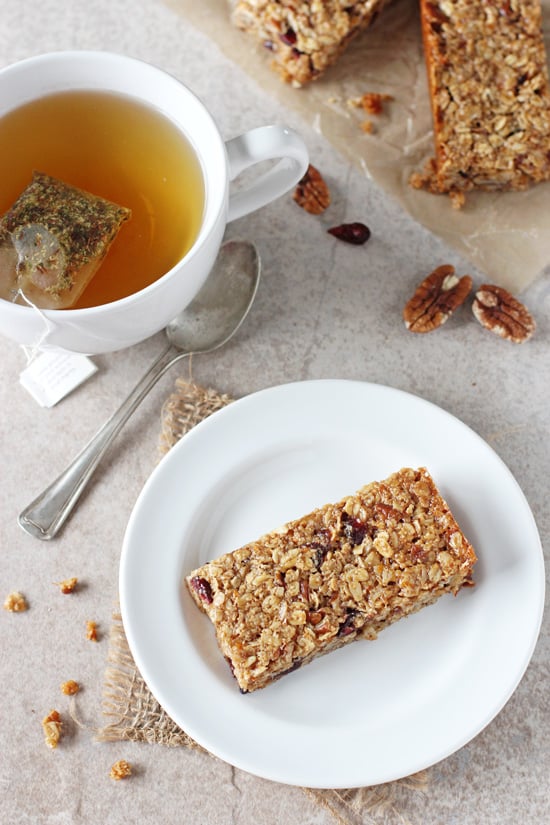 To bring you up to speed, I spent all of last week at another intensive training for my coursework (which was both awesome and exhausting). Andddd then proceeded to return home to a complete mess of a house. Ahhhh construction, I am kinda sorta totally over you.
Everything is moving along fine, we're just at a point where I have pretty much zero privacy and the house is completely covered in dust and grime (and um, lots of bugs from all the windows and doors being open all the time <— Eeeep! This may be the worst part for me!).
But enough about those pesky bugs, let's get to today's recipe! Thick & chewy homemade granola bars! That are also totally sturdy & FREEZER-FRIENDLY!
Can we say quadruple threat?? I think so. They also happen to be gluten free, dairy free, include a vegan option AND are full of fall flavors. Win to the wine. <— Yup, just wrote wine instead of win. I may or may not need a drink this week.
Tips & Tricks For These Cranberry Granola Bars
Please, please, please stick with the brown rice syrup that is listed in the recipe! I have been working on perfecting these bars for well over a year now and the key really is the brown rice syrup. It makes the bars just so nice and sturdy. Trust me, I have tried with all honey and / or maple syrup and they just don't turn out as well. Okay? Okay!
Now that we have that out of the way, let's talk options! To keep these bars vegan, just use extra brown rice syrup in place of the two tablespoons honey. I like the little bit of different flavor from the honey but they are still wonderful with all brown rice syrup.
Be sure to use certified gluten free oats and oat bran if needed for your diet.
Let's chat mix-ins! You can absolutely use something else other than the dried cranberries and pecans. BUT! Be sure to use the same total amount. If you start messing with the ratio of wet to dry ingredients, it will throw off the recipe.
I mention this down below, but you can store these bars either at room temp or in the fridge. They do last much longer in the fridge. Plus, I personally think they taste even better when cold (and they get even sturdier this way)!
If you are freezing the granola bars – I like to wrap individual bars tightly in plastic wrap and then pop in a freezer-safe plastic bag. When you are ready to enjoy, just move however many bars you would like to the fridge to thaw out.
Cranberries + orange zest + pecans = fall happiness! Yes indeed!
Additional Homemade Snack Recipes You Might Enjoy!
Did you make this recipe? Rate and review it down below! I'd love to hear from you.
Chewy Cranberry Orange Granola Bars
Yield:
16 (2x2 inch) bars
Homemade thick & chewy cranberry orange granola bars! Easy, sturdy and freezer-friendly, they are a perfect grab & go snack or breakfast!
Ingredients
1 ½ cups old-fashioned rolled oats
½ cup oat bran
¼ teaspoon ground cinnamon
¼ teaspoon salt
¾ cup dried cranberries
1 cup raw pecan halves, chopped
¼ cup melted coconut oil*
¼ cup creamy almond butter
2 teaspoons vanilla extract
1 tablespoon orange zest (from 1 large orange)
2 tablespoons honey
½ cup brown rice syrup
Instructions
Preheat the oven to 325ºF. Line an 8x8 inch baking pan with parchment paper (cutting a big enough piece so that it hangs over on two sides). Lightly mist with nonstick or olive oil spray. Set aside.
In a large bowl, mix together the oats, oat bran, cinnamon, salt, cranberries and pecans until well combined. In a medium bowl, mix together the coconut oil, almond butter, vanilla, orange zest, honey and brown rice syrup until well combined. Pour into the bowl with the dry ingredients and mix until well combined and everything is evenly moistened (it will be a very thick mixture!). Dump the mixture into the prepared baking pan and press firmly into an even layer.
Bake for about 30 minutes, until lightly browned. Remove from the oven and set the pan on a wire rack to cool completely.
Once completely cool, use the parchment overhang to lift from the pan. Use a sharp knife to cut into squares. Store at room temperature or in the refrigerator in an airtight container (they will keep longer in the fridge). I personally like to wrap the individual bars in plastic wrap - perfect for grab and go!
Notes
*Melt the coconut oil first then measure out the correct amount, otherwise you may use too much.
Feel free to cut these however large you like! If you cut them into rectangles, you'll get about 8 large bars. Also, please be sure to wait until they are completely cool before cutting!
Nutrition Information:
Yield:

16
Serving Size:

1
Amount Per Serving:
Calories:

185
Total Fat:

11g
Saturated Fat:

3g
Trans Fat:

0g
Unsaturated Fat:

7g
Cholesterol:

0mg
Sodium:

38mg
Carbohydrates:

21g
Fiber:

3g
Sugar:

10g
Protein:

3g
Nutrition data shown is an estimate provided by an online calculator and is for informational purposes only. It should not be considered a substitute for a medical professional's advice.