Baked Chocolate Cake Donut Holes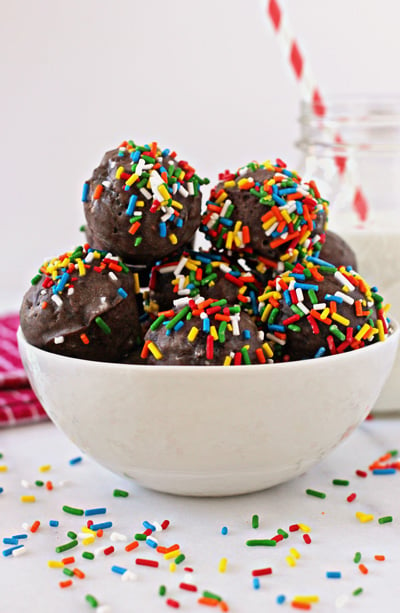 The day I made these donut holes my kitchen was a disaster.  I somehow managed to get sprinkles everywhere.  And I do mean everywhere.  What is it about those little brightly colored gems that leads to an even bigger mess than usual?  Of course Emma was under my feet the entire time and wound up with a bunch on her back.  I found this slightly amusing since you would think she would smell them right on top of her… but no.  Not at all – she was completely oblivious.
But the mess was definitely worth it.  These donut holes were a pretty tasty treat that we hoarded all for ourselves.
I am not a fan of frying, so when I decided to make donut holes I knew I wanted to opt for a baked version.  As an added bonus, I used a mini muffin pan to make these – so no special equipment required.  In fact, you don't even need to bust out the mixer and you likely already have most (if not all) of the ingredients on hand.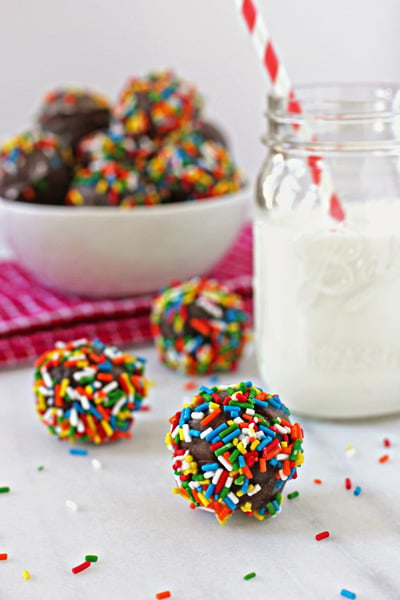 The donuts themselves are very light and almost fluffy – not too dense.  And you can go ahead and roll them in some glaze and then sprinkles for a final touch.  Messy? Yes.  Delicious?  Absolutely.
I think these would be quite a fun contribution to an Easter brunch, huh?  Bonus points if you can find some pastel colored sprinkles.
Yield: about 24 donut holes
Baked Chocolate Cake Donut Holes
Recipe for baked chocolate cake donut holes. Use a mini muffin pan to make these chocolate donuts. Topped with a vanilla glaze and plenty of sprinkles.
Ingredients:
For the donuts:
1 ¼ cups all-purpose flour
¼ cup unsweetened cocoa powder (preferably dutch process)
½ teaspoon baking soda
¼ teaspoon salt
½ cup milk
½ cup packed light brown sugar
1 large egg, lightly beaten
4 tablespoons unsalted butter, melted and cooled slightly
2 tablespoons brewed coffee, cooled slightly
1 teaspoon vanilla extract
For the glaze:
2 cups confectioners' sugar
2 teaspoons vanilla extract
pinch of salt
4 to 5 tablespoons milk
sprinkles, for garnish
Directions:
To make the donuts – preheat the oven to 325 degrees. Generously spray a mini muffin pan with nonstick cooking spray and set aside.
In a large bowl, whisk together the flour, cocoa powder, baking soda and salt until there are no lumps. In a small bowl or liquid measuring cup, whisk together the milk, sugar, egg, butter, coffee and vanilla. Add the wet ingredients to the bowl with the dry and mix until combined. Fill each mini muffin tin about ¾ of the way full (about a heaping tablespoon in each). Bake for 10 to 12 minutes, or until a toothpick inserted into the middle comes out clean. Allow the donut holes to cool for 3 to 5 minutes in the pan then remove to a wire rack. Let the donuts cool for another 10 minutes, then proceed with the glaze.
To make the glaze – Add the confectioners' sugar, vanilla and salt to a small bowl. Slowly whisk in the milk, one tablespoon at a time, until it reaches your desired consistency.
Lay a piece of wax or parchment paper underneath your wire rack (so the glaze doesn't drip on your counter). Add the sprinkles to a shallow bowl. Working one at a time, roll each donut hole in the glaze. Shake off the excess then roll in the sprinkles. Shake off the excess once again and then place on the wire rack to set.
These donut holes are best eaten the day you make them.