Wild Mushroom Tart
This creamy wild mushroom tart is packed with three kinds of mushrooms, three kinds of cheese and herby fresh thyme! A simple cornmeal crust ties it all together for the perfect brunch dish.
Note: This recipe is NOT dairy free. It was published before Cook Nourish Bliss transitioned to dairy free recipes and remains popular with long time readers. You can try using substitutions to make it dairy free, however I have not tested this myself and can't say how it will turn out.
So about a year ago I bought a tart pan. And it's been sitting in my kitchen cabinet ever since collecting dust.
We have been trying to go through and clean out a few things around the house lately and usually I am pretty good about only keeping what I use.
We do at least twice yearly runs with our clothes to donate and de-clutter and I have no problem trashing random items that I really don't know why we ever purchased in the first place.
Now the kitchen on the other hand – that's a completely different story.
I constantly complain about how we have no room in our cabinets but I just can't part with any of it. To be fair, I do use 98% of everything in there on a regular basis.
This tart pan is in the 2% that I don't.
But you see, I realllly didn't want to part with it. So I insisted to my husband that I absolutely needed it. To prove that point, I baked a tart.
So what did I make with it? This wonderful wild mushroom tart, that's what.
The cornmeal crust serves as a simple yet great base.
And the mushroom filling? It's hard to go wrong with sautéed mushrooms combined with three different kinds of cheese and a hint of fresh thyme.
We enjoyed this for dinner with a large salad and the leftovers made for an excellent lunch the next day.
And if you are looking for a recipe for your Easter brunch menu, look no further. I think this would make a great addition to any holiday spread.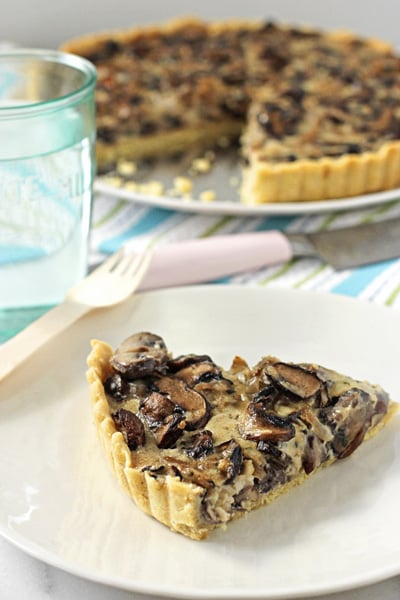 Additional Brunch Recipes You Might Enjoy:
Did you make this recipe? Rate and review it down below! I'd love to hear from you.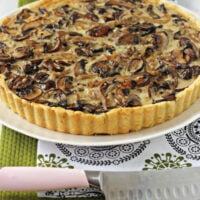 Wild Mushroom Tart
Additional Time:
30 minutes
Cook Time:
1 hour
10 minutes
Total Time:
2 hours
15 minutes
This creamy wild mushroom tart is packed with three kinds of mushrooms, three kinds of cheese and herby fresh thyme! A simple cornmeal crust ties it all together for the perfect brunch dish.
Ingredients
For the crust:
1 cup plus 2 tablespoons all-purpose flour
¼ cup yellow cornmeal
¼ teaspoon salt
6 tablespoons unsalted butter, cold and cut into ½ inch pieces
1 large egg
For the filling:
1 tablespoon olive oil
1 tablespoon unsalted butter
2 medium shallots, thinly sliced
1 clove garlic, minced
1 teaspoon chopped fresh thyme
½ pound cremini mushrooms, thinly sliced
1 pound assorted wild mushrooms (such as shiitake or oyster), torn into small pieces*
1 teaspoon salt, divided
freshly ground pepper, to taste
¼ cup mascarpone cheese, room temperature
¼ cup milk
2 large eggs
½ cup freshly grated gruyere cheese
¼ cup freshly grated parmesan cheese
Instructions
To make the crust
Add the flour, cornmeal and salt to the bowl of a food processor. Add in the butter. Pulse until the butter is the size of tiny peas. Add the egg and process until the dough starts to clump together (it will look like wet sand).
Dump the dough onto a floured surface and use your hands to bring it together. Roll out the dough to a 12-inch circle (rolling out the dough between two pieces of plastic wrap made this very easy).
Transfer the dough to a 9-inch tart pan and press the dough against the bottom and sides. Remove the excess dough from the top.
Place the tart pan on a baking sheet and put in the freezer until firm, about 30 minutes.
Preheat the oven to 375ºF.
Lightly butter one side of a 12-inch square of aluminum foil. Press the foil firmly against the bottom and sides of the crust (butter side down).
Bake for 10 minutes (no pie weights needed). Carefully remove the foil and then bake for another 5 to 8 minutes, until lightly golden brown around the edges. Place on a wire rack.
Reduce the oven temperature to 350ºF.
To make the filling:
Set a large skillet over medium heat. Add the olive oil and butter. When the butter is melted, add the shallots. Cook, stirring occasionally, for about 2 to 3 minutes, until soft. Add in the garlic and thyme and cook for 30 seconds, until fragrant.
Increase the heat to medium high and add in the mushrooms (if the mushrooms won't all fit in your skillet, add as many as you can and as they cook down you'll be able to add more to the pan). Cook for about 9 to 10 minutes, stirring occasionally, until the mushrooms are tender and the liquid has evaporated. Stir in ½ teaspoon salt and pepper (to taste).
Transfer to a plate to cool.
In a medium bowl, add the mascarpone. Slowly pour in the milk and whisk until the mixture is smooth. Whisk in the eggs. Add in the gruyere, parmesan and remaining ½ teaspoon salt. Add in the cooled mushrooms and mix to combine.
Carefully pour the mixture into the tart shell.
Bake for 35 to 40 minutes, until slightly puffed and lightly golden brown on the top (if you insert the tip of a small knife into the center, it should not release any wet custard).
Let the tart cool for at least 10 minutes before removing from the pan to serve. Serve warm or at room temperature.
Notes
*If wild mushrooms are unavailable, you can substitute more cremini or baby bella mushrooms (thinly sliced).
Barely adapted from The Smitten Kitchen Cookbook
Nutrition Information:
Yield:

8
Serving Size:

1
Amount Per Serving:
Calories:

295
Total Fat:

24g
Saturated Fat:

13g
Trans Fat:

0g
Unsaturated Fat:

9g
Cholesterol:

127mg
Sodium:

543mg
Carbohydrates:

13g
Fiber:

2g
Sugar:

3g
Protein:

9g
Nutrition data shown is an estimate provided by an online calculator and is for informational purposes only. It should not be considered a substitute for a medical professional's advice.