Homemade English Muffins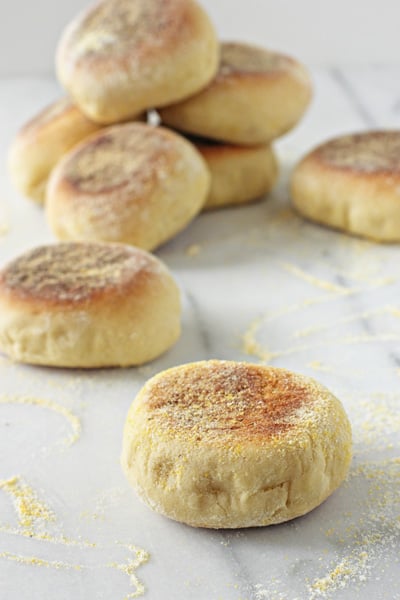 I have a serious love affair with english muffins.  They are definitely one of my go-to breakfast options for during the week, especially when smeared with a little peanut or almond butter and a drizzle of honey.  You don't even want to know how many I purchased each week at the food store … that is until now.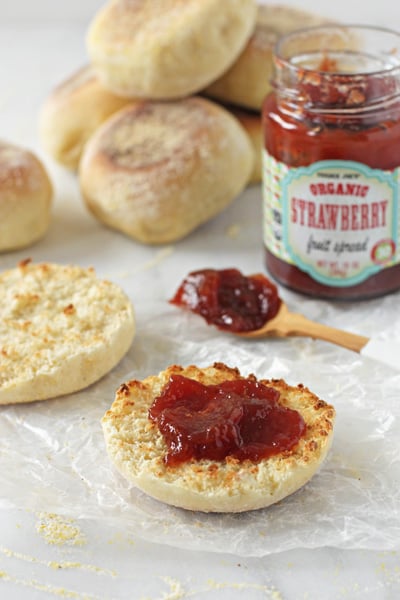 I totally hated buying so many, but I could not find the right homemade recipe to replace my beloved english muffins from the store.  And boy did I try.  I went through a whole lotta recipes before I finally found the one.  Now don't get me wrong, the others were fine (I mean let's be honest, homemade bread of any kind is almost always a very very good thing).  But they weren't quite right.
But this my friends is it.  These have both that wonderful homemade feel yet are still very close to the kind you can buy.  But better.  So much better.  And one of my favorite parts?  This recipe makes a LOT of english muffins.  So you don't have to do all this work to wind up with only six.  Please, six english muffins do not last long in this house!  And if you don't need that many, go ahead and freeze the rest.  So you can enjoy them at another time.  You'll thank me later.
Making these at home do take some time, but a lot of it is just waiting for the dough to rise and hanging out nearby while they cook.  And one taste of an egg and cheese sandwich using one of these bad boys?  Yeah, you'll never go back to store-bought.
Yield: 16 to 17 english muffins
Homemade English Muffins
Recipe for homemade english muffins that taste much better than their store-bought counterpart. Perfect for toasting or for an egg and cheese sandwich.
Ingredients:
1 ¾ cups lukewarm milk
2 ¼ teaspoons (1 package) instant yeast
3 tablespoons unsalted butter, softened
1 ¼ teaspoons salt
2 tablespoons granulated sugar
1 large egg, lightly beaten
4 ½ cups bread flour
cornmeal, for sprinkling the griddle/skillet
Directions:
In the bowl of a stand mixer fitted with the paddle attachment, add the milk. Sprinkle in the yeast and mix on low for a few seconds to combine. Add in the butter, salt, sugar, egg and flour. Start with the mixer on low (so the flour doesn't go everywhere) and then increase the speed to medium. Continue to beat on medium for about 5 minutes – the dough with be smooth and satiny but still pretty soft (this dough is different from a lot of other yeasted breads, so be sure to use the paddle attachment the entire time).
Using greased hands, form the dough into a rough ball and place in a large oiled bowl. Turn once to coat and then cover with a clean kitchen towel or plastic wrap. Let the dough rise until doubled in bulk, about 2 hours.
Spray a griddle (or large skillet) with nonstick cooking spray then sprinkle very generously with cornmeal (I used both so I could cook all the english muffins at the same time).
Gently deflate the dough then divide it into 16 to 17 equal sized pieces (using a kitchen scale mine were about 2 to 2 ¼ ounces each). Shape each piece into a smooth ball. Place the balls on the prepared cold griddle and then use your fingers to flatten each until they are about 3 to 3 ½ inches in diameter (they can be fairly close together on the griddle). *If you don't have enough space on the griddle/skillet, you'll need to cook in batches. Place the other balls (and then flatten them) on a baking sheet prepared the same way (so they can be transferred easily to the griddle later). Sprinkle the tops of all the english muffins with additional cornmeal. Cover the muffins with a clean kitchen towel or parchment paper and let them rest for 20 minutes.
Turn the griddle or burner on low heat. Cook for about 12 to 15 minutes per side until golden brown and cooked through. When they are done, the inside of the muffins should be about 200 degrees using an instant-read thermometer. If the muffins start to brown too quickly (and are not cooked through), carefully transfer them to a baking sheet. Bake in a preheated 350 degree oven until done (another 5 to 10 minutes).
Transfer the muffins to a wire rack to cool completely. Repeat the cooking process with the remaining muffins (if you are doing this in batches).
Use a fork to split the muffins (and not a knife) so that you get all the nooks and crannies.