Lemon Lime Cookies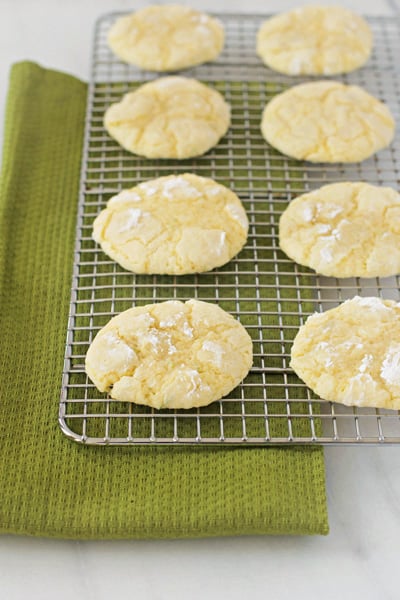 I did not have high hopes for these cookies.  To be honest, I thought I would end up hating them and would just give them away to others.  Until recently, the thought of putting lemon in dessert always grossed me out, but I'm slowing coming around to it, so I thought these cookies would be fun to try.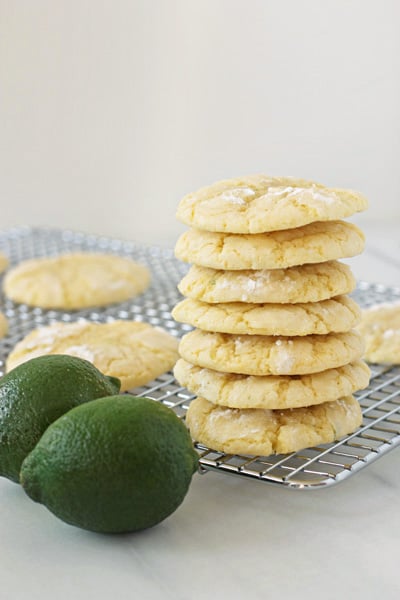 And you know what?  I loved them.  Go figure, huh?  I liked them so much that my husband had to pry them away from me to share.  Sometimes I don't like to share my cookies : )  Okay, a lot of times I don't like to share my cookies.  I have no shame when it comes to this.
So let's talk about these sweet treats shall we?  The cookie itself is soft and chewy, and filled with a wonderful vanilla flavor as a base.  You get little bursts of lemon and lime freshness from all the zest, and then it's finished off with some confectioners' sugar.  Awesome?  Yes.  Another bonus – they're really pretty with the little flecks of zest from the citrus.
So who is no longer afraid of lemon in dessert?  This girl.
Lemon Lime Cookies
Recipe for soft and chewy lemon lime cookies. With a vanilla base and little bursts of lemon and lime freshness from plenty of zest.
Ingredients:
1 ¾ cups all-purpose flour
1 ½ teaspoons baking powder
½ teaspoon salt
1 cup granulated sugar
2 teaspoons lime zest (from 1 to 2 limes)
1 teaspoon lemon zest (from 1 lemon)
8 tablespoons (1 stick) unsalted butter, room temperature
2 large eggs, room temperature
1 teaspoon vanilla extract
½ cup confectioners' sugar, sifted
Directions:
Preheat the oven to 350 degrees. Line a baking sheet with parchment paper and set aside.
In a small bowl, whisk together the flour, baking powder and salt. Set aside.
In the bowl of a stand mixer fitted with the paddle attachment, add the granulated sugar, lime zest and lemon zest. Use your fingers to work the zest into the sugar, until the sugar is moist and fragrant. Add in the butter and then beat on medium speed until light and fluffy, about 2 minutes. Add in the eggs one at a time, beating after each addition until combined. Add the vanilla extract and beat until combined. With the mixer on low, slowly add in the flour mixture. Beat until just incorporated.
Add the confectioners' sugar to a shallow bowl. Scoop about 2 tablespoons of dough (I used my large cookie scoop) and roll into a ball. Place the ball in the confectioners' sugar and toss to coat. Transfer to the prepared baking sheet, spacing the balls about 2 inches apart. Bake for 10 to 12 minutes. The cookies will still be light in color but the surfaces should be "cracked." Let the cookies cool on the baking sheet for about 5 minutes, then transfer to a wire rack to cool completely.