Fresh Honey Margaritas
Since I shared my favorite recipe for homemade salsa earlier this week, it only seems appropriate to talk about margaritas today.  Because we all know that they go hand in hand.  Like peanut butter and jelly.  Or really, peanut butter and chocolate in my mind.  Or like cookies and milk.  Ah yes, one of my favorite combinations.
But I need to stop getting sidetracked.  Salsa and chips with homemade fresh honey margaritas.  Now that is definitely a happy hour match made in heaven that will help put even the worst of weeks behind you.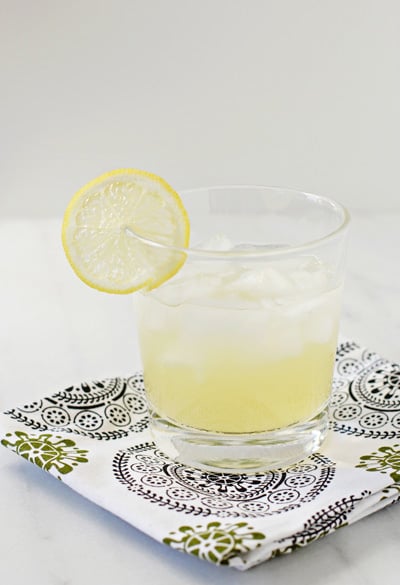 Now these margaritas do take a little bit of advance planning, but it's definitely worth it.  That way, when you really need a drink after a long work week, it will be all ready to go.  These margaritas are made with freshly squeezed lime and lemon juice, which is first steeped in zest.  It's sweetened with an easy honey simple syrup, which takes them up a notch from your average margarita.  These definitely aren't weak … but I think we could all use a good drink sometimes.
Fresh Honey Margaritas
Recipe for fresh honey margaritas. Made with freshly squeezed lime and lemon juice, which is first steeped in zest. Sweetened with a honey simple syrup.
Ingredients:
1 cup water
⅓ cup honey
4 teaspoons lime zest
4 teaspoons lemon zest
½ cup freshly squeezed lime juice (from about 4 to 6 limes)
½ cup freshly squeezed lemon juice (from about 3 lemons)
pinch of salt
1 cup tequila
1 cup triple sec
ice cubes, for serving
Directions:
Begin by making a simple syrup. Add the water and honey to a small saucepan. Set over medium heat and stir occasionally, until the honey has completely dissolved into the water. Remove from the heat and set aside. Let the syrup cool completely before proceeding. You can make this in advance and store in the refrigerator until ready to use.
In a medium bowl or a large liquid measuring cup, add the honey simple syrup, lime and lemon zest, lime and lemon juice and salt. Mix to combine then cover with plastic wrap. Refrigerate for at least 4 hours, or up to 24 hours.
Strain the juice mixture into a pitcher (and discard the zest). Add the tequila and triple sec to the pitcher and stir to combine.
Use salt or sugar to rim the serving glasses if desired. Fill each glass with some ice cubes. Pour the margarita mixture over the ice and serve immediately.