Ginger Apple Spritzer
Friday calls for a ridiculously easy almost non-recipe, yes? How about one that is super fall-ish and can easily be doubled or even tripled to serve a crowd?
This ginger apple spritzer has us covered on all fronts.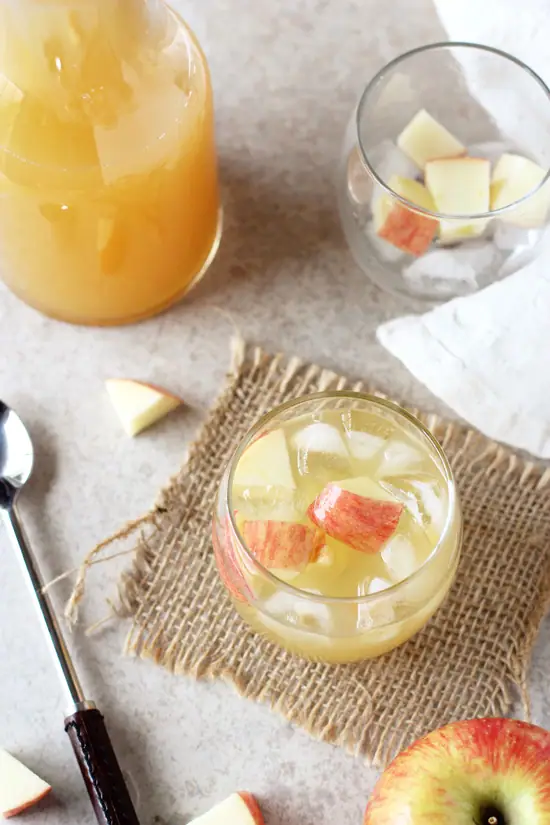 Packed with apple-y, ginger-y goodness, it makes me want to pull on my boots, throw on a scarf and go sit outside and watch all the pretty colored leaves.
Which is still quite some time off at least by where I live. But hey, I can pretend for now, right?
So. I'm about to drop the big "T" word, so if you're not ready to hear about the holidays, close your ears for now.
But, but, but. I think this spritzer would make an excellent addition to any Thanksgiving menu, or really any fall / winter festivities.
And even though it is non-alcoholic, you could certainly booze it up a bit depending on how you're feeling. I'm thinking a little bourbon or maybe even vodka would make a great addition.
Now, like I said, I feel almost silly sharing this recipe because it is so incredibly simple.
We have some apple cider, some ginger beer, some sparkling water, some chopped apples.
It all gets mixed together and served over ice. Andddd the end.
I told you, easy.
It is delicious freshly made and all sort of sparkly and fun. Or! You can mix it all together in advance and let it chillax. The flavors sort of meld and it's fantastic that way too (but not fizzy). So take your pick.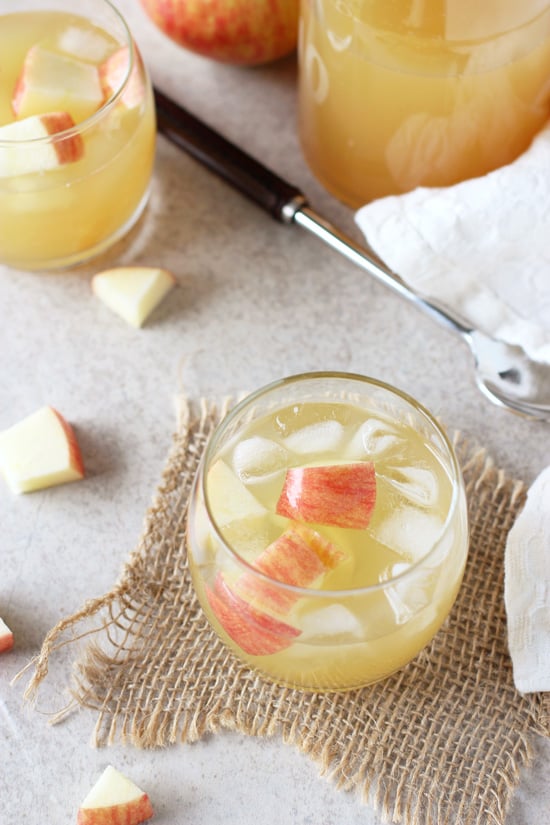 I kinda sorta feel like this spritzer is the non-alcoholic version of my apple cider sangria. Which is still my reigning favorite drink for fall. Go check it out, make it, love it. Or make both! Now, there's an idea.
Ginger Apple Spritzer
Prep Time:5 minutes
Cook Time:0 minutes
Total Time:5 minutes
Recipe for ginger apple spritzer. A simple, non-alcoholic fall drink perfect for entertaining! With apple cider, ginger beer and chopped apples!
Ingredients:
2 cups fresh apple cider
1 cup ginger beer
1 cup sparkling water
1 medium apple, chopped
ice cubes, for serving
Directions:
Add the apple cider, ginger beer, sparkling water and chopped apple to a pitcher. Stir briefly to combine.
Pour into glasses filled with ice. Serve.
If you use a spicy ginger beer here, that flavor and spiciness will be more prominent (versus if you use a more mild one – just depends on your preference!).
Also, if you can find it, spiced fresh apple cider is SO good in this!
And of course, feel free to tinker with the ratio of apple cider to ginger beer to sparkling water! Do whatever you like!