Chicken, Bacon and Mango Chutney Sandwich
With a spicy and smoky homemade chutney, this chicken, bacon and mango chutney sandwich is the ultimate lunch or dinner! Savory yet a touch sweet, it's hearty and satisfying. Dairy free and gluten free options included.
I can't believe I'm about to say this but I think I may not hate bacon as much as I thought.
Don't get me wrong, it's still not my thing. But really good quality bacon? Maybe it's not so bad after all.
I had a bite of my husband's sandwich when we were out at a farm-to-table type restaurant a few weeks ago and I enjoyed it. Strange? Yes.
I think it may have been due to the fact that the rest of the sandwich was just downright awesome, but still. He had to pry that thing out of my hands to get it back.
So this awesome sandwich also had a layer of mango chutney – something I've wanted to try making at home for some time.
Clearly this was a sign that I needed to re-create it all in my own kitchen.
And that's exactly what I did this past weekend.
Now, the mango chutney definitely has quite a bit of kick (well, at least in my opinion – but I am a slight baby with spicy foods so it may be different for you!).
It's fruity, spicy and smoky all at the same time.
When I tasted it straight out of the pan alone, I wasn't a huge fan.
But as soon as it was combined with something else? Yeah, it's pretty darn good. Especially when sandwiched between fresh bread, chicken, bacon and greens.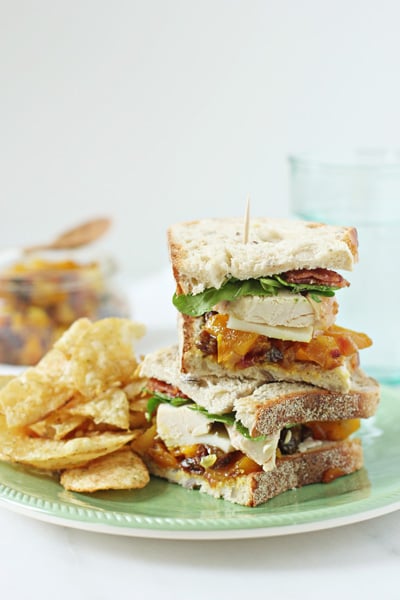 Additional Sandwich Recipes You Might Enjoy:
Did you make this recipe? Rate and review it down below! I'd love to hear from you.
Chicken, Bacon and Mango Chutney Sandwich
Yield:
about 2 cups of chutney
With a spicy and smoky homemade chutney, this chicken, bacon and mango chutney sandwich is the ultimate lunch or dinner! Savory yet a touch sweet, it's hearty and satisfying. Dairy free and gluten free options included.
Ingredients
For the mango chutney:
2 mangos (or about 2 pounds)
½ cup unsweetened pineapple juice
¼ cup cider vinegar
¼ cup packed light brown sugar
2 teaspoons curry powder
1 tablespoon vegetable oil
½ teaspoon red pepper flakes
1 small red onion, diced (about 1 cup)
1 ½ tablespoons grated fresh ginger
half of a medium red bell pepper, diced
salt and pepper, to taste
¼ cup raisins
¼ cup macadamia nuts, roughly chopped
For the sandwich:
few slices toasted bread*
few slices cheese**
sliced cooked chicken (I used a rotisserie chicken)
lettuce
few strips cooked bacon
Instructions
To make the chutney:
To chop the mango, begin by slicing a thin piece off one end, so it can rest on the bottom. Next, cut off the skin in thin strips from top to bottom. There is one large flat seed on the inside of the mango. Cut along each side of the seed to remove the flesh (you'll be able to tell if you hit the seed while cutting). Trim any remaining flesh from along the seed to get the most out of your mango. Chop all of the flesh and set aside.
In a small bowl, whisk together the pineapple juice, vinegar, brown sugar and curry powder. Set aside.
Set a large skillet over medium heat. Add in the oil. When hot, add in the red pepper flakes and cook for about 30 seconds, until fragrant. Add in the onion and cook until soft, about 3 to 4 minutes. Add in the grated ginger and pepper and cook for another 1 to 2 minutes. Add in the chopped mango and cook for 1 minute. Pour the pineapple juice mixture into the skillet and mix to combine.
Bring to a low simmer and then cook for about 30 minutes, stirring frequently, until the mixture has reduced down and thickened. Remove from the heat.
Season with salt and pepper to taste, if needed. Stir in the raisins and macadamia nuts.
Allow the mixture to cool completely, then store in the fridge until you are ready to use.
To assemble a sandwich:
Spoon your desired amount of mango chutney onto one piece of toast. Top with a slice of cheese, a few slices of chicken, some lettuce and bacon. Serve immediately.
Notes
*To keep this gluten free - use your favorite gluten free bread.
**To keep this dairy free - omit the cheese on the sandwiches.
The mango chutney recipe makes about 2 cups. We used a good portion for sandwiches, but it's also delicious served over chicken, steak, pork, etc.
Mango chutney slightly adapted from the Food Network
Nutrition Information:
Yield:

8
Serving Size:

1
Amount Per Serving:
Calories:

150
Total Fat:

5g
Saturated Fat:

1g
Trans Fat:

0g
Unsaturated Fat:

4g
Cholesterol:

0mg
Sodium:

5mg
Carbohydrates:

26g
Fiber:

2g
Sugar:

22g
Protein:

2g
Nutrition data shown is an estimate provided by an online calculator and is for informational purposes only. It should not be considered a substitute for a medical professional's advice. Nutritional information is ONLY for the mango chutney as the rest will vary widely depending on what / how much you use.