Red Velvet Sandwich Cookies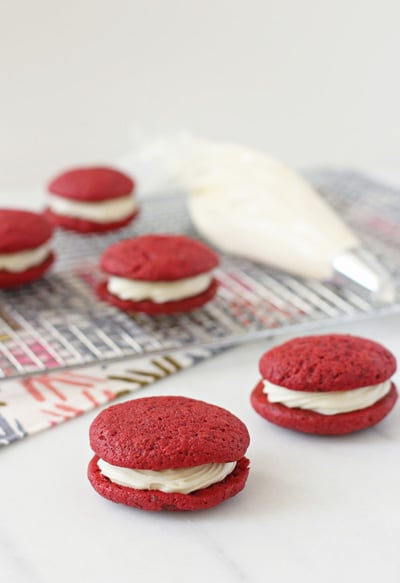 Oh, red velvet.  One of my very favorite flavors of cake, if not my favorite.  I like it so much that I sometimes do shady things so I can have it.  Take my own wedding for example.  The hotel that we got married at did all the catering and baking for our big day and on the list for cakes they only offered vanilla and chocolate.  So my husband (then fiancé) and I agreed ahead of time that we wanted to go with vanilla.
He couldn't be there the day of our appointment to pick out the cake, so my mom went with me instead.  I somehow managed to launch into a giant ramble about how much I love red velvet and the lady said they could definitely make that instead.  I jumped at the opportunity (with my mom nodding along – she was my sidekick I tell you, it wasn't all my fault!).
When we got home and I told my husband what happened (in all my excitement), he was a little, ahem, not so pleased that I changed the cake.   Oops.  It's okay though – he ended up loving it at the wedding.  Red velvet for the win.
So, let's get back to these cookies.  I wanted something red velvet but didn't want to bother with making a whole cake.  These were a perfect compromise.  The cookies themselves are soft and cake-like, yet are still just a slight bit chewy.  And then there's the cream cheese frosting.  Which can do no wrong in my book.  If you want to get festive for the Fourth of July, go right ahead and roll the edges in some blue sprinkles.  That was my plan until I realized I was out of blue sprinkles.  Another oops.
So who else has done suspect things for the love of cake?  I'm not alone right?
Yield: about 15 sandwich cookies
Red Velvet Sandwich Cookies
Recipe for soft and cake-like red velvet sandwich cookies with a cream cheese frosting.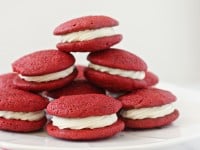 Ingredients:
For the cookies:
1 ⅓ cups all-purpose flour
2 tablespoons unsweetened cocoa powder
1 teaspoon baking powder
¼ teaspoon baking soda
½ teaspoon salt
¼ cup (½ of a stick) unsalted butter, room temperature
½ cup granulated sugar
½ cup packed light brown sugar
2 large eggs
2 tablespoons buttermilk
2 teaspoons white distilled vinegar
1 teaspoon vanilla extract
1 tablespoon red food coloring
For the frosting:
8 ounces cream cheese, chilled
5 tablespoons unsalted butter, room temperature
2 teaspoons vanilla extract
2 ½ to 3 cups confectioners' sugar, sifted
Directions:
To make the cookies – preheat the oven to 375 degrees. Line a baking sheet with parchment paper and set aside.
In a small bowl, whisk together the flour, cocoa powder, baking powder, baking soda and salt. Set aside. In the bowl of a stand mixer fitted with the paddle attachment, add the butter, granulated sugar and brown sugar. Cream on medium speed for about 2 to 3 minutes. Add in the eggs, one at a time, beating after each addition until combined. Add in the buttermilk, vinegar, vanilla and food coloring. Beat until combined. With the mixer on low speed, slowly add in the flour mixture and beat until just combined.
Scoop about a heaping tablespoon of dough (I used my small cookie scoop) and drop onto the prepared baking sheet, spacing about two to three inches apart (they will spread quite a bit during baking). Bake for 8 to 9 minutes. The cookies should look cake-like and set. Let the cookies cool on the baking sheet for 3 to 5 minutes, then remove to a wire rack to cool completely.
To make the frosting – in the bowl of a stand mixer fitted with the paddle attachment, add the cream cheese, butter and vanilla. Beat on medium high until light and fluffy, about 2 minutes. Add the confectioners' sugar to the bowl in two batches, beating on low until combined (use the higher quantity of confectioners' sugar for a stiffer frosting). Increase the speed to medium high and beat for another 1 to 2 minutes.
To assemble – match up the cooled cookies by size (so that the two halves are as close in size as possible). Pipe (or spread) the frosting on one cookie. Top with the second and press down lightly to form the sandwiches. Store cookies in an airtight container in the refrigerator.
Depending on how much frosting you like, you can probably decrease the quantities by a ¼ or so (I had a little bit leftover).