Spinach Pesto Pasta with Sun-Dried Tomatoes and Walnuts
I have a tendency to buy way too much spinach each week at the grocery store.  We go through a lot of spinach in our house, but for some reason I always overestimate just how much we really need.  The extras usually go into smoothies or something like that, but a few weeks ago I needed to use a bunch … and quickly … before it went bad.
I usually just make regular basil pesto, but decided to experiment and make a spinach version.  Since that would use quite a bit of the aforementioned tons of extra spinach.  And from there, this quick and easy dinner idea was born.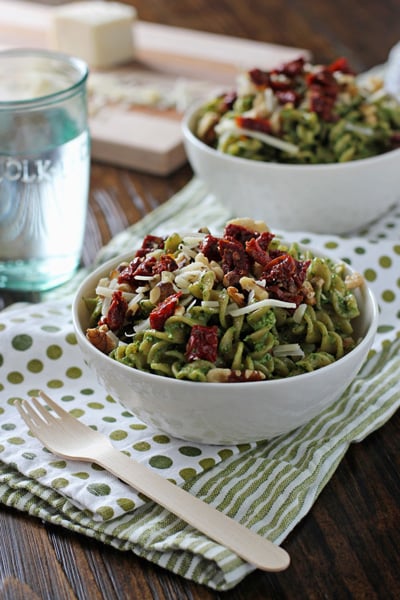 This pasta is jam packed with plenty of good-for-you spinach, along with some crunch from the walnuts and a little saltiness from the sun-dried tomatoes.  There's also just a hint of kick, from the red pepper flakes, and you can definitely dial it up and add some more depending on your taste.
I also added in a little greek yogurt to give it a hint of creaminess and was so happy with the result.  And if you're like my husband and like meat with your dinner, add some sliced chicken or sausage.  It's great that way as well.
Easy dinner idea to start your week off right?  Check and check.
Spinach Pesto Pasta with Sun-Dried Tomatoes and Walnuts
Recipe for spinach pesto pasta with sun-dried tomatoes and walnuts. A quick and easy dinner idea.
Ingredients:
For the pesto:
4 cups packed baby spinach leaves
½ cup packed fresh basil leaves
½ cup walnuts, roughly chopped
3 cloves garlic
¾ teaspoon salt
¼ teaspoon red pepper flakes
¼ cup freshly grated parmesan cheese
¼ cup extra-virgin olive oil
For the pasta:
1 pound your favorite pasta
¼ cup plain greek yogurt
½ cup walnuts, chopped
⅓ to ½ cup sun-dried tomatoes, drained, patted dry and chopped
additional freshly grated parmesan cheese, for serving
Directions:
To make the pesto – add the spinach, basil, walnuts, garlic, salt, red pepper and parmesan cheese to the bowl of a food processor. Pulse until finely chopped. Add in the olive oil and process until smooth. Transfer to a small bowl and set aside.
Cook the pasta according to the package directions. Drain and transfer to a large bowl.
Meanwhile, add the greek yogurt to the bowl with the pesto. Mix to combine. Add the pesto mixture to the bowl with the pasta. Mix until evenly coated. To serve, spoon the pasta into bowls. Top with some walnuts, sun-dried tomatoes and additional parmesan cheese, if desired.