Blueberry Almond Whole Grain Muffins
Recipe for blueberry almond muffins! Made with whole wheat flour, oat bran and sweetened with honey and maple syrup. Packed with blueberries!
Let's all close our eyes and pretend that it's Saturday morning and we're cozy on the couch with a steaming mug of coffee and one of these blueberry almond whole grain muffins.
Except more than likely you're running around getting ready for work or already at work. Is it Friday yet? Hello weekend. I can see you. You're so close.
Until then I'll just pull one of these muffins out of my freezer and eat it way too quickly at my desk.
And make a giant mess since I try to multitask to the max and get distracted and end up with crumbs on the floor and a hungry beagle swarming around my feet.
Really, weekend, can you hurry up and get here? Okay thanks.
So let's talk muffins, yes?
This blueberry almond combo (which I ♥ ♥ ♥ – please tell me I'm not the only one who sniffs the bottle of almond extract??) is essentially just a spin on my whole grain morning glory muffins.
Wait, I should clarify. What I mean is that this recipe uses the same perfectly fluffy and moist (yes, I'm using that word) base – which is full of oat bran and white whole wheat flour and sweetened only with honey and maple syrup.
To that we add plump awesome blueberries and plenty of sliced almonds. And of course some vanilla and the aforementioned almond extract. Which you must sniff first. Kidding. Maybe.
These muffins are not overly sweet – but that's my style these days.
I like to make a batch whenever I have time and then freeze them pretty much immediately after they cool. Except for maybe one muffin which I eat while standing over the muffin tin. Okay, let's be real. Two muffins.
I find that this keeps them perfectly fresh and I can just thaw one out whenever I need it for a quick breakfast or snack.
On a related note, I recently stumbled across this post from Julie over at Savvy Eats on the best way to store muffins. I cannot stand it when my homemade muffins get that weird sort of really soft top the day after baking.
Anyway, totally trying this out the next time I make some and don't freeze!
Muffins. They make the world go round. No, wait. That's coffee. Coffee + muffins?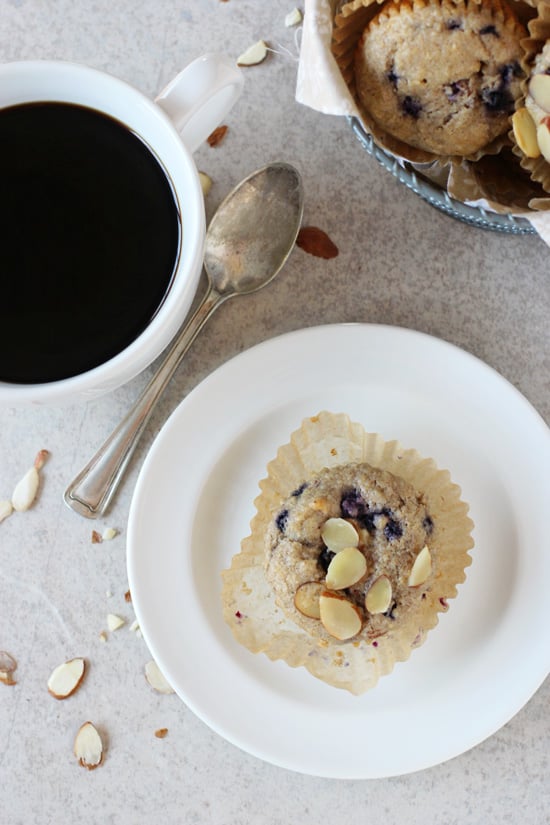 Additional Homemade Muffin Recipes You Might Enjoy!
Did you make this recipe? Rate and review it down below! I'd love to hear from you.
Blueberry Almond Whole Grain Muffins
Recipe for blueberry almond whole grain muffins. With whole wheat flour, oat bran and sweetened with honey and maple syrup. Packed with blueberries!
Ingredients
1 cup white whole wheat flour
¼ cup oat bran
½ cup unbleached all-purpose flour
2 ½ teaspoons baking powder
½ teaspoon sea salt
½ teaspoon ground cinnamon
¼ teaspoon ground nutmeg
1 large egg
⅓ cup melted coconut oil
⅔ cup milk (I like whole milk here)
¼ cup honey
¼ cup pure maple syrup
1 ½ teaspoons vanilla extract
½ teaspoon almond extract
1 ½ cups fresh blueberries*
½ cup sliced almonds, plus extra for garnish
Instructions
Preheat the oven to 375ºF. Line a muffin pan with liners and set aside.
Whisk together the white whole wheat flour, oat bran, all-purpose flour, baking powder, salt, cinnamon and nutmeg in a medium bowl. In another medium bowl, whisk together the egg, coconut oil, milk, honey, maple syrup, vanilla extract and almond extract. Add to the bowl with the dry ingredients and mix until just combined. Gently fold in the blueberries and almonds.
Divide the batter evenly in the prepared muffin tins, filling each about ¾ of the way full. Sprinkle the top of each muffin with additional sliced almonds.
Bake for about 15 to 18 minutes, or until a toothpick inserted into the middle comes out clean. Let cool for about 5 minutes, then remove the muffins to a wire rack to cool completely.
Notes
Be sure to melt the coconut oil first and then measure out the correct amount (otherwise you may use too much).
*I've also made these muffins several times with frozen blueberries - so they work too! If you do use frozen, they will sort of turn the batter a purple color (which doesn't bother me but you can use fresh to avoid that!). For the muffins in the pictures I used frozen wild blueberries. If you use fresh, they will be much more golden in color.
Nutrition Information:
Yield:

14
Serving Size:

1
Amount Per Serving:
Calories:

172
Total Fat:

8g
Saturated Fat:

5g
Trans Fat:

0g
Unsaturated Fat:

3g
Cholesterol:

14mg
Sodium:

175mg
Carbohydrates:

23g
Fiber:

2g
Sugar:

10g
Protein:

4g
Nutrition data shown is an estimate provided by an online calculator and is for informational purposes only. It should not be considered a substitute for a medical professional's advice.