Mexican Lasagna Roll-Ups
That's cheesy, comforting goodness in a pan right there.  And now that it's fall and the weather is starting to get a little cooler, I've been craving comfort food more and more.  Although we have had weird spurts of heat – it was 90 degrees here this past weekend – not cool for October mother nature, not cool.  Although that's beside the point, since we're here to talk about lasagna and really I'll eat a plate of it any time of the year.
I've seen recipes for lasagna rolls-ups on so many blogs and quite frankly have fallen in love with them.  Can we talk about how easy it is to scoop them out of the pan?  I tend to make a gigantic mess with regular lasagna so these are perfect for me.  I've been playing around with different flavors, since they are so fun to customize.  We love mexican in our house and this version has been our favorite variation so far.
The filling is primarily ricotta cheese, packed full of mexican flavors – beans, corn, chipotle, green onions.  The list goes on.  And then a good helping of pepper jack and cilantro to finish things off.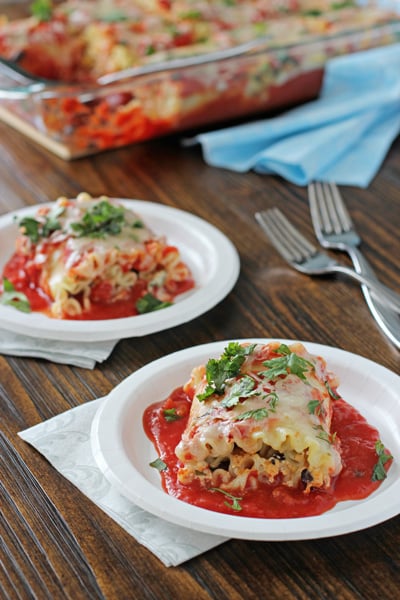 All you messy lasagna slicers out there, these roll-ups are the perfect solution.  And even if you are cool and can cut lasagna without spilling everywhere, I think you'll like these too.
And can you come give me a lesson??  I'll bring the lasagna.
Yield: 12 rolls-ups (about 6 servings)
Mexican Lasagna Roll-Ups
Recipe for Mexican lasagna roll-ups. Filled with ricotta cheese, beans, corn, cilantro and green onions. And easy to scoop from the pan!
Ingredients:
12 uncooked lasagna noodles (I use whole-wheat)
1 (15 ounce) container ricotta cheese
1 chipotle pepper in adobo sauce, minced
1 teaspoon salt
½ teaspoon cumin
½ teaspoon chili powder
¼ teaspoon smoked paprika (or regular paprika)
dash of cayenne pepper, or more to taste
2 cups freshly shredded pepper jack cheese, divided
1 can black beans, drained and rinsed
¾ cup fresh or frozen corn
4 green onions, thinly sliced
1 (28 ounce) can crushed tomatoes
⅓ cup cilantro, chopped
hot sauce, for serving
Directions:
Preheat the oven to 375 degrees.
Cook the lasagna noodles according to the package directions (you want them to be al dente). Drain and rinse with cold water. Lay the noodles out flat on a work surface.
Meanwhile, in a medium bowl, add the ricotta cheese, chipotle pepper, salt, cumin, chili powder, paprika, cayenne, and ½ cup of the pepper jack cheese. Mix until well combined. Add in the beans, corn and green onions and mix again until well combined.
Spread about ⅓ of the can of crushed tomatoes in the bottom of a 9×13 inch baking dish (tilt the pan back and forth to cover the bottom). Scoop about ⅓ cup of the ricotta mixture onto each of the lasagna noodles and spread it out along the length of the noodle. Roll the noodle up and then place it seam-side down in the prepared pan. Repeat with all of the noodles. *To see step-by-step photos of this process, you can check out this picture that I posted on Instagram).
Pour the remaining crushed tomatoes evenly over the rolls. Top with the remaining 1 ½ cups pepper jack cheese. Cover the pan loosely with aluminum foil.
Bake for 20 minutes. Remove the foil and then bake for about 10 more minutes, until the cheese is bubbly on top. Remove from the oven and sprinkle with the cilantro. Let cool for about 5 to 10 minutes before serving.