Root Vegetable and Brussels Sprouts Lasagna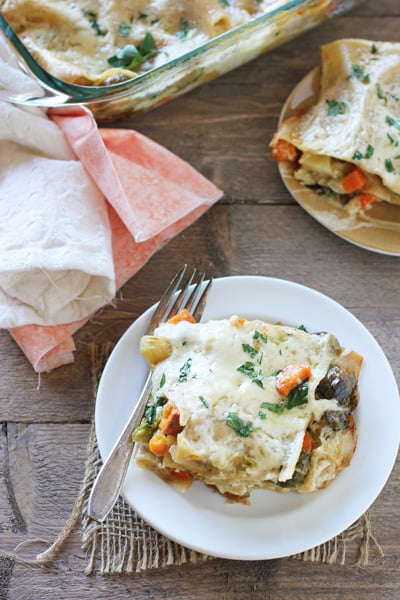 I figure since I smacked you in the face with a sugar overload on Monday, I would throw a little savory action your way today.
With plenty of veggies. It's all about the balance, yes?
Although I say this before the onslaught of holiday baking recipes (read: cookies) I have coming your way over the next few weeks.
So maybe it's not exactly balance. Especially since today's recipe also includes cheese, cheese and more cheese. And a creamy white sauce. Total yum.
But in all seriousness, this is one of those recipes that feeds a crowd (i.e. perfect for all those holiday gatherings). Or makes a bunch of leftovers so you can enjoy it for several days and focus more on all that cookie baking you need to get done. Priorities.
And since I'm a sucker for a good lasagna, I can't help but love this dish. Packed with maple roasted root vegetables, like parsnips and sweet potatoes, and of course the brussels sprouts, which I still can't get enough of right now.
There's also a homemade creamy, dreamy white sauce and plenty of the aforementioned cheese. Fontina to be exact because it has totally stole my ♥.
Combining into cheesy, vegetable-packed bliss.
Now I just need a few sparkly cookies to chase it down with. And maybe a fun cocktail. Holiday perfection.
Root Vegetable and Brussels Sprouts Lasagna
Prep Time: 25 minutes
Cook Time: 1 hour 30 minutes
Total Time: 1 hour 55 minutes
Recipe for root vegetable and brussels sprouts lasagna. With maple roasted veggies, a creamy homemade white sauce and plenty of cheese.
Ingredients:
For the veggies:
1 medium onion, chopped
2 large carrots, peeled and chopped
1 large parsnip, peeled and chopped
1 small sweet potato, chopped
1 pound brussels sprouts, trimmed and halved lengthwise
2 tablespoons olive oil
2 tablespoons pure maple syrup
¾ teaspoon salt
For the sauce:
3 tablespoons unsalted butter
¼ cup all-purpose flour
4 cups 2% or whole milk
¾ teaspoon salt
¼ teaspoon pepper
¼ teaspoon ground nutmeg
For the lasagna:
1 (9 ounce) package no-boil lasagna noodles
2 cups freshly shredded fontina cheese, divided
¼ cup freshly shredded parmesan cheese
fresh minced parsley, for garnish
Directions:
To make the veggies:
Preheat the oven to 400ºF.
Add the onion, carrots, parsnip, sweet potato and brussels sprouts to a large rimmed baking sheet. Drizzle with the olive oil and maple syrup, then sprinkle with the salt. Toss to combine and spread in an even layer. Bake for about 25 to 30 minutes, stirring once halfway through, until tender and starting to brown. Remove from the oven and set aside.
Decrease the oven temperature to 375ºF.
To make the sauce:
Meanwhile, set a medium saucepan over medium heat. Add in the butter. When melted, sprinkle in the flour and cook for about 2 to 3 minutes, whisking constantly, until golden brown and fragrant. Slowly pour in the milk, whisking the entire time. Cook, whisking frequently, until it starts to boil. Continue to cook for 1 minute, whisking constantly, then remove from the heat. Whisk in the salt, pepper and nutmeg until well combined.
To assemble:
Add 1 cup of the sauce to the bottom of a 9×13 inch baking dish and tilt the pan back and forth to coat.
Place ⅓ of the lasagna sheets in a layer in the dish. Spread ½ of the roasted veggies over the noodles, then drizzle with ⅓ of the remaining sauce. Sprinkle with ½ cup of the fontina cheese. Top with another ⅓ of the lasagna sheets, the remaining ½ of the veggies and another ⅓ of the sauce. Sprinkle with ½ cup of the fontina cheese. End with the final ⅓ of the lasagna sheets, the final ⅓ of the sauce, the remaining 1 cup of the fontina cheese and the parmesan.
Cover the pan with aluminum foil and bake for 55 minutes. Remove the foil and bake for another 5 minutes, until golden and bubbly on top (if you like your lasagna crunchier on top, remove the foil after 50 minutes and then bake uncovered for 10). Let the lasagna rest for 15 minutes before cutting to serve. Garnish with fresh parsley, if desired.