Kale and Eggplant Baked Ziti
Cozy kale and eggplant baked ziti! A comforting pasta dish filled with veggies, a simple homemade sauce and plenty of cheese!
So it's slightly shocking that this is technically the first time that I'm sharing a baked ziti recipe with you.
Because for years baked ziti was the only dish I knew how to make.
I kid not. I'm pretty sure it made an appearance at our dinner table at least once a week (and obviously every single time we had company because I had no idea what else to whip up).
My version from the old days included whole wheat pasta, a jar of store-bought sauce, sliced chicken sausage and cheese.
I thought it was the most fancy thing on the planet and that I was all kinds of a master chef. Especially when I served it up with a salad.
So I'm really stepping up my game with today's kale and eggplant baked ziti.
Well, according to my I-have-no-idea-what-I'm-doing-in-the-kitchen self. Veggies in baked ziti? I mean, what is this madness!
So! While today's version does require some sautéing of the eggplant and kale, it really is still pretty darn simple to pull together.
Plus, it serves a crowd (or just two hungry people for dinner and lunch the next day). Ahem, which is what usually happens at our house.
How To Make Eggplant Baked Ziti
Let's discuss the process. First, we cook up some whole wheat pasta until al dente.
Next, we saute some onion, eggplant and kale until nice and tender.
We mix it all together in a big ol' bowl with some crushed tomatoes and red pepper flakes for a touch of spice.
It gets all delicious and bubbly and golden brown in the oven. You know, because of the cheese. Obviously.
We'll finish by sprinkling on some fresh basil (or parsley!). And dinner is served.
Feel free to go all fancy pants and serve it up with a salad. I crack myself up. Because of course I still always serve baked ziti with a salad. It's the way to go!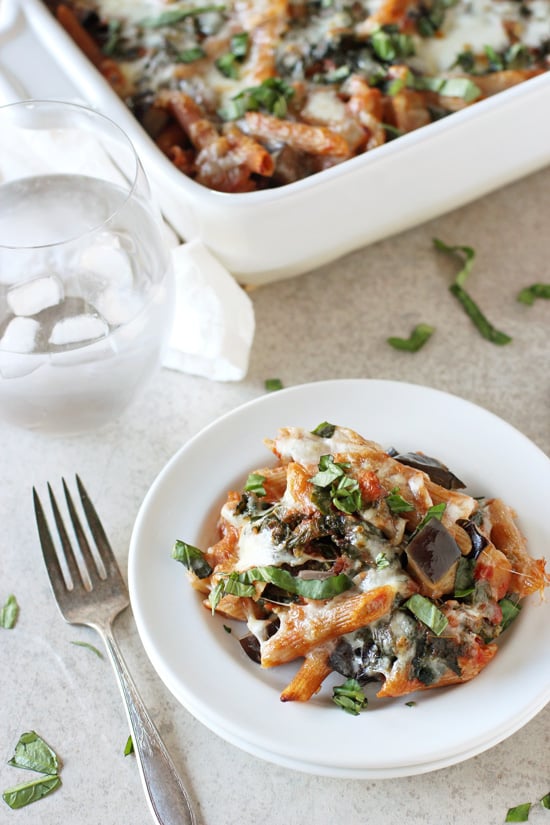 Additional Baked Pasta Recipes You Might Enjoy!
Did you make this recipe? Rate and review it down below! I'd love to hear from you.
Kale and Eggplant Baked Ziti
Recipe for kale and eggplant baked ziti. A comforting pasta dish filled with veggies! With a simple homemade sauce and plenty of cheese!
Ingredients
12 ounces uncooked whole wheat ziti
2 tablespoons olive oil
1 medium onion, chopped
2 cloves garlic, minced
1 medium eggplant (about 1 pound), cut into ½ inch chunks
1 bunch kale (about 10 ounces), stems removed and torn into bite-sized pieces
¾ cup low sodium vegetable broth
1 (28 ounce) can crushed tomatoes with basil
½ teaspoon salt
¼ teaspoon red pepper flakes
½ cup freshly shredded parmesan cheese
1 ½ cups freshly shredded mozzarella cheese
chopped fresh basil or parsley, for garnish
Instructions
Preheat the oven to 400ºF.
Bring a large pot of lightly salted water to a boil. Add in the pasta and cook according to the package directions until al dente. Drain and add to a large bowl.
Meanwhile, set a large skillet over medium heat. Add in the olive oil. When hot, add in the onion and cook for about 2 minutes, until it starts to soften. Add in the garlic and cook for 30 seconds, until fragrant. Add in the eggplant. Cook, stirring occasionally, until tender, about 6 to 8 minutes. Transfer the mixture to the large bowl with the pasta and set aside.
Set the large skillet back over medium heat. Add in the kale and broth. Cook, stirring occasionally, for about 7 to 9 minutes, until the kale has wilted down and the liquid has almost completely evaporated. Using a slotted spoon, transfer the mixture to the large bowl with the pasta.
To the large bowl, add in the crushed tomatoes, the salt, red pepper flakes and parmesan cheese. Mix to combine. Taste and season with additional salt / red pepper flakes if needed (I usually add more red pepper flakes to give it a good kick). Transfer the mixture to a 9x13 inch baking dish, then top with the mozzarella cheese.
Bake for about 20 to 22 minutes, until the cheese is nice and melted and starting to brown. Garnish with the fresh basil or parsley before serving.
Notes
If you don't use crushed tomatoes with basil (and instead use plain crushed tomatoes), I would maybe add either some dried or fresh basil to the mixture before baking (to taste)!
Nutrition Information:
Yield:

6
Serving Size:

1
Amount Per Serving:
Calories:

406
Total Fat:

12g
Saturated Fat:

5g
Trans Fat:

0g
Unsaturated Fat:

7g
Cholesterol:

19mg
Sodium:

501mg
Carbohydrates:

60g
Fiber:

11g
Sugar:

6g
Protein:

19g
Nutrition data shown is an estimate provided by an online calculator and is for informational purposes only. It should not be considered a substitute for a medical professional's advice.