Healthier "Brownie" Snack Bars (No Bake)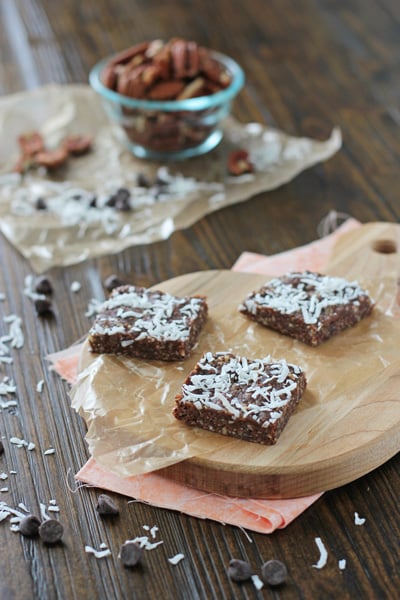 It's finally Friday and I think we should celebrate that fact with some chocolate.  This was my first full week back with my day job and well, I'm exhausted.  And cold.  As in whenever I'm home I sit with a giant fleece blanket wrapped around me cold.  And then I walk around with the blanket still on and Emma the beagle kinda chases me around the house.  She reallly likes fleece blankets and will do just about anything to snuggle in one.
But I'm getting sidetracked.  Chocolate.  Yes, very important.
So after the holiday baking craze I've been trying to cut back on sugar for a little bit.  Just until I start to feel normal again.  I can't go too long without cookies … that would just be wrong.
I've been playing around with dates in my kitchen for a few months now and am happy to have a recipe like these healthier brownie snack bars on hand.  Because let's face it – I get some mean sweet cravings and can be a little grumpy if I don't get my fix.
These snack bars taste like little brownie bites – with plenty of chocolate and some coconut for topping.  Now let's be real here – these obviously are not like big thick gooey brownies topped with ice cream.  Butttt they are delicious and will help get rid of any massive chocolate cravings.
So get out a glass of milk and let's celebrate the weekend with chocolate.  You know you want to.
Yield: 16 (2 inch square) bars
Healthier "Brownie" Snack Bars (No Bake)
Recipe for healthier brownie snack bars. No bake, sweetened with dates and packed with plenty of chocolate. Satisfy a sweet craving without the guilt.
Ingredients:
1 cup walnuts halves
1 cup pecan halves
10 large medjool dates*
2 tablespoons unsweetened cocoa powder
¼ cup dark chocolate chips
1 teaspoon vanilla extract
¼ teaspoon sea salt
¼ cup unsweetened coconut flakes, plus more for sprinkling (optional)
Directions:
Line an 8×8 inch baking pan with parchment paper or plastic wrap, leaving an overhang on two sides. Set aside.
Add the walnuts and pecans to the bowl of a food processor. Pulse until the nuts are finely chopped (but don't go so far that they start to turn into a paste). Add in the dates, cocoa powder, chocolate chips, vanilla extract and salt (if using, also add in the ¼ cup coconut flakes). Continue to pulse until the dates are finely chopped and the mixture starts to come together in clumps.
Dump the mixture into the prepared pan and use your fingers to press into an even layer. Sprinkle with additional shredded coconut and gently press into the bars with your fingers. Transfer the pan to the refrigerator and allow to chill for about 1 hour.
Remove the bars from the pan using the parchment paper (or plastic wrap). Use a sharp knife to cut into bars. Store in an airtight container in the refrigerator (I found it helps to put a layer of wax paper between the bars so they don't stick together).
*For the dates – rip them in half and remove the pit before adding to the food processor. You should have about 1 cup.