Rosemary and Gruyere Crisps
I really wanted to title this post fancy-pants homemade cheez-its … but then I thought that would make me seem a little weird.  So I held myself back.  But really, that's what I think these rosemary and gruyere crisps are when you stop and think about it.  A grown-up version, if you will, of those famous crackers.
So you can feel fancy and special and enjoy these with some wine and maybe a little additional cheese or fruit or nuts?   Yes yes and yes.  That's exactly what we did on Thanksgiving this year.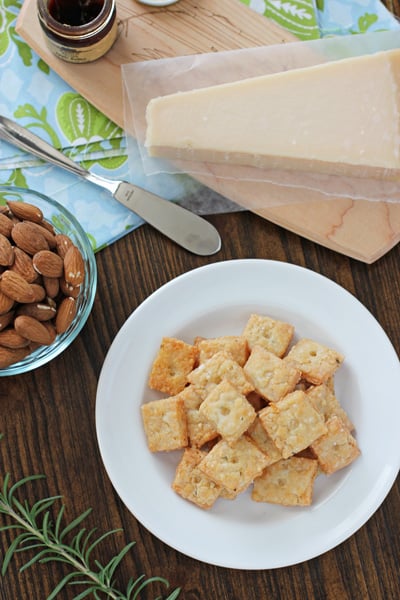 Oh right, did I forget to mention that I made these several times during the holiday season and planned to share them with you in December?  Fail.  I don't even know what happened until I realized I had the pictures and recipe ready to go on my computer but somehow managed to never post them on the blog.  Hmm, epic fail since these little babies were perfect for holiday parties.
So maybe make them for the big football game coming up this weekend?  I'm not a big beer person so I would happily eat a handful … or two or three … of these with some wine.
Buttery, super cheesy and herby crackers.  Can't say those wouldn't be perfect anytime of the year.
Yield: about 100 (1-inch square) crackers
Rosemary and Gruyere Crisps
Recipe for rosemary and gruyere crisps. Buttery crackers packed with gruyere and rosemary. A fancier version of a homemade cheez-it. Perfect for snacking.
Ingredients:
6 ounces gruyere cheese, shredded
4 tablespoons unsalted butter, cut into pieces
¼ cup plus 2 tablespoons all-purpose flour
¼ cup plus 2 tablespoons white whole wheat flour
1 teaspoon minced fresh rosemary
¼ teaspoon sea salt, plus more for sprinkling
2 tablespoons water
Directions:
Add the cheese, butter, all-purpose flour, whole wheat flour, rosemary and salt to the bowl of a food processor. Pulse until the mixture resembles even-sized crumbs. Add in the water and pulse until the dough starts to clump together (it will be on the drier side but should come together if you try to form it into a ball – add water a teeny amount at a time if it doesn't). Dump the dough onto a piece of plastic wrap. Form into a ball and then flatten slightly into a thick square. Wrap with the plastic wrap and refrigerate for about 20 minutes.
Meanwhile, preheat the oven to 350 degrees. Line a large baking sheet with parchment paper and set aside.
On a well-floured surface, roll out the dough to about ⅛ inch in thickness. Use a pizza cutter to cut the dough into 1-inch squares. Transfer the squares to the prepared baking sheet. Prick each square once in the center (the small end of a chopstick works really well). Use your finger to dab each square lightly with water and then sprinkle with additional sea salt.
Bake for 12 to 16 minutes, until lightly browned and crispy. Place the baking sheet on a wire rack to cool. Store for up to 2 days in an airtight container at room temperature.
Make sure you grate your own cheese for this recipe – no buying anything pre-shredded!