Peanut Butter Chocolate Chip Pretzel Cookies
With brown butter.  Just go ahead and add that to the end of the title up there.  The length was getting a little crazy (and tongue-tying) so I cut it off.  The first clue was when my friends couldn't repeat the title back to me after trying them … yeah, time to change the name.  But really it's a super important part of these cookies, so we'll just pretend it's up there with the rest.
You don't even want to know how many attempts it took to get these cookies just right … but it was soooo worth it.  Even the failed batches were delicious – although the amount we had in the house (and still have in the freezer) was / is borderline ridiculous.  So I started force-feeding them to friends.  Apparently I've turned into the crazy cookie lady.  But I promise they enjoyed them so it's cool.
Kidding aside, these peanut butter chocolate chip pretzel cookies are incredibly good.
They have that sweet and salty thing going on big time, which I just can't get enough of lately.
They are chewyyyy.  Essential.
There's the brown butter factor.  Which we just can't overlook.  Whole different level of goodness I tell you.
If you've never browned butter, don't be intimidated.  And don't get too upset if you burn it the first time.  Ahem, I may have some first-hand experience in that department.  After you do it a time or two you get the hang of it … and then there is no turning back.  Your world will be changed.
So go make me proud and bake up a batch of sweet and salty cookie awesomeness.  Or just come raid my freezer … there's plenty to go around.  I'll share, promise.
Yield: about 22 to 24 cookies
Peanut Butter Chocolate Chip Pretzel Cookies
Recipe for peanut butter chocolate chip pretzel cookies. With a brown butter base, these cookies are chewy and packed with that sweet and salty combo.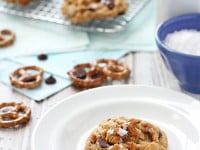 Ingredients:
½ cup (1 stick) unsalted butter
¾ cup all-purpose flour
¾ teaspoon baking soda
½ teaspoon flaky sea salt, plus more for sprinkling
½ cup creamy peanut butter
½ cup packed light brown sugar
¼ cup granulated sugar
1 large egg
1 egg yolk
1 ½ teaspoons vanilla extract
¾ cup semi-sweet chocolate chips
¾ cup roughly crushed pretzels
Directions:
Cut the butter into chunks and add to a small skillet. Let the butter melt over medium heat and then continue to cook, whisking frequently, until it begins to brown (this takes several minutes). You should see brown bits on the bottom of the pan. Once you see those bits, turn off the heat and continue to whisk constantly for about 30 seconds, until the butter is golden brown. Be careful not to burn the butter – those bits can turn black quickly. Pour the butter into a bowl and let cool down so that it's warm and not hot.
In a small bowl, whisk together the flour, baking soda and sea salt. Set aside. In the bowl of a stand mixer fitted with the paddle attachment, add the cooled brown butter and peanut butter. Beat on medium speed until well combined. Add in the brown sugar and granulated sugar. Beat on medium speed until smooth and completely blended. Add in the egg, egg yolk and vanilla. Beat again on medium until well combined, scraping down the bowl as needed. With the mixer on low, slowly add in the flour mixture and beat until just combined. Remove the bowl from the mixer and gently fold in the chocolate chips and pretzels. Transfer to the refrigerator and let chill for 30 minutes.
Meanwhile, preheat the oven to 350 degrees. Line a baking sheet with parchment paper.
When the dough is done chilling, scoop about 1 ½ to 2 tablespoons of dough (I used my larger cookie scoop) and drop onto the prepared baking sheet about 2 to 3 inches apart. Sprinkle the tops lightly with some of the sea salt.
Bake for about 9 to 10 minutes, until the cookies are set and the edges are a light golden brown (they may not look completely done but will continue to cook when you take them out). Let the cookies cool directly on the baking sheet for 10 minutes then remove to a wire rack.
I don't usually use natural peanut butter when baking but it's all I've been buying lately and it worked fine for me with this recipe on numerous occasions.